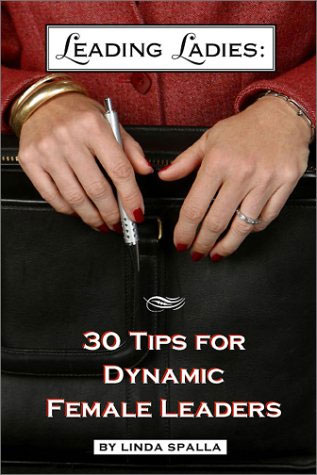 Introduction:
What if I told you in the hour or so it will take you to read this book that I will dispel every notion you ever had about being female in the workplace? What if I could show you a more natural leadership path than the one you're presently on? What if I told you that women's leadership skills have just begun to be understood? Or that your femininity (despite what you've been told) is your best asset! Wouldn't you be curious?
This book is for women who wish to be dynamic leaders, whether of a company, a team, a country, or a cause. We're not talking management duties here. We're talking leadership… a thin spot of real estate where no one else is telling you which decision to make; where no one else is taking the blame; where no one else is cleaning up your messes; where no one else is sticking out his or her neck as far as yours; and no one else is forging the vision. The kind of leadership this book divines requires that you put on a brand new coat, that you fly at thirty thousand feet where the perspective is wide and breathtaking, that you prepare for a lonely journey, and that you expend the ultimate effort in emotional maturity. If you are female and want to be a dynamic leader, this book is for you.
Women in the workplace whether young or old, new or tenured, at the top or somewhere in the middle are striving for new information on how to move up the corporate ladder; if they are already on the way, they want good solid information about how to progress. They need women who are mentors; women with success under their belts; women who have concrete how-to's to share. Leading Ladies has the potential to be that kind of survival guide for women at any level of management. It is a true story backed up with factual data and experience. There is no theory in this book; it has all been lived.
Author Linda Spalla has crafted her very personal story in a compelling, quick read for busy females who have little time to carve out their leadership styles. Women promoted to management or leadership positions stumble and fumble into an awkward style based on what they observe (traditional roles), what they absorb (it must be right if it's working for the guys) or what is politically correct (I've just gotten this position and I don't want to screw up). Spalla says women should instead sort through the daily array of what they are feeling and experiencing to arrive at a more natural "way to be", using femininity as an asset to developing compelling leadership skills. Step by step, Linda walks through thirty tips that she used daily for nine years as the President and CEO of WHNT-TV. These tips have proven success. There are no wasted words or pedantic theories in Leading Ladies. The message is freeing, exciting and a relief to women who finally discover a definition to the style they have felt comfortable with but have been afraid to pursue. This book says, "Yes, it's okay to be the woman you are! In fact, leaders who happen to be women can be women in the fullest degree."
Leading Ladies does not suggest that men are poor leaders or that women are better leaders than men. It states clearly that women can be effective because of not in spite of their femininity. In fact, the book would be an excellent read for any leader, male or female.
Linda shares the particulars of her story throughout the book; her power of appeal is that she is "anywoman." She's not Oprah or Jackie or Barbara Walters; she is the neighbor next door or the principal at school or the president of the bank. Linda started at the bottom as a secretary for the television station and worked her way slowly and steadily to the very top over a twenty-five year period. The touching personal anecdotes, the pathos of her life, the shining enthusiasm of her spirit jump off the pages as the reader feels and sees herself walking down the very same paths, facing the same struggles, laughing and crying together.
Table of Contents
Chapter 1 So You Want to Be a Leader?
Introduction
Genderless
Yes, Virginia, There Are Gender Differences
My Story
Chapter 2 The Bad News First
Tip #1  -Understand the "Be/Don't Be" Anomaly
Tip #2 – Get the Chip Off Your Shoulder
Tip #3 – Prepare To Be Hated
Tip #4 – Embrace that Everything Is Everyone's Job
Chapter 3 "Live It" All about your philosophy of life
Tip #5 – Tell the Truth and Nothing But the Truth
Tip #6 – Be Competitive But Not Cruel
Tip #7 – Live the Golden Rule Unashamedly
Chapter 4 "Do It" All about your actions on the job
Tip #8 – Be a Girl Scout
Tip #9 – Create the Communication Dance
Tip #10 – Be There and Be Fair
Tip #11 – Understand that Fair Is Not Always Equal
Tip #12 – Slay the Dragons
Tip #13 – Know How to Hire and When to Fire
Tip #14 – Trust Your Intuition
Tip #15 – Have a Male Devil's Advocate
Tip #16 – Motivate Your Team
Tip #17 – Learn that Business is Business and Friends Are Friends
Tip #18 – Stand Pretty Close to the Water Fountain But Don't Drink
Tip #19 – Emote!
Chapter 5 "Sell It" All about your style
Tip #20 – Wear Buttons and Bows
Tip #21 – Squawk Like a Mother Hen
Tip #22 – Use a Soft Touch
Tip #23 – Run Like a Deer
Tip #24 – Smile
Chapter 6 Taking Care of Yourself All about preserving yourself
Tip #25 – Find a Good Wife
Tip #26 – Wear the Coat Without Those Designer Labels
Tip #27 – Meditate
Tip #28 – Get Physical
Chapter 7 The Final Layer All about perspective
Tip #29 – Beware the Corporate Sinkhole
Tip #30 – Exit Before the Curtain Falls
Tip #31 – Bonus Tip
Postscript Where Do Good Leaders Go?
Past Speaking Engagements
| | |
| --- | --- |
| Company / Group | Location |
| Adecco Employment Services | Huntsville, AL |
| Adtran, Inc. | Huntsville, AL |
| Alabama A & M University | Huntsville, AL |
| American Heart Association | Annistion, AL |
| American Heart Association | Gadsden, AL |
| American Society of Training and Development, Inc. (ASTD) | Huntsville, AL |
| American Society of Women Accountants (ASWA) | McLean, VA |
| Arab Chamber of Commerce | Arab, AL |
| Arab Mother's Club  | Arab, AL |
| Athens State University | Athens, AL |
| Converse College | Spartanburg, SC |
| Cottey College | Nevada, MO |
| Crisis Services of North Alabama | Huntsville, AL |
| Delta Kappa Gamma Alumni | Huntsville, AL |
| Delta Zeta Alumni | Huntsville, AL |
| Executive Women International (EWI) | Salt Lake City, UT |
| Executive Women International (EWI) | Birmingham, AL |
| First Commercial Bank  | Huntsville, AL |
| Girl Scouts of North Alabama, Inc. | Huntsville, AL |
| Hilton Hospitality, Inc. | Huntsville, AL |
| Huntsville Association of Technical Societies (HATS). | Huntsville, AL |
| Huntsville High School  | Huntsville, AL |
| Huntsville Madison County Schools Foundation | Huntsville, AL |
| International Association of Administrative Professionals (IAAP) | Kansas City, MO |
| The Ophelia Project | Tampa, FL |
| Rotary Club | Cullman, AL |
| SBC Communications, Inc. | Kansas City, MO |
| Schools Foundation / Summer Conference for teachers | Huntsville, AL |
| SEA Wire & Cable | Madison, AL |
| Society for Women Engineers (SWE) | Huntsville, AL |
| Soroptimist International | Huntsville, AL |
| Teledyne Brown Engineering | Huntsville, AL |
| University of Alabama / Huntsville Marketing Classes | Huntsville, AL |
| U.S. Army Aviation and Missile Command (AMCOM) | Huntsville (RSA), AL |
| Women's Economic Development Council (WEDC) | Huntsville, AL |
| Women's Business Council, Chamber of Commerce (WBC) | Huntsville, AL |
| YWCA | Abilene, TX |
Audience Comments
"Yesterday, you gave what may have been the most perfect short presentation I have ever heard. You balanced anecdote with data, the personal with the objective and articulated your goals for the talk and for your future more effectively than anyone I can remember. And I attend a lot of public speaking events.
The clarity of your prose, your choice of examples, the way you supported your statements were not only entertaining, they were compelling. Although I'd purchased a book before you spoke, when you finished, I stood in a long line again for the privilege of buying a second. Bravo."
Marcy F. Lawton, PhD.
President, Monte Sano Learning Center, Inc.
---
"Excellent speaker & Conveyed her ideas concisely and well; to be the best you can be in life and at work."
"Linda presented the leadership material with humor, grace, personal anecdotes and wisdom. A most enlightening and entertaining event!"
"Ms. Spalla is excellent. Enjoyed every minute of her presentation."
"I really enjoyed the seminar. I received some great advice and ideas."
"I enjoyed this greatly. It made me think."
"The most excellent leadership program I have ever attended! The speaker is a great resource for women! She also lives what she says! What a great person."
"Wonderful speaker with down to earth' tips on leadership and just how to live your life at the office and outside the work environment."
"Very motivational speaker."
"Most refreshing speaker. Excellent. Appreciated her comments on integrity and honesty. Team player rather than 'what's in it for me.'"
Anonymous attendees
What Readers are Saying
Tara Ragan
Deputy Director, Information Science and Technology Directorate, USASMDC (Huntsville/Redstone Arsenal), Alabama:
"I received a copy of your leadership book as a Christmas present from a friend of mine. Your book is absolutely fabulous, and your leadership philosophy is very closely aligned with my own. I enjoyed your book so much that I thought it would make an excellent parting gift for my first year Board of Directors for the Tennessee Valley Chapter of Women In Defense (WID)
As the founder and first President of the Tennessee Valley Chapter of WID, my goal is to promote women as leaders in the defense community. I believe increasing the number and quality of women leaders in the defense community exponentially improves this Nation's ability to innovate, collaborate and improve our defensive capabilities in an increasingly dangerous and uncertain world. A key way to achieve this leadership goal is through mentoring, and I certainly view you as a mentor for the women of the Tennessee Valley. The entire community has benefited greatly from your charismatic brand of leadership."
---
Liz Kennedy
Community Volunteer, The Ophelia Project, Tampa, Florida:
"I've finally had a chance to read the excerpts from your book. Loved them. You are just what we need for our new Ophelia project with its emphasis on "saving the selves of girls" and programs of mentoring. Catchy chapter titles… And your CH. One is almost a perfect speech, isn't it? Good job with everything."
---
Ellen Sullivan
CEO, Crane Hill Publishing, Birmingham, Alabama:
"… I liked your book immediately because, being a female business owner, I could relate directly to everything you had to say. I think you write well and naturally, and put forth your ideas and experiences in a down-to-earth way that (as you point out) every woman can relate to."
---
Laurie Jordan
Executive Director, Atria Weatherly Springs Assisted Living, Huntsville, Alabama:
"Leading Ladies is a must read for every working woman. Spalla understands the practicality of running a business and provides incredible inspiration and support to those who find themselves right in the middle of her experiences. Moreover, this book provides incredible insight into the complicated roles of men and women in the workplace."
---
Nancy Kramer
Vice President, Community Investment, United Way of MadisonCounty, Huntsville, Alabama:
"Great book!! Should be required reading for many. Found that I got teary in two places, laughed in several, and said 'yes' with understanding in many others. Thanks for the gift of putting it in words and being so absolutely honest and open… it is a definite reread for me!"
---
Karen Queeney
Sales Representative, WZDX FOX 54, Huntsville, Alabama:
"All I can say is, 'WOW.' I absolutely loved your book. I just could not put it down. I honestly think I read the whole thing in forty five minutes, and then picked it up again for 'round two'."
---
Dorcas Harris
President, Huntsville Hospital Foundation (retired), Huntsville, Alabama:
"Linda Spalla has a 'take no prisoners' approach to female leadership! She is unequivocal in her advice to women who want to be true leaders and you can tell that she means every word she says. Her passion and conviction come roaring off the pages to the reader. In addition to being chock full of good practical tips her book is uplifting and exciting. As a retired executive myself, she really got my juices flowing again. I would recommend Linda's book to any aspiring female leader."
---
Cynthia Streams
Vice President and Treasurer, Valley Pizza, Inc. d/b/a Domino's Pizza — a 16 store franchise, Huntsville, Alabama
"…She truly calls 'em as she sees 'em, with fabulous frankness. The way she's organized the book lends it to becoming an important reference tool for any female leader. You can pick it up and get a quick jolt of common sense and encouragement at a moment's notice on any particular leadership attribute you are tussling with at the time. I'll be keeping a copy at both my office and home."
---
Betty L. Hayes
Former Mrs. Senior Alabama, Cullman, Alabama
" My, I was impressed…I couldn't put it down…what truths!! I have it by my bedside table for a reference!!"