Dear Friends,
FINALLY, today is our departure day, and I'm overwhelmed with so many feelings.
I miss my friend Sharon Tyson who has for so many years taken us to the airport.  It was part of our tradition, but she is now in Tucson.  BUT my wonderful friend and golfing buddy Barbara Buice has stepped in to start a new tradition.  Merci!
I think of my kids and grandkids and hope they will have a great fall.  Hopefully, FaceTime will work in Paris and we can still communicate frequently in face-to-face conversation.  It's a great way to watch your grandbaby grow up from a distance.
I think of my friends Charles & Judy Gattis who are our first guests and will arrive on Sunday, yes, just as we are moving into our apartment.  And regretably to other friends who wanted to come but didn't quite get things to work out.
I think of Bernie who has made all of this possible and after 10 years, we're still in a good place.
I think of all of you who have followed our blogs and picture gallery for so many years. It's like a family of supporters and we do so appreciate it.
So here's how the departure shapes up.  Bernie has his two pairs of dockers, two pairs of jeans, one pair of shoes, six or seven shirts and his tiny little toiletry case.  I, on the other hand, have 4 (four) suitcases, one more than last year.  We compromised on this and I was "allowed" one additional small suitcase because of bulky heavy clothes for the fall rainy season.  So, I think we are set for adventure, serendipity, good food, lots of exercise and engrossing escapades.
We fly out of Newark (the armpit of airports) on Open Skies.  We have a business class seat which is large and reclines for sleeping for the amazing price of $1295.  This would be $4000 on Delta.  Our body clocks are turned around and we have no money!  We will hit the ATM upon arrival at Orly airport.  But more about all of that later.  This year's trip will be a special chapter in our book, Bernie and Me, talking about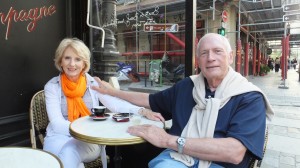 Paris in the fall of the year.  Stay tuned.
Allons y!
L&B