Bonjour,
Today, we hit the jackpot with Fashion Week.  The Chanel event was at 10:30 this morning at Le Grande Palais according to the internet.  I convinced Bernie we should leave the apartment at 9:30 (he was not a fan), and off we went to discover whatever we could.  I thought the Chanel show would be a big one, and I was right!   A mob of Paris's Who's Who, models, beautiful people, whatever you want to call them along with the paparazzi swarmed like hungry locusts.  AND a massive traffic jam created even more excitement to the moment.
We got off the subway at Clemanceau and Bernie took off saying, "Follow that guy."  "That guy" had very expensive camera gear and was tearing off through the crowd.  I have to commend Bernie for jumping in with the rest of the camera gang and shooting almost 90 photos over a 45-minute period.  It was truly more than we could take in, everyone (but us) with a gray invitation in their hands.  Bernie leveled the playing field with pics of a few stylin' guys.
We met a delightful young gal from Australia, a former student who is taking six months out to travel.  Her name was Kristy and she arrived in Paris this morning just to spend the day and will fly back to Australia tonight!  Oh, to be young.  She was thrilled to happen upon this event and we captured a picture with her.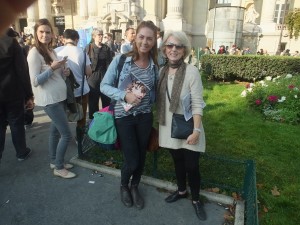 Sated with all the fashion we could absorb for one day, we meandered behind the Grand Palais and got some great autumn shots of the Eiffel Tower and some fashion windows on Avenue Montaigne.  The last photo represents a definite fashion look in Paris.
There's a lot of pics so I did not add captions this time.  Enjoy and let us hear your reaction.  Watch for the lady with her dog, the twins, the woman with a lightbulb for a hat, the man in overalls with a curly-Q and the lady with a chain lock belt.  O-la-la!
A bientot,
L&B