Bonsoir mes amis,
It's Le Weekend in Paris and still unseasonably warm.  However, at 3pm today (Saturday) it was only 91 compared to 97 yesterday.  The skies are overcast which makes a huge positive difference in our apartment since we get the scorching, direct, Western sun.  One of our friends down the street answered Bernie's question as to whether it had rained while we were out by saying "trois goutes" or three drops.  They are desparate for some rain soon, maybe tomorrow.
Today was laundry day and I must report some good news.  Our LG washer/dryer combination has done a pretty good job even with the drying, though it does take almost 4 hours for the process.  It appears that we don't have to walk wet laundry five blocks to the Lavomatic after all.  That's great for me!  We have a drying rack in the apartment for the clothes to finish drying and after about ten minutes, they were ready to fold and put away.
Our outing this morning was lovely.  We found the third Art Nouveau house I wanted to showcase at 14 rue d'Abbeville in the 10th arrondissment of Paris.  But with it we also found a gorgeous church which was new to us, St. Vincent de Paul.  Here are some photos we hope you enjoy of both the exterior (with lovely art affixed to the facade) and interior shots of the nave, special altar, one of the chandeliers and some of the exquisite stained glass.  A very nice serendipity.  There were little parks adjacent to the grounds of the church but inhabited by homeless people. Ironically, this is perhaps appropriate since St. Vincent de Paul was noted for his kindness to the poor.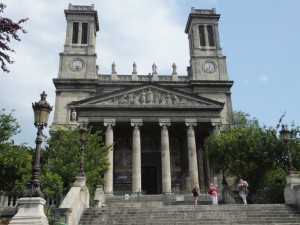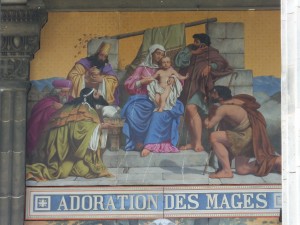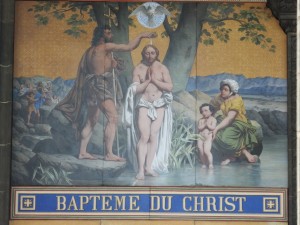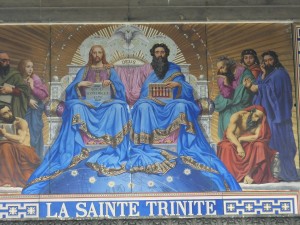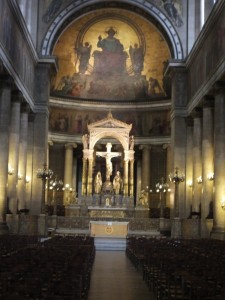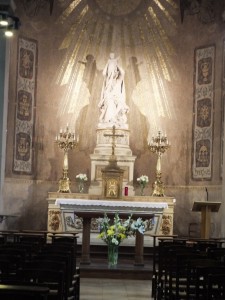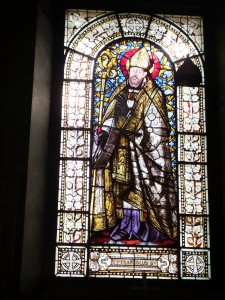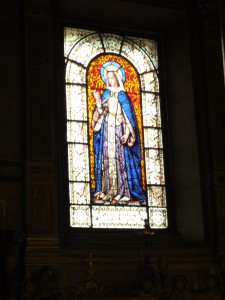 If you remember the television show "The Flying Nun" with Sally Fields, she was dressed with the special headdress of the order of St. Vincent de Paul.
The Art Nouveau house was once again on an even narrower street and very hard to photograph, but Bernie gave it his best.  Not as dramatic as the previous two but still interesting.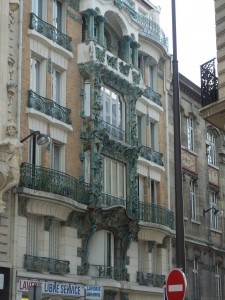 We were close to Au Printemps, one of the large department stores, and stopped at their tearoom with the stained glass dome for lunch.  It was wonderfully air-conditioned. I  even got a little chilly sitting there for lunch which has never happened before in Paris. I had a dish referred to as a quintelle de legumes which was a small cup of what tasted like gazpacho. It was topped with goat cheese and delicious.  We like this spot because it's classy, quiet, reasonably priced and COOL. Here are a few shots of the dome, one of which was taken as a reflection in the glass table where we were sitting.  The big pink bunny was made of roses to coincide with the 150th anniversary theme.
On Saturday evening, we were invited to one of Bernie's friend's homes for an aperitif.  Didier (in the red shirt) and his wife live in our building in a much larger apartment on the third floor(two small ones combined into one).  He is a retired hospital equipment salesman.  Our evening was delightful and it's so fun to go into a true Parisian's apartment. Other friends also joined us. Here's a photo of all of us taken by their daughter, Juliette.  
Happy weekend to all!
Linda & Bernie