Bonjour mes amis,
It goes by many names: La Fete Nationale; Bastille Day; Quatorze Juliet (14 July).  Whatever you call it, the experience is "formidable" as the French would say.
The stage was set by the weather (gorgeous and not too hot).  Jim Bilbro braved an early morning and went to stand on the Champs since he had never witnessed the Bastille Day parade in person.  We shared some tips, but still he was frustrated at not being able to stand at the front of the queue despite being there around 7:30!  Peggy, Bernie and I chose to go to the bridge right across from l'Hotel de Ville which makes a perfect viewing stand for all the fly-by's.  It is also the only bridge with benches. We arrived just before 10am and got a perfect seat.  It was us and a few Buddhist monks.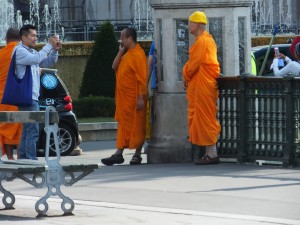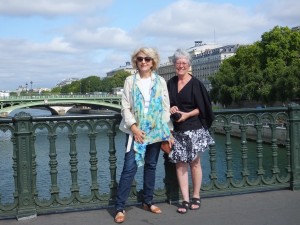 The opening statement of the parade is the impressive fly-by with streamers of the French flag-bleu, blanc, rouge (blue, white and red).  This always brings tears to my eyes. There were three little children right behind us who would shout "Vive la France" each time an airplane flew over us. Really neat.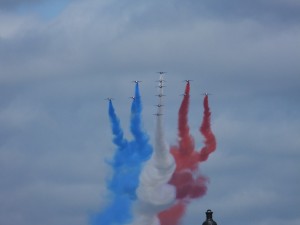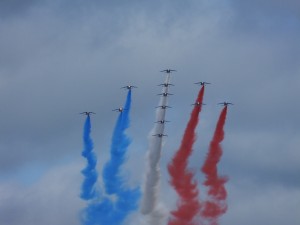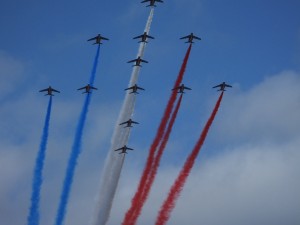 After we viewed all of the French aircraft overhead, we went back to our neighborhood to our favorite and frequent little cafe, Le Bouquet St. Paul to watch some of the parade as it broke up.  St. Antoine is one of the arteries used to disperse the various parade vehicles.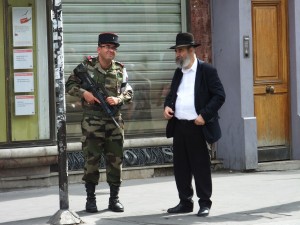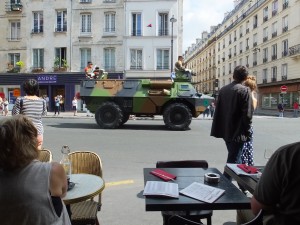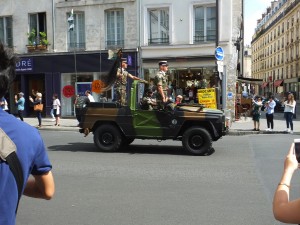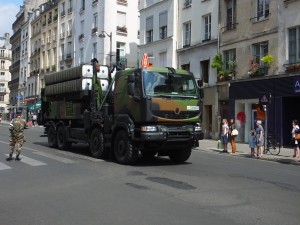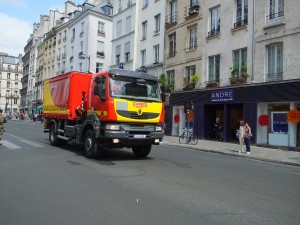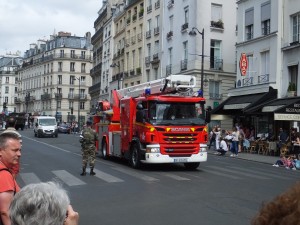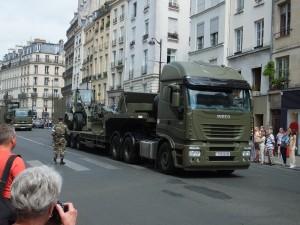 Jim joined us for an early lunch eventually. Also all of our rue St. Paul neighbors were out and about so we had a little reunion!  Just wonderful to see everyone. Chantalle whose apartment is on the same floor as our apartment had lunch with us. We miss our regular spot very much but given my knee, we made the right decision for this year to have an elevator at the current apartment.
We left for our cruise around 6:30, and it was from start to finish, just great fun.  Throngs of people are bustling around on this particular night as the fireworks from the Eiffel Tower are a big deal.  Our meal was surprisingly delicious and very interesting with a few truffles even gracing our entre and main course.  Here's the wonderful dessert from Lenotre, one of the famous Parisian bakeries.  
Because it was such a lovely evening, Bernie and Peggy each got some beautiful before-fireworks photos.  Bernie got a beauty of Notre Dame and also of our apartment building as we were floating by.  I'm sure Peggy will post some of hers on Facebook.
Now to the fireworks extravaganza.  I had probably 300 photos to go through to try to select the best of the best.  Shooting fireworks is NOT an easy skill.  Half of these are Bernie's and half Peggy's.  We hope you enjoy them!  We were not at an outside table next to the viewing windows so somewhat of a challenge for them. Jim's video which is posted on Facebook is probably the best representation of our experience.  Kudos to him for posting it last night at 2am!
Our journey home was typical of the madhouse of humanity, security, drunkenness, food trucks and lots of litter, but we made it safe and sound back to the apartment about 1am. What a day and what a memory.  Now back to normal as I'm changing the bed and washing sheets this morning!
Have a great day,
Linda, Bernie, Jim & Peggy