Every year from mid-July to mid-August, the river Seine in Paris is invaded with tons of sand, beach chairs, beach umbrellas, and hordes of sun-ready Parisians in speedos and bikins.
No one is allowed in the water, but all else resembles a beach or Plages.  There's nothing more fun to do in the summer than to take a stroll along the beach and people watch.  Picnics, laughter, plenty of wine, children frolicking.  It's a spot for making  wonderful memories and fantastic pictures.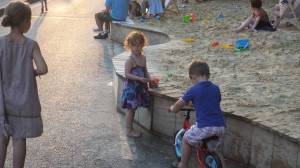 About right now, I'm really missing this unique Paris phenomenum.