Bonjour,
It's very important to make note of Mondays in Paris and plan accordingly.  Mondays are not as casual as Sundays but not fully operational either.  Certain patisseries, cafes, hair salons, shops and musuems are closed which can really sidetrack well-laid plans.  Traffic is less and those who worked in service industries all weekend often get Mondays off.  We, or course, know this oddity about Mondays but sometimes forget!
Today, we started out early to run a series of errands and ended up only accomplishing one.  We needed lightbulbs so we rode the Metro to the BHV and went into their amazing basement which  is a treasure trove of all things to do with hardware.  Bernie is mesmerized every time we go and  says, "I could stay in here all day."  We noticed some clever "artwork" at the Caisse or payment counters for the electrical section and snapped some fun pictures.  Look closely!  We did find the lightbulbs we needed and that was the peak of our morning's success.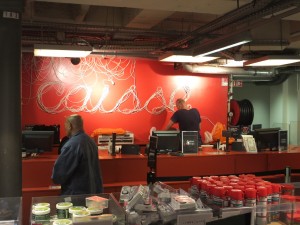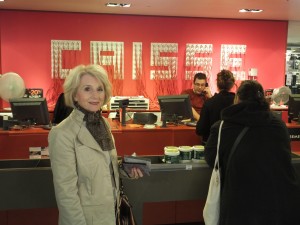 We needed to print out all the information for our new apartment so we walked to the internet cafe in our area which we have used before.  Alas, closed on Mondays.  Then we needed to purchase stamps for some cards to the USA.  Alas, the post office didn't open until 2pm because of special maintenance.
Finally, we went to make dinner reservations for our company in early November at L'Ouiseau Blanc, the rooftop restaurant at the newly rennovated  Peninsula Hotel on Avenue Kleber.  They are booked for dinner until December 27th.
So, a typical, frustrating Monday for us without a lot accomplished.  BUT the weather has been beautiful, given yesterday's gray rainy day, though it's pretty chilly.  I have worn three layers today, the outer one being my coat!
The day was not without a nice surprise or two.  After the Peninsula Hotel, we walked down the Champs Elysees  following up on an article I had read in Where Paris.  It pays to read the magazines from cover to cover and seek out new adventures.  I read that on the top floor of the Louis Vuitton store was someothing called L'Espace Culturel with contemporary art and great views of the city.
And voila, it was there exactly as the magazine said.  You walk all the way to the top of the store, then push the button for a special elevator with an attendant.  When the door opens, the elevator is totally black: floor ceiling, walls. The attendant warns you that it will be dark.  Dark is not the word;  pitch black and spooky as you travel several more floors up.  Finally, you get out into the art gallery (no photos allowed) and the views of the rooftops of Paris.   It was an unusual spot but very peaceful and quiet.  AND I found yet another very clean, nice restroom to add to my growing list.  We're glad to know about this little hideaway.
One more fun discovery along the Champs was watching the Christmas lights go on the trees for the upcoming holiday season.  Too bad, we will leave before they are turned on.
Late this afternoon, we walked across the river and caught the afternoon sun on Notre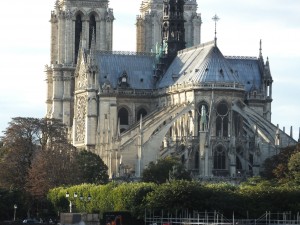 Dame and Ile St. Louis.  Bernie's panaromic is spectacular of almost the entire island.  We walked past another post office to buy our stamps and alas we were ten minutes past closing time.  One could say a rather appropriate end to our day, oui?
Hope your Monday has been a good one!
L&B