Bonsoir,
We were delighted to hear from many of you with comments on yesterday's adventure with the pink Eiffel Tower.  Thanks for all the kind words.
After such a marathon of spectucular delights yesterday, today will seem almost bland. It has been warmer than expected and the sun did break through for much of the afternoon.
We have another new restaurant to suggest on Ile St. Louis, Les Fous de L'Ile or the Idiots of the Island.  We already had the place of the cows with L'ilot Vache and now the place of the chickens!  We had a very reasonable tasty lunch here. It has great ratings and is in the Michelin Guide.  The interior is spotless and has a bar with named stools for the "idiots" who are frequent patrons.  (Our waitress confirmed that these are "les fous!")   The restaurant has monogrammed dinnerware and water decanters, linen napkins, and excellent service.  Bernie got some interior shots of all the chickens and the bar.  I give the restaurant 5 out of 5 stars on Linda's Zagat rating of restrooms.  (A joke with Bernie's cousin, Pierre.)   I count myself an expert on restrooms in Paris…which to use, which to avoid and where to go when desparate!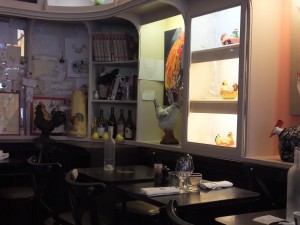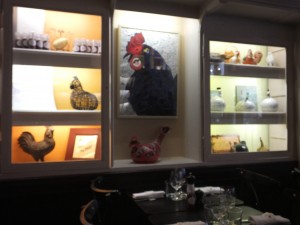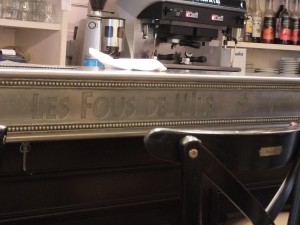 After lunch, we took advantage of the better-than-forecasted weather to go to opening day of the wine festival at Montmartre.  All the promotional material including the web site said October 8-12th.  One would think that meant it was slated to start today, oui?  But c'est toujours complique a Paris…it's always complicated in Paris.  Actually, after climbing another 250 steps  to get to the top, we found out that the festival really begins on Friday!   Who knew?  So frustrating, but we will go back on Friday since this may be our only time to visit Paris during the fall.  This festival is a big deal and we don't want to miss it.  Bernie, of course, got some lovely photos anyway.  Enjoy!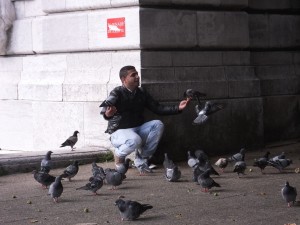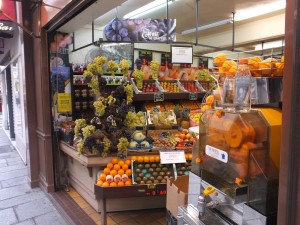 A bientot,
L&B