Bonjour,
We have arrived in Paris, and all is well: a good travel day, only ten minutes at Customs which was a great improvement over the forty-five minutes last year, and a welcome home to our favorite apartment on rue St. Paul.  Our neighbors heard us as we came up the steps and came down to say Bonjour.  Such fun to be greeted warmly! The weather is hot by Paris standards and expected to be in the low 90's tomorrow! Think no air-conditioning, and this becomes a significant event. We do have two fans for upstairs and down which makes an amazing difference. We simply acclimate to whatever presents itself which is part of the audacious Parisian spirit!
Yesterday after unpacking, we bought our first round of groceries, recharged our subway passes, bought new place mats for the table, and I did my usual fussing with the apartment to get it livable by our expectations. We both slept VERY well last night which is a good start on the way to resetting our internal clocks.
What's new? We have new owners AGAIN at the beloved little café beneath us, and they have new chairs reminiscent of last year.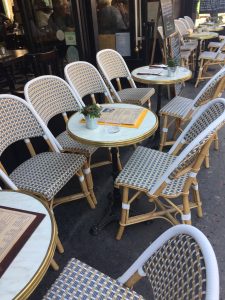 We boldly introduced ourselves as frequent customers. I think they thought us a little strange, but that will dissipate as we become acquainted with them. Also, we will have to tolerate construction during the visit as they are putting in new underground cables in our immediate area. This is happening all over Paris so it's our turn to endure the noise and inconvenience.
Though fully exhausted, we made our usual after-dinner walk along the river which produced a couple of interesting photos.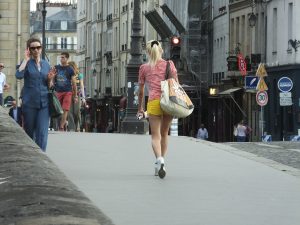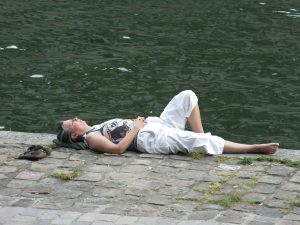 The last is our "Purely Paris" shot of the day. Hope you enjoy and more to come as today will put us on a more regular schedule.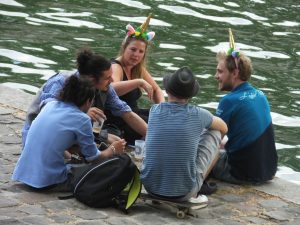 Thanks for joining us!
Linda & Bernie