Bonjour,
Just like at home, some days are ordinary and simple. Yesterday was one of those days for us. The weather was still clear and quite warm in the mid-80s.
We have a commitment to try to eat at some different spots which is always interesting. I am usually the ringleader of this effort, and yesterday's choice was a spot called JJ Beaumarchais on Boulevard Beaumarchais. It was expensive, with a gourmet flair that would suit Monsieur Bilbro. The menu choices were quite exotic and only in French. Even Bernie had a difficult time deciphering them.
We try very diligently to sit outside for obvious reasons but the street noise was not exactly amenable to dining. Next to us was a pizza place with two oversized umbrellas which with a blast of wind toppled over, crashing all the tables and hitting a passerby on the head. He had a bleeding cut but insisted that he was okay. They ran after him but he refused any help. That, my friends, was the excitement for the day.
Bernie had a very small salmon salad and then a tiny cheese plate. I had an entré (which is the appetizer in French vernacular…yes, entré or beginning course) which consisted of a slightly boiled egg, mushrooms and crisps on top followed by some kind of fish as the plat or main course. It was tasty but I have no idea exactly what I ate. Here's the entré followed by the cutest cup of espresso I've likely been served in Paris presented on a petite iron skillet.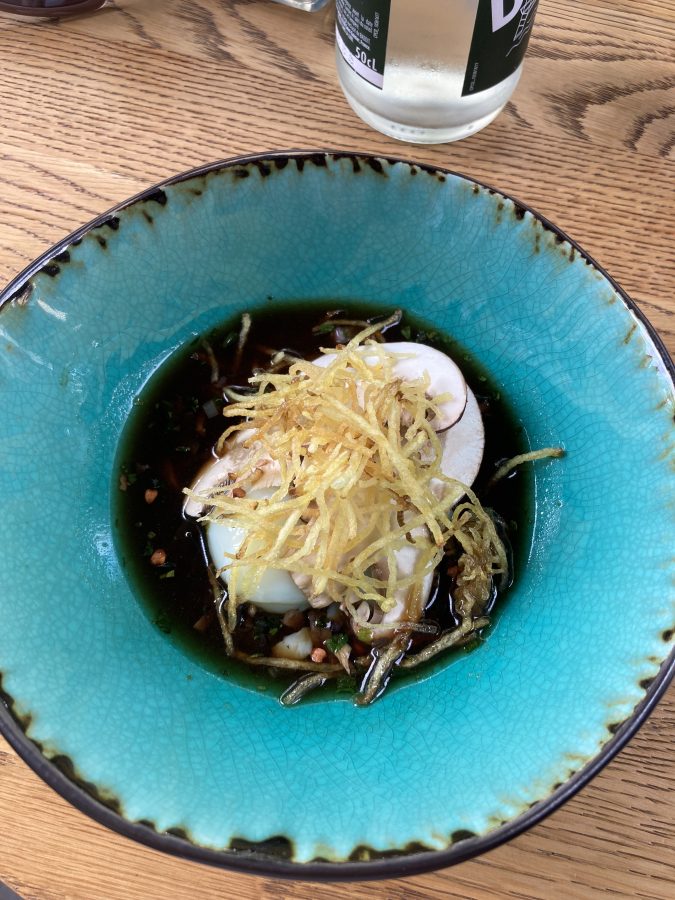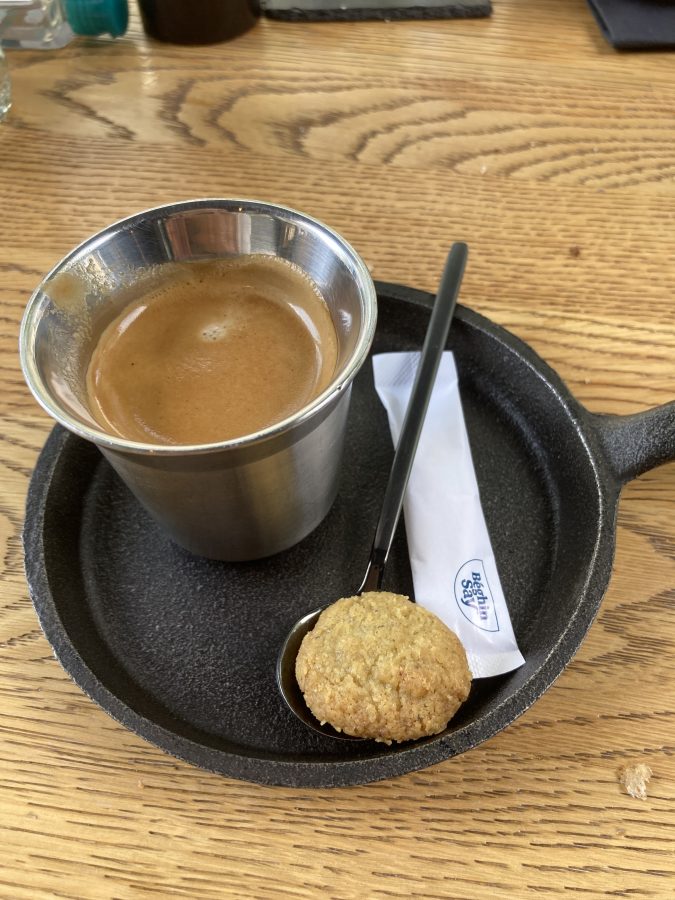 I did some shopping after lunch as the July sales are about to end. It's a challenge but I did find one item marked down to 10 euros, which is about my speed. The new collections for fall are in which are fun to browse, but we have no room left to stuff heavy clothing into suitcases for our return.
We snacked in the room for dinner and then proceeded out for a cup of coffee at the Royal Turenne, the café 16 years ago where I fell in love with my first French waiter named Olivier. Fond, fond memories here! I just started snapping photos of all the different people who walked by as it's one of the very best people watching stations in our area.  Some are blurred because I had to be quick and discreet. At first our view was open, then they added tables in front of us so…
What you see is a sample of the current fashion, some tats, all shapes and sizes of folks. The big difference from now and 16 years ago is tasteful elegance. It was from this spot, I coined the phrase "the Paris strut" as the ladies walked by in their high heels and beautiful outfits.
Here's a few walk around photos in our "hood."
Some of you have stayed at the Hotel Caron which is currently closed and engulfed by street construction.
So there you have it. Just an ordinary day in Paris. We eagerly await the arrival of Jim and Peggy Bilbro soon. Always a fun time together.
À bientôt
L & B