---
Dear Friends,
It's 3pm in Paris and 87 degrees! That's 15 degrees cooler than yesterday. It's a bit cloudy off and on with a nice breeze. What a difference 24 hours can make! Hopefully, today's blog will make up for the sparseness of yesterday's.
I must start, however, with some photos which I took last evening about 10:30 while Bernie was taking a little short nap.  The sunset was amazing.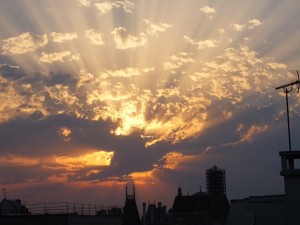 I'd like to share a little bit of history with you as we go along this year.  The first topic is about the architectual style called Art Nouveau which spanned the years from 1890 to 1910. In the era preceding, George-Eugene Haussmann, commissioned by Napoleon III, redesigned the layout of Paris to be what it is today.  The meandering, tiny rues or alley-streets, often dirty and unattractive, were replaced with wide, sprawling boulevards in central Paris such as Boulevard Haussmann and l'Opera. Also on the Left Bank with Boulevards St. Germain des Pres and St. Michel.  The one area left basically untouched was in Le Marais where we are. That's part of the reason for its current charm. Many, many people were displaced from their homes and the controversy surrounding this change was huge.
Art Nouveau burst on the scene when architects began exerting some genius creativity after the Haussmann reign.  I have four examples to show you and the first is located at 26 rue Vivan on the Left Bank.  Bernie and I made it our today's challenge to find and photograph it for you.  It is noteworthy because it was the first large structure in Paris with a terrace.  And it is built totally out of the same small tiles that are characteristic of the classic subway stations.  Hope you enjoy!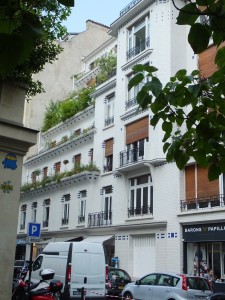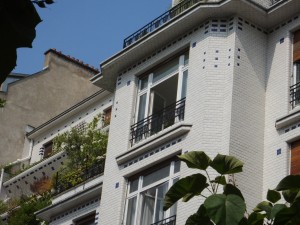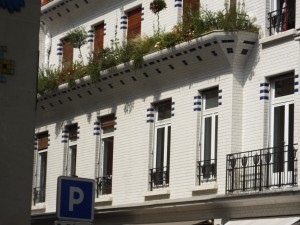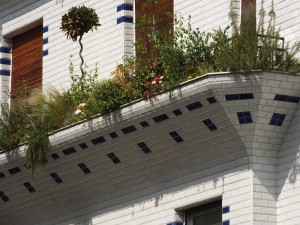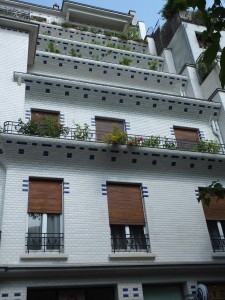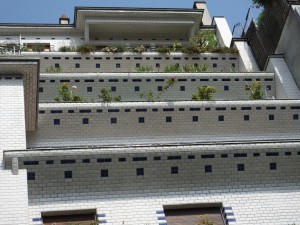 This little jaunt put us right in the heart of the Montparnasse district of Paris around three very famous brasseries from the 1920's:  Le Select (Hemingway's favorite), La Coupole and Le Dome.  Here are a few links that you might find intriguing if you want to know more.
http://www.lacoupole-paris.com/en/the-legend-of-la-coupole.htm https://en.m.wikipedia.org/wiki/Le_Dôme_Café
We decided to eat lunch at Le Select, Bernie with his Tartare de Boeuf (raw steak) and me with my safe chicken club sandwich.  The wonderful pineapple dessert (shown half eaten) was tres bon! with pomegranate seeds, hazelnuts, ice cream and the thinest slices of pineapple I have ever seen.  
To make up for yesterday's lack of activity, we hiked from the restaurant through the Luxembourg Gardens and all the way home.  Great way to walk off lunch.  Along the way, we found the beehives
which belong to the Gardens, and of course the wide expanse of the beautiful lake.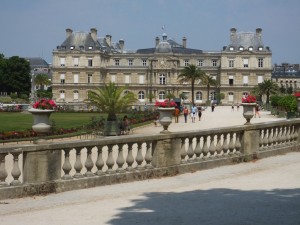 We also passed along the bridge directly behind Notre Dame which is still loaded with "love locks."  I asked Bernie to get a really tight shot to show how ridiculous this tourist custom has gotten.  These have not been taken down yet.  The Pont d'Artes is the bridge where they have all been removed because it was built as a foot bridge only and the love locks weighed in at 45 tons or 90,000 pounds.  It was going to collapse and with it potentially dozens of pedestrians.  It's too bad that we always have to take a good thing and push it over the top until it implodes.
Last but not least on this gorgeous day, we found a bride.  So as not to be too obvious, I stood in the foreground while Bernie took the shot. The bride was being sprayed with something to keep her cool.  All in all, a great way to end our walk.
Best to all in a cooler Alabama,
Linda & Bernie