Bonjour,
Our final day with family was the best, weather-wise. Mid to high 70's with enough clouds to keep it from getting hot. The day got progressively nicer and of course, the light lingers until after 10pm which I love!
Off to a very late start, we tried to ride the train to the Luxembourg Gardens only to discover that that particular stop was closed for repairs so we exited at St. Michele at the beautiful fountain. (A tip for Paris visitors riding the train: if your stop is not lit up on the board, the train will not stop there.)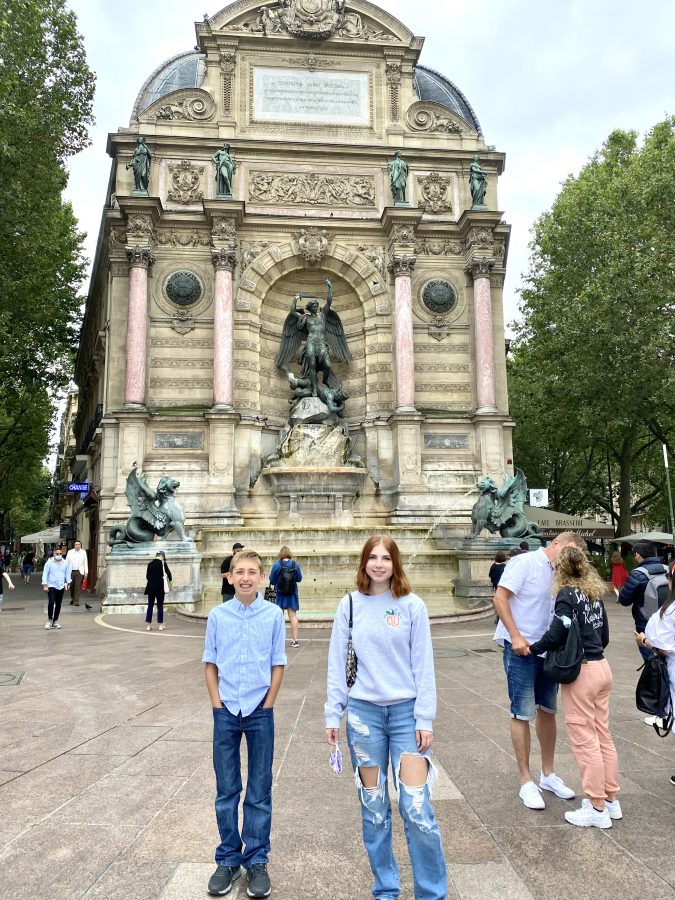 We walked up the hill to the top of Boulevard St. Michele and had a quick bite of lunch at the restaurant of the teddy bears, Le Choupinet. Great food, excellent  service.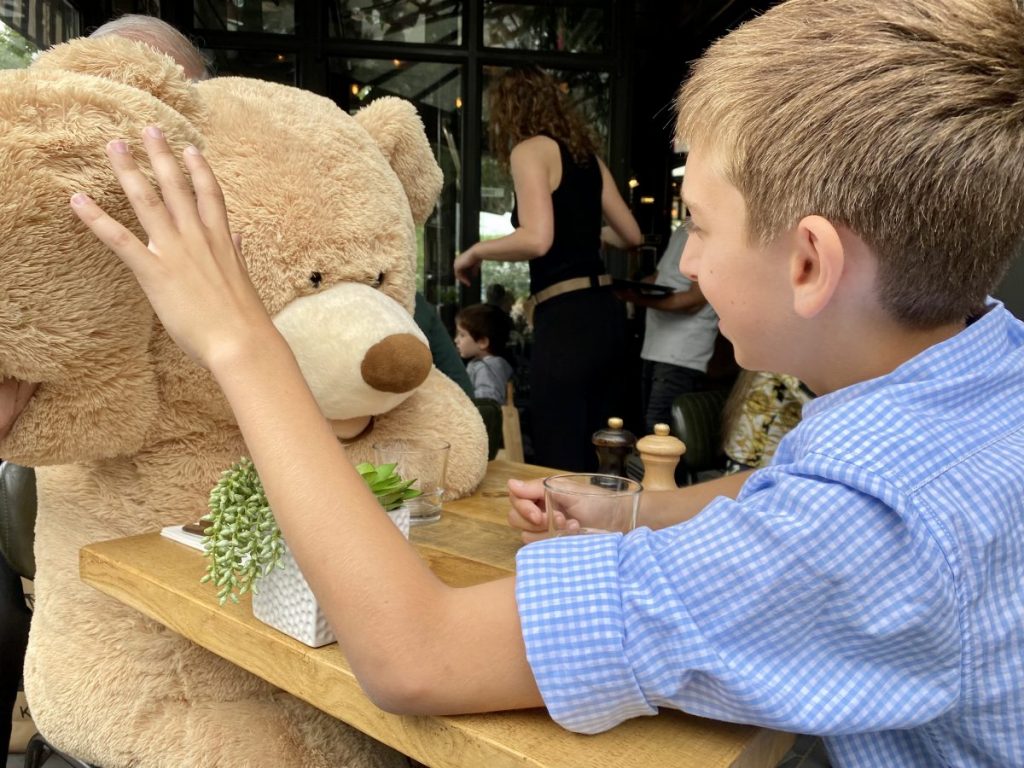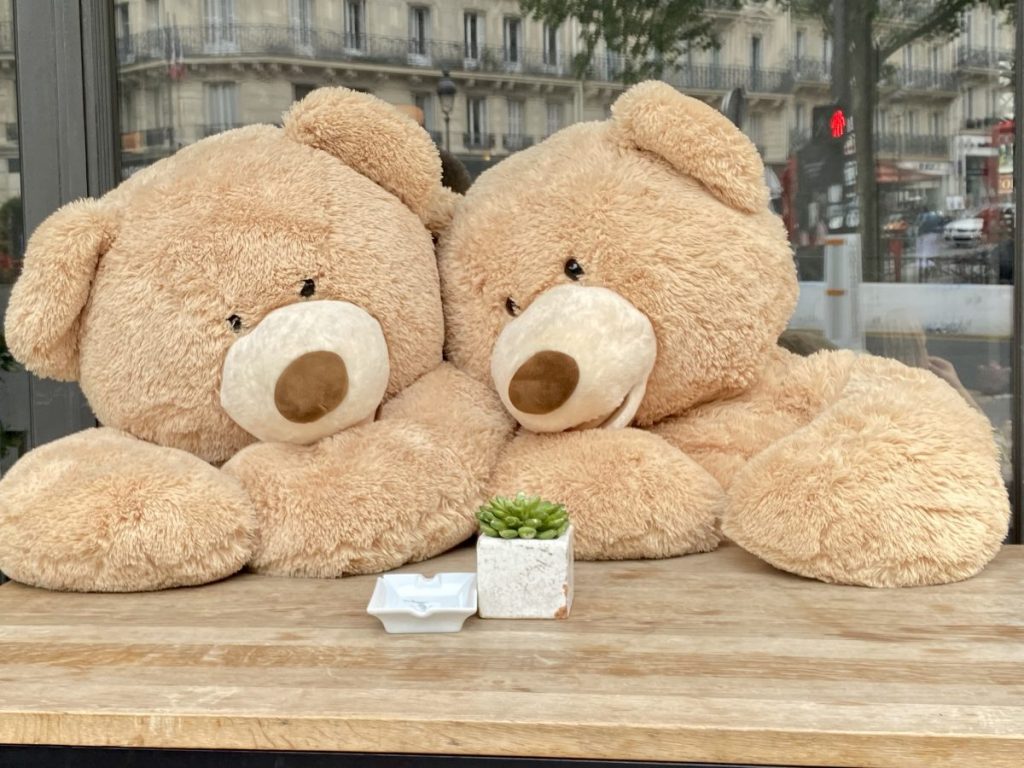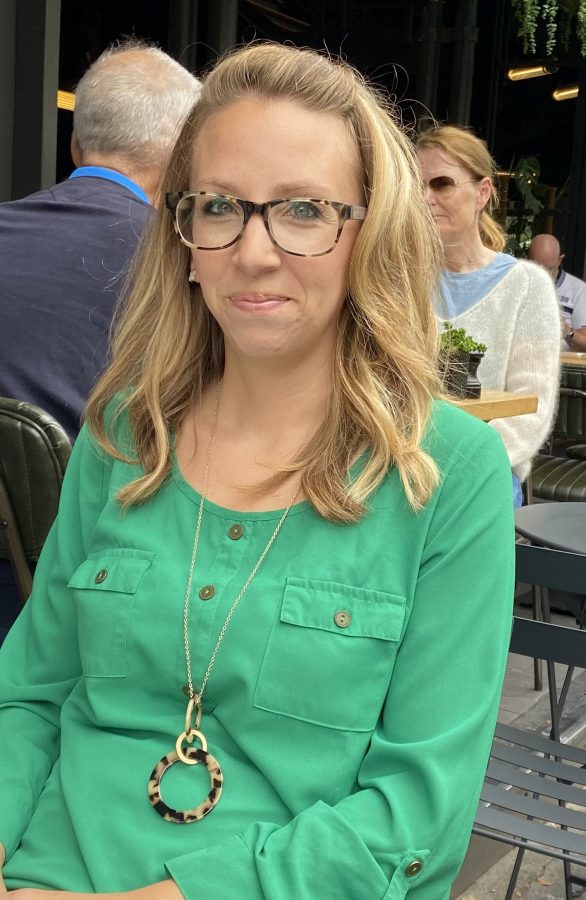 After entering the gardens, we were sad to see that the beautiful Medici fountain is under a cleaning process. We really couldn't get near it, but we did sneak over the barrier to get our favorite guest photo among the sculptured ivy and to capture the beauty of the fountain after cleaning. It has always been a greenish black and now is pristine white! It's such an idyllic spot for picnics and taking a rest break.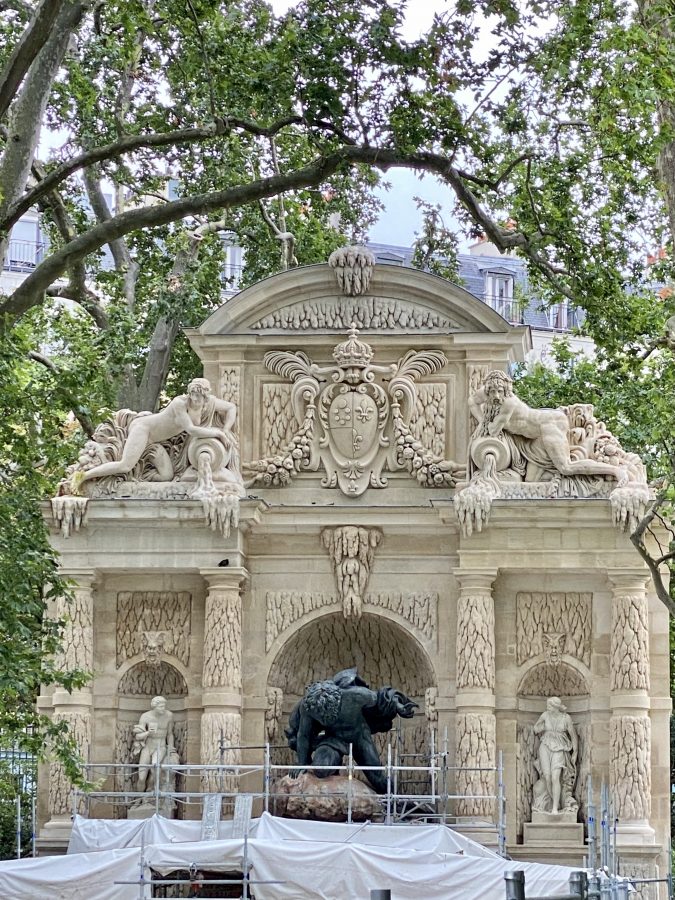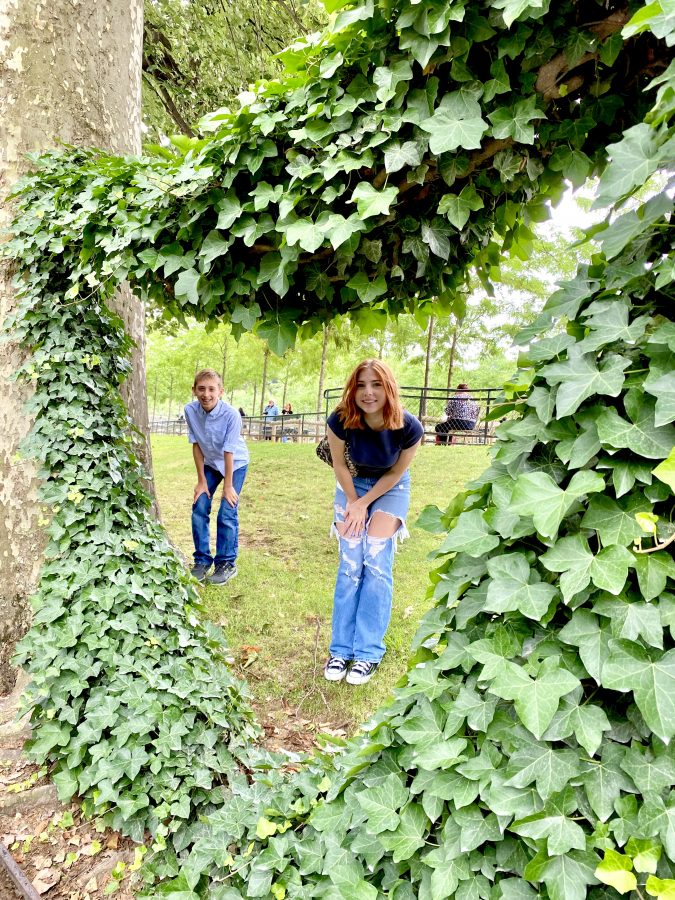 Carson found the sail boats and had a fun time for 30 minutes of "sailing" while the others walked through the gardens.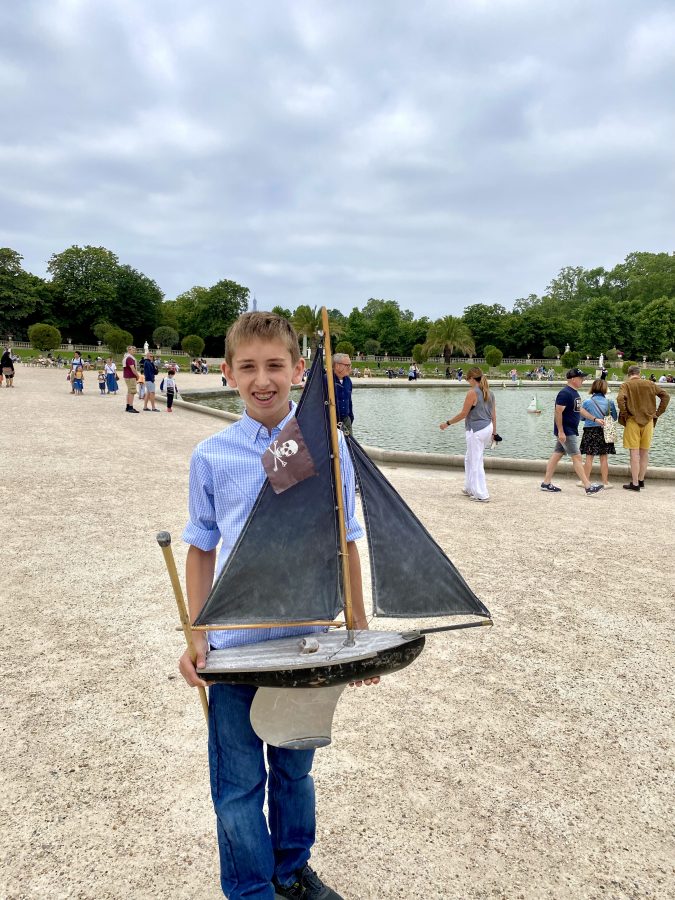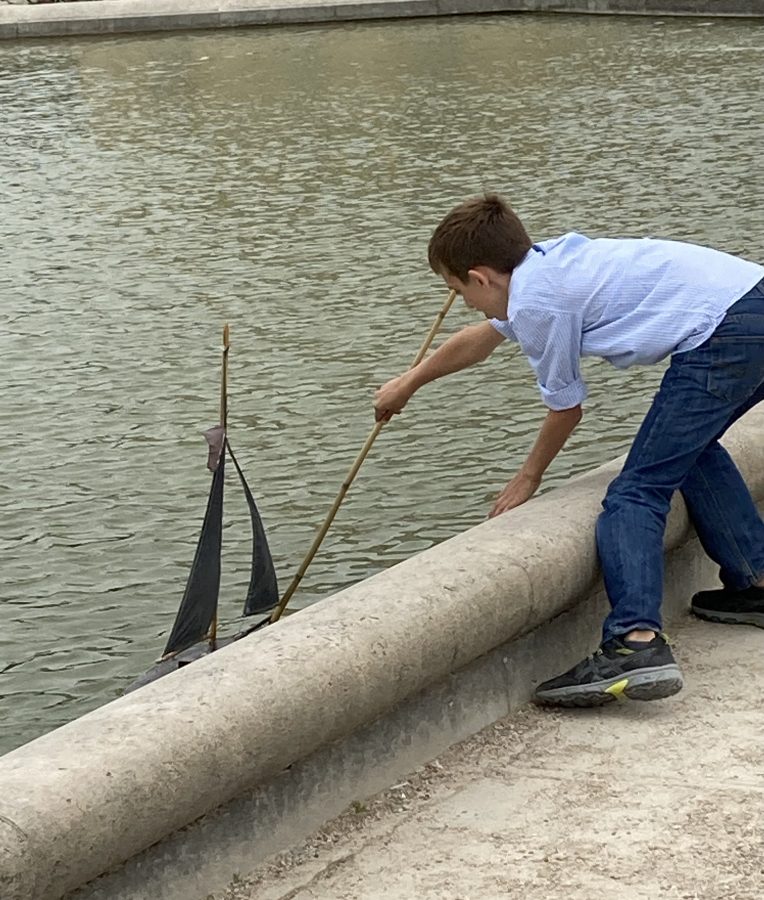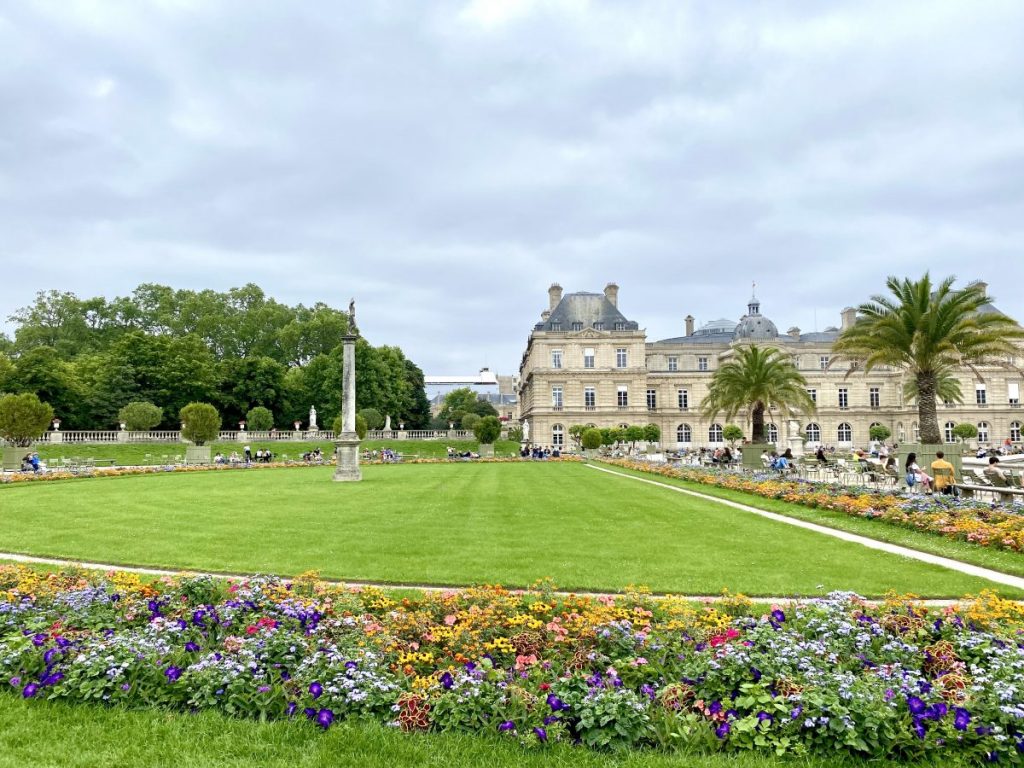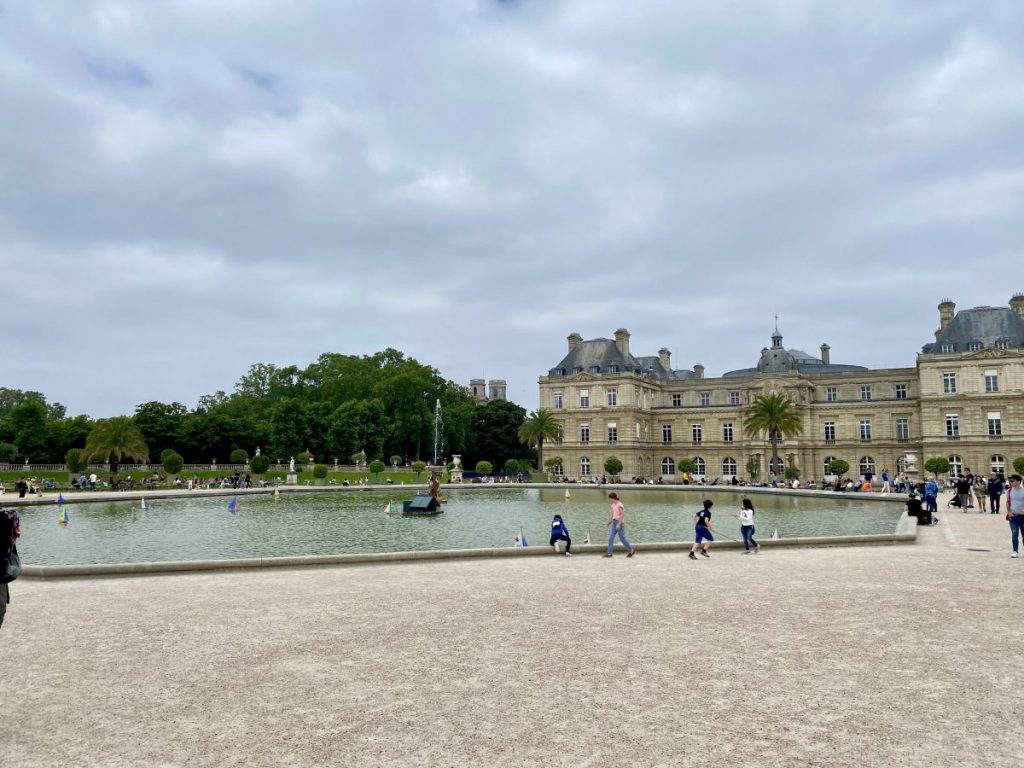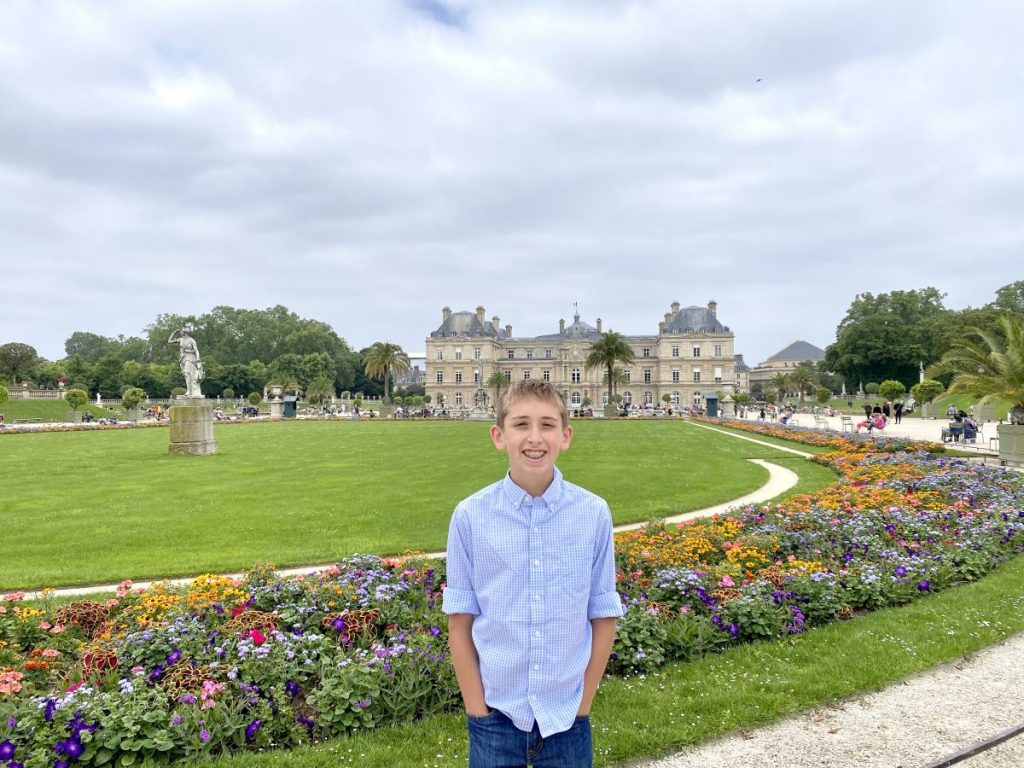 Maybe it was just me but the flowers didn't seem quite as vibrant as usual, possibly another side effect of the pandemic.
Emily wanted to go to another Brandy Melville location different from the previous shopping excursion. It was quite a ways away and very complicated to get to as far as the route was concerned. Bernie had mapped out what he thought was the best approach with the fewest changes on Le Métro, but the gals insisted they had a more efficient route using Google. It turned into quite an extraordinary adventure underground but we finally found it. The lesson: perhaps it's best to trust the Parisian for directions!
To Emily's credit, she had less than 30 minutes to shop as we had a 4pm time at the Eiffel Tower. She managed to grab ten cute items in record time.
Already under time stress, we had planned to use the Bir Hakim subway station at Passy only to find that it is also closed and under renovation! So we walked all the way across the river through messy construction. Our feet were screaming under protest by this time.
We made the Eiffel Tower appointment on time and had a marvelous visit at the tower which, you guessed it, is also under renovation. It's being painted for the 2024 Olympics. Here's some very interesting data about the history of painting it and the paint colors and other specs. The tower when finished this time will be a "yellow brown."All  signage is in French and  English.  
Natalie, Bernie and Emily went all the way to the top of the tower. Carson was a little queezy about that so he and I stayed on the second floor. I finally lured him to the edge where he could really see, and we had a great time trying to find all the sights we had seen during the week. Here's a good look from both floors.
All in all, it ended up being our best day. but Bernie and I were pretty much wiped out. We estimated close to 20,000 steps. The gals wanted to do a dance video on Le Champ Mars. We waited that out on a park bench…ha! It was very cute, but alas can't be posted successfully.
We dragged ourselves back to rue St. Paul and ate a few leftovers from various restaurants through the week.
We said good-bye to Natalie, Emily and Carson around 10:30 this morning and wished them a good journey home. I've had the joy of having  three of  my four grandchildren here in Paris with us. Sweet James is only 7. We can hope! 
For us, we will cherish some rest! Though today is the Tour de France entry into Paris and of course, we will be there around 4pm on Les Champs Elysées.
I'm planning to take a few days off from the blog to catch up on laundry, cleaning, grocery shopping, and rest!
Happy Sunday,
L & B