Bonjour mes amis,
Johnny Tyson had the best quote of the day yesterday as we experienced Bastille Day in Paris, "I think I'm on sensory overload." And indeed we were.
Our day started with the military parade on the Pont D'Arcole (bridge on the Seine) where we watched the fly-by for about twenty minutes, followed by our usual habit of going to Le Bouquet St. Paul to grab a bite of early lunch and watch the parade break up on our busy street, rue St. Antoine. It was not quite as organized yesterday, and we wondered if it was due to all the road construction. Still fun.
Jodie and Dennis opted to rest (I can't imagine why) and we took Sharon and Johnny to Les Champs Elysées for a few hours. Sharon toured Louis Vuitton with her mouth agape at the prices, and then we cooled down in the beautiful bar at the George Cinq Hotel.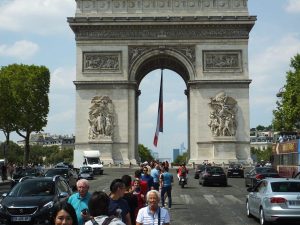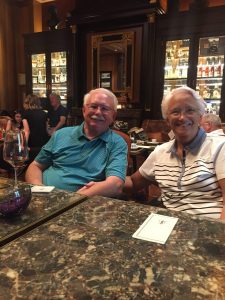 Our dinner cruise for the fireworks was a stress point for me as I had arranged for a different experience on a boat which was new to us selected because it had a large clear deck on top for viewing the extravagant show. We've tried a little of everything and thought this might be the best for viewing. It turned out to be spectacular. We were so close that we all got pieces of paper ash in our hair and smoke in our eyes. The experience was a bit dicey at the beginning as we stood in line to get on the boat for 45 minutes, the service was slow, but the food was tasty. The boat got hung up in lots of traffic after the show and it was almost 2am before we docked south of Paris. Oh-là-là! Our prearranged taxi for 12:15 was long gone and FINALLY we got everyone in two taxis and dragged our you-know-whats home about 2:45. What a memory for all of us!! Many, many pics to take you there and let you experience the grandeur that only Paris can do!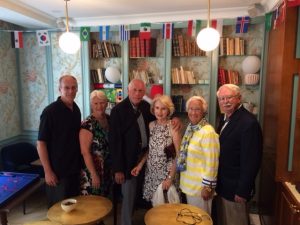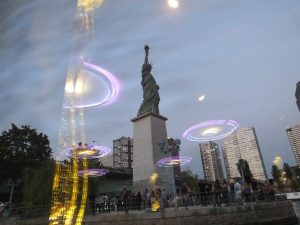 Kudos to Bernie for his wonderful photography!  Not easy to shoot fireworks. The street shot of the day is this one of a fireman in full uniform on the subway.
Hope you enjoyed Bastille Day from Paris!
L & B