Bonjour,
Occassionally, one can be disappointed in Paris. An outing doesn't pan out to be what you expected. This happened to us yesterday. After lunch with the Bilbros, we made our way over near the Eiffel Tower with Bernie's son James and his partner, Stephen, to visit what was billed as a fantastic shopping mall.  I had seen a website for this and the pics were so enticing. The mall had been built back in the 70's, completely renovated and reopened in October of 2013.  I had never heard of it.
It was a long walk from the Bir-Hakeim subway station which accesses the Eiffel Tower. Along the way we passed the lovely park which honors the children and families who were victims of the Vel d'Hiv. This is featured in the book and movie of the same name, SARAH'S KEY.  If you haven't read the book, please do.  I've written about this several times before. Hundreds of Jewish families were rounded up and placed in a huge sports arena only to be separated and sent to concentration camps. The French were a long time acknowledging their collusion with the Nazis here in Paris, and this statue is one of many symbols of regret in honor of all the lives lost.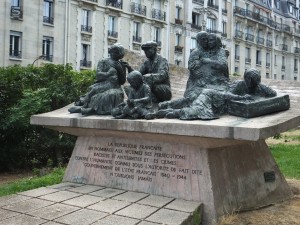 The Beaugrenelle Shopping Mall consists of two very large, modern buildings connected by a crosswalk. One side is mainly fast food and eating establishments and the other side, retail shopping.  Though the space is new, clean and COOL on a very hot day, it somehow didn't have any zing and almost no shoppers. Maybe this was because it's August and the locals are all gone, or maybe because this would not be a heavy tourist find. We were all underwhelmed. It is nothing to compare with Quartre Temps (Four Seasons) at La Defense. We've seen it but we won't return. The pics are actually more impressive than the structure deserves. Hate to sound negative but tis true.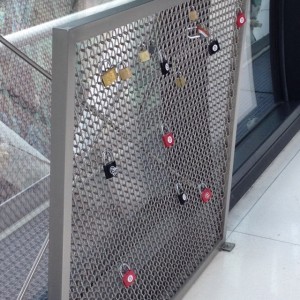 We had a nice dinner around the Eiffel Tower and dragged in about 9pm. The area around the Trocadéro is under such renovation that it compromises the lovely view. Wait a year or two to see the Tower from this angle!
We conclude with a fun pic of a unique way to get around in Paris.  Oh-la-la!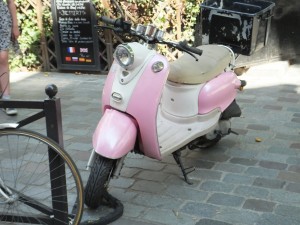 Linda & Bernie