Bonsoir,
We've been waiting for the perfect day and today was it!  We had a 3-hour picnic on the river along the Paris Plages.  It was just wonderful with mild temps, a gentle breeze, and beautiful sky graced with white puffy clouds.  We took some of our food and bought a couple of sandwiches.  I went ahead while Bernie was shopping and grabbed two of the beach chairs as they are at a premium.  If Peggy and Jim Bibro had walked out of their front door and toward the right bank of the river, we could have waved to them!
Close your eyes and imagine all of these images. There were trails of planes crisscrossing the skies, seagulls, a mother duck and her eight babies, sirens (always the sirens), the bells of the buses warning people to move, two women next to us arguing over the placement of a chair, men in their speedos, workers rushing up for lunch with their sandwich bag  from the boulongerie to spend a lunch hour, bouncing basketballs behind us on the pavement from young boys running by, passing water craft by the dozens jammed with tourists whose guides were telling the legend of Pont Marie bridge over and over again.  And the most unusual event was the sounding of the warning sirens throughout the city at exactly 12 noon, just like in Huntsville.  Wednesdays at noon!  Isn't that amazing?  I told Bernie that it would be a very scary occurence to hear those sirens at any other time because Paris doesn't have tornadoes. It would most likely mean a major attack or some grave danger. Anyway the sights and sounds of a lovely day!  Bernie sneaked several naps while I read. And oh yes, let's not forget the lovers!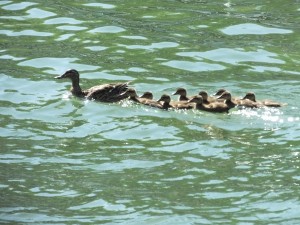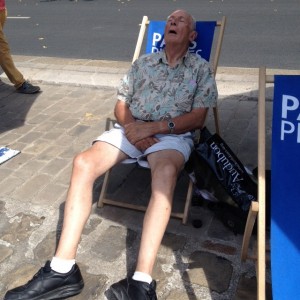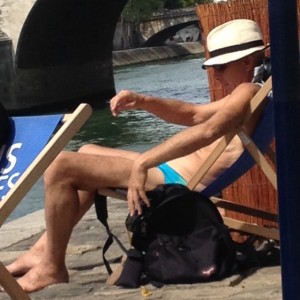 In the afternoon we went to rue Mouffetard and a long walk home past the newly restored Pantheon on the Left Bank where Marie Curie is buried.  We saw the street named in her honor and a wonderful museum dedicated to her work which was unfortunately closed.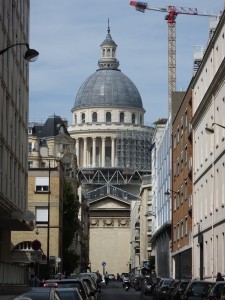 I know that hammocks with the young people in the USA are a huge "thing" which we found also today along the Seine. One side was hooked to a tree and the other to one of the huge rings embedded in the concrete bank of the river.  
We had a light dinner in and rested our tired, sore feet.
One thing to make note of in your travel diary: August is maybe not the best time to come to Paris if it's your first visit. Locals leave for "vacance" and many shops and restaurants are closed.  Rue Mouffetard was a dead zone. On the other hand, prices for hotels drop, there is far less traffic and a gentle ease settles over the city. So depending on your goal, it might be the best time.
We do love hearing from you!  I know with school starting it's a busy time for folks, and we hope that the weather has moderated.  Only nine more days to go for our trip!
À bientôt,
Linda & Bernie