Bonjour mes amis,
In case you haven't heard, our Paris book is published and available on Amazon or with a direct order from Amazon's createspace.com/6010540. To say we are a bit excited is the understatement of the year. We've been zealous in getting the word out, and truly hope we haven't beat the social media drums too loudly! If so, our apologies.
On this exquisite fall day in Alabama, I want to share some thoughts about how publishing a book is much like birthing a baby. Regardless of which side of the gender aisle you're on, most folks can relate to this analogy either through direct personal experience or vicariously through family and friends.
First comes the long gestation period (in this case almost 3 years) fraught with challenges, changes and fluctuating extremes of soaring inspiration and crippling doubt. It seems the days will never go by, that the editing will never cease, that the hopes and dreams will never be realized. Sleepless nights, heartburn, crazy decisions, arguing with the publisher, correcting mistakes, realigning stylistic elements, approving marketing copy, all come tumbling at you to create a tumultuous time.
Then comes the moment–the delivery time– where you actually say, "Okay, publish the book!" Kind of like calling the doctor and saying, "The baby is coming!" Mais oui?
This event is not without its own labor pains which in this case lasted for weeks, not hours: catching a misspelled word at the last minute that had escaped Spell Check's scrutiny and which delayed the whole process, watching for tracking numbers to finally appear, then going to the web site 10 times per day to actually see where the book was and when it would arrive. Finally, the loud rap at the door, the singular cardboard box on the doormat, and the UPS delivery man casually on his way back to his truck. Just any ordinary delivery to him, but to me, my baby! He had no idea how happy he had made me. Yes! We will make it; we'll get the books in time for our scheduled launch date. Phew!
Next comes the big announcement, sharing our pride and our prize with the world. Pulling out all the stops, calling in all of our favors, shipping books out to media outlets who might be interested. Operative word is "might." Then the big party when family and dear friends will surround us and make us know how blessed and how lucky we are.
The name of our baby is "Bernie's Paris…Travel Stories with Love." And we invite you all (with a quick rsvp) to celebrate with us on October 3!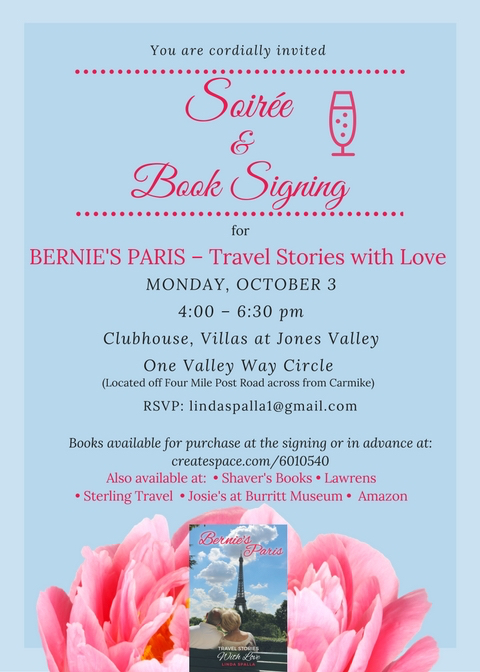 We'll treat you to some French delights: Valhrona chocolates from France, authentic macarons from WHISK bakery, (the only one in the area that makes them fresh), along with an array of French cheeses served on sliced baguettes, never crackers! And of course a glass of champagne to toast the baby!
Hope to see you there to celebrate our newest arrival!
À bientôt,
Linda & Bernie