Bonjour,
After a fast and furious 12 days in Paris, we have a week's respite to discover life in this new apartment and in the area. Everything is so different, and I have not conceded to the "newness" with ease. But it is a lovely apartment, and we jokingly say that we walk ourselves to death. We were so used to a very tiny space. The kitchen on rue St. Paul was barely large enough for one person to turn around in, and everything was within arm's reach. Many of you have experienced it in years gone by. Here we have 120 square meters or almost 1300 square feet. That may not sound very big to you, but for Paris, it is huge.
Yesterday, Bernie felt very poorly and spent much of the day in bed. He is some better this morning and tested negative for COVID. He will test again later today. Hopefully, it's just a very bad cold.
While he was resting, I spent my day catching up on household chores and figuring out all the appliances. Again, I know that sounds crazy, but they are all different from those at home; it takes some trial and error to achieve success. I started laundry mid-morning and did not finish until 9:30 last night. C'est complique (It's complicated) because of the length of washing time. We do have a "dryer" built into the washing machine, but it does not work as we're used to so there is drying time on a rack plus time at the Lavomatic for the sheets and heavy duvet covers. I also ran the dishwasher for the first time and have no idea how we got it to start. Bernie came out of hibernation to help, but he has no clue what he did to make it work. Ugh!
I went to a new Monoprix about 10 minutes away by myself without much luck. It was around La Place de la Republique. The police were everywhere which always makes me antsy that a big "manifestation" is about to happen. Several key items that I needed were not to be found so I will go in pursuit of them somewhere else today. One has to think and prepare when you get in the grocery line because it's a fast process, and they expect exact change. While juggling a purse, you unload and bag all of your groceries yourself, then pay, then get your money and receipt put up, and haul everything down the street. Yesterday, it was raining so I also had an umbrella. Filming me would have made a good movie!
Our apartment is adjacent to a Picard which is a frozen food mecca that Parisians enjoy. My decision for dinner was to go there for a frozen pizza. I picked two different ones so Bernie could choose. That required the oven! Between the two of us, we figured it out, and the cheese/mushroom pizza was delicious accompanied by a spinach salad. Here's a shot of the oven controls, lest you think me totally stupid…ha!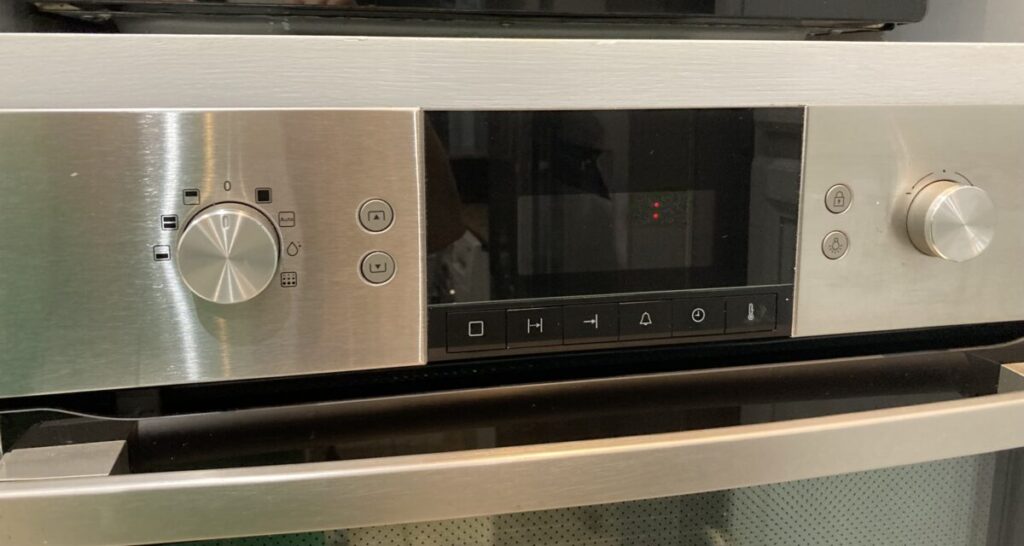 I fell into bed last night, exhausted from a non-stop day, walking most of my steps inside!!
In pursuit of functionality yesterday, we fought great frustration because there were no instruction booklets, also no emergency information, etc. We think this apartment is not rented very often. There were also no hot pads for retrieving hot dishes out of the oven so we will go to the Bastille market on Sunday and snatch some up for a bargain price.
Eventually, we will figure everything out and in the meantime, you can laugh with us. Few photos today, but you can't complain because we've bombarded you with plenty up til now.
If Bernie is up to it tomorrow, we'll be off to the finishing day of Le Tour de France on Les Champs Elysées.  My postman wants an official shirt, and we'll do our best to buy one for him. Lots of photos promised.
Have a good weekend,
L & B
P.S. This guy is always singing falsetto around La Place des Vosges. This year, he has a new outfit!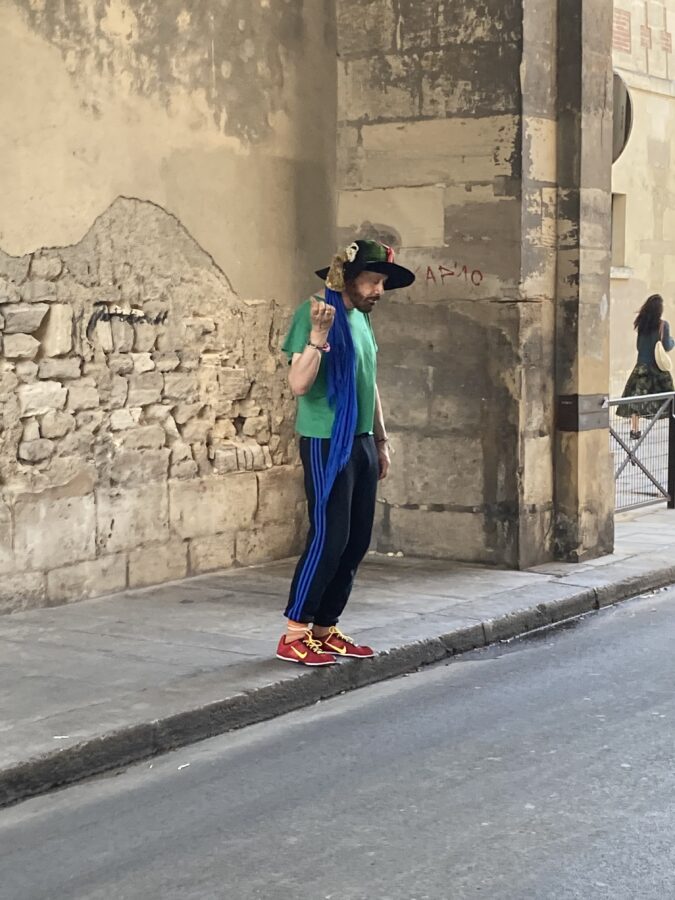 ---