Bonjour,
Any day in Paris is better than a day at home, wherever that might be! But there are some differences this year which I thought might be interesting to you.
We arrived in July of 2021 a week after the travel ban to France had been lifted. There was no one in the Newark airport, if you can imagine that, and very few travelers in Paris. All the restaurants had small outside dining kiosks on the street with bottles of hand sanitizer on every table. Masks and the COVID phone app were required everywhere. I never saw Paris any cleaner!!
This year, the streets are jammed, masks are not required anywhere, and I think we spent 72 euros for nothing on our first day to have our booster shots added to the COVID phone app. Everything seems dirtier and the "green team" is not as visible cleaning and sweeping. (Of course, the dry, dusty air hasn't helped.) The buses don't run as often and seems as if the workers inside places like the grocery store are not as friendly. COVID has taken its toll on the labor force here just like at home, and I can only presume that this is affecting the manual labor jobs the most.
As we walked around our neighborhood a bit yesterday afternoon (Bernie is feeling much better), we noticed a big difference from the St. Paul area we are used to. There is a different class of people, not as many tourists, and fewer beggars. As Bernie said, "There are not many rich folks around here with extra money." Also many, many young people, drinking and smoking, and I have almost been knocked down three times by either bikes or folks running like hell to get around me. Boulevard du Temple is as busy and noisy as rue St. Antoine but without the bicycle lanes. The pharmacies are much smaller, there are almost no fresh fruit stands, no cheese or chocolate shops, no firehouse for emergencies, fewer boulongeries and patissiers.  Haven't seen a dry cleaner, no churches, and very few hotels. It's just a very different area. I'm sure I'll learn to love it, but my heart is somewhere else.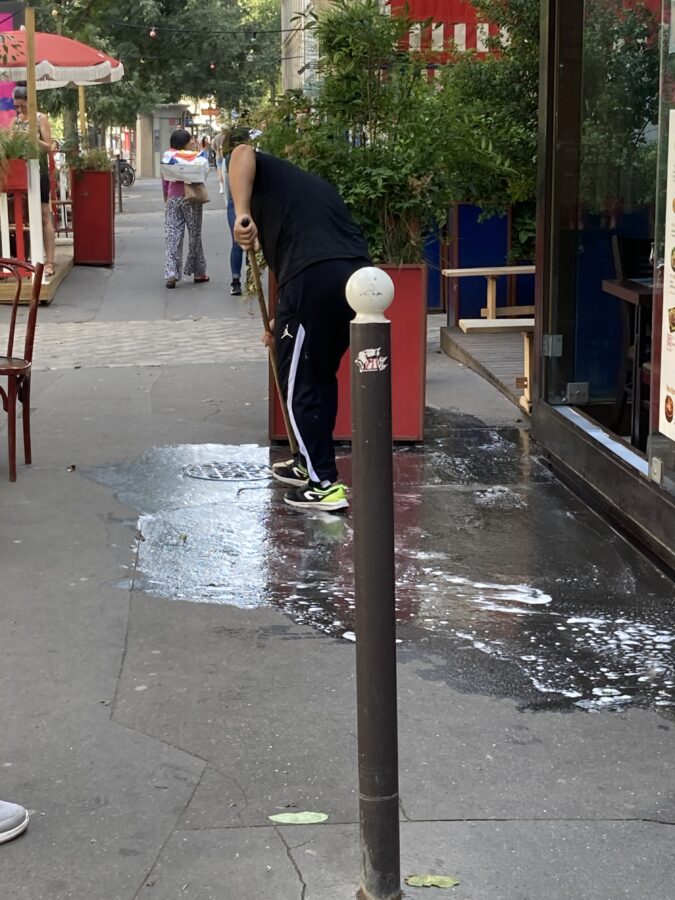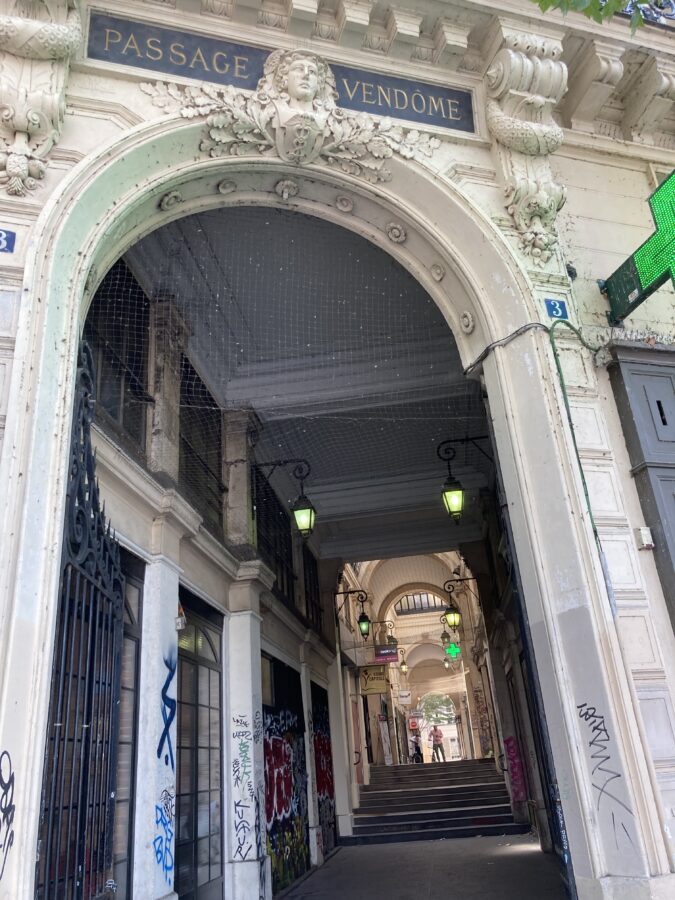 We spent last evening sitting at our favorite spot, Au Bouquet St. Paul. We feel a bit like nomads which is sad to me. Bernie can't link up with all of his friends for a nightcap. Those guys in the management company in London have no idea how much their disregard for our rental agreement has affected us. There's just some grief which we are working through. Please bear with us for that.  The part we miss the most is the ease of walking the river at dusk. It's a trek to get there but since most of our company is staying in the old area, we'll have plenty of reason to return frequently.
We did find a fabulous new grocery store, a Carrefour, which is very close by on rue Amelot. It will be much better than the Monoprix at La Place de la République. It's ironic to me that I've never liked this area at all, and now we're trying to make it home. There's got to be a reason and something to learn from all of this.
On a positive note, the weather yesterday was glorious with rain the night before and a high of 80 degrees! We are SO grateful for that. We also found a cute little sandwich shop highly praised by Richard and Vincent and had a quick lunch there yesterday. We will return and take a photo next time!
We so appreciate all the well wishes for Bernie's health and he is feeling much better. He believes he invited his cold by sleeping directly in the path of a blowing fan during those hot, hot nights.
The café chair theme will be challenging as many of the chairs reflect the mood of the world right now. So many are black, gray, brown or metal. Quite a difference from 8 years ago. We did find one of the nicer chairs, Maison Drucker, at the Bouquet last night of all places. (I looked up the price: 450 euros each!) They are the best and most expensive wicker chairs. The new patron there had them nicely set up in a double row. They were slightly used but still a pleasure to see.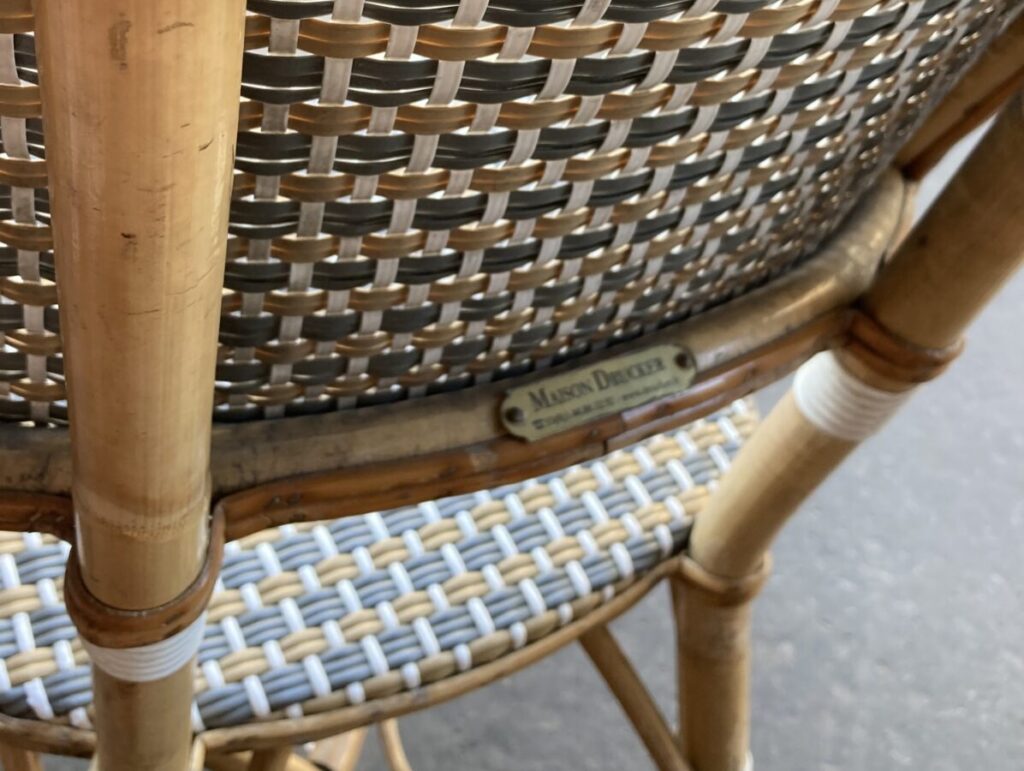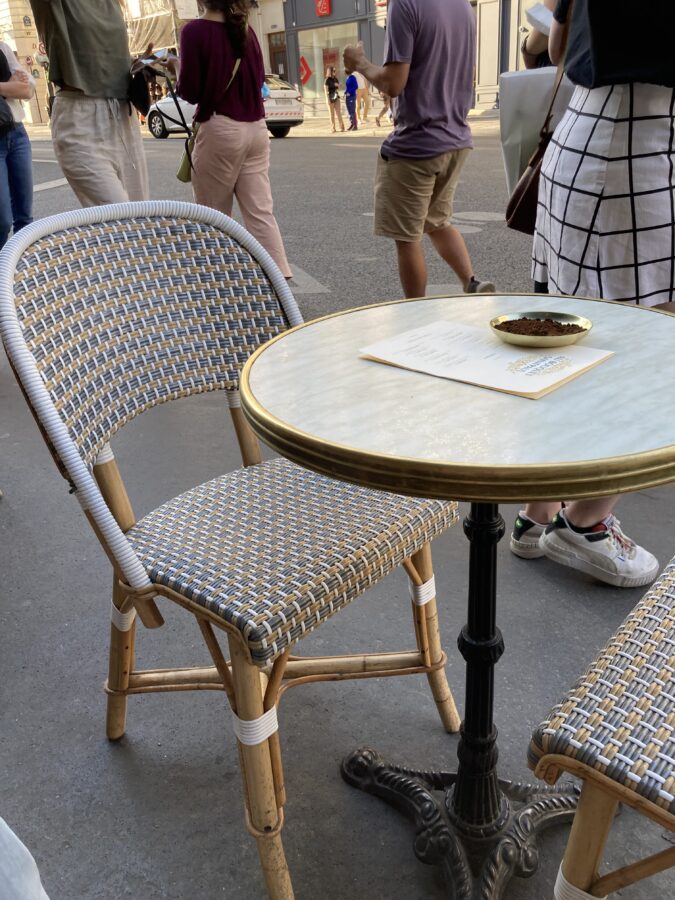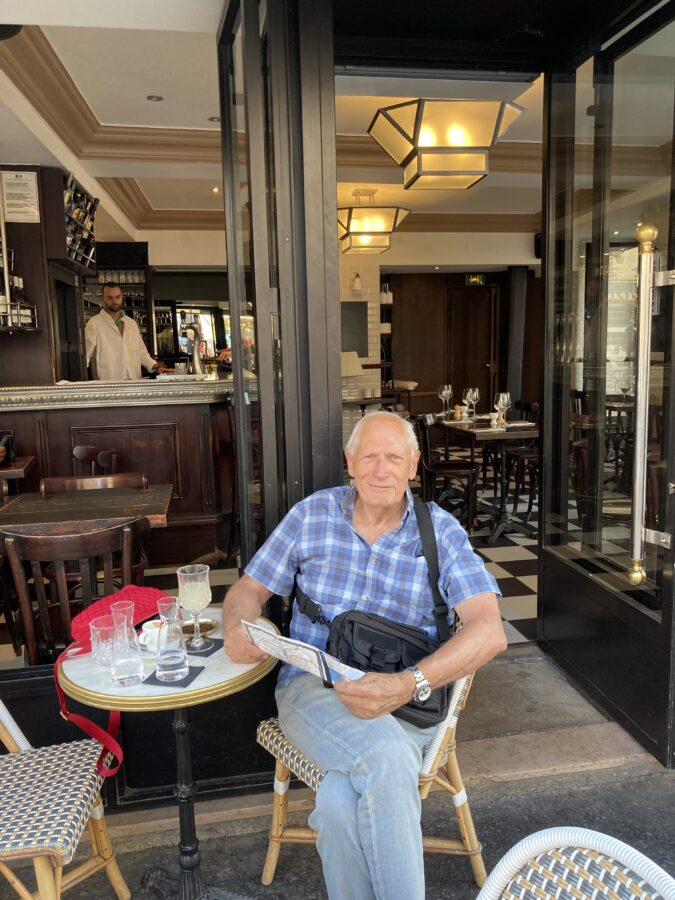 Here are a few other chairs from our rounds.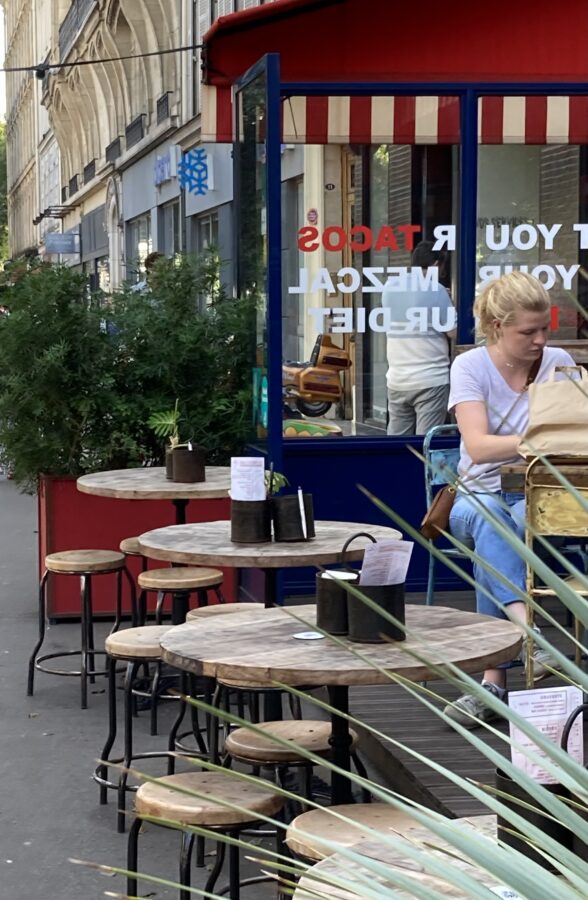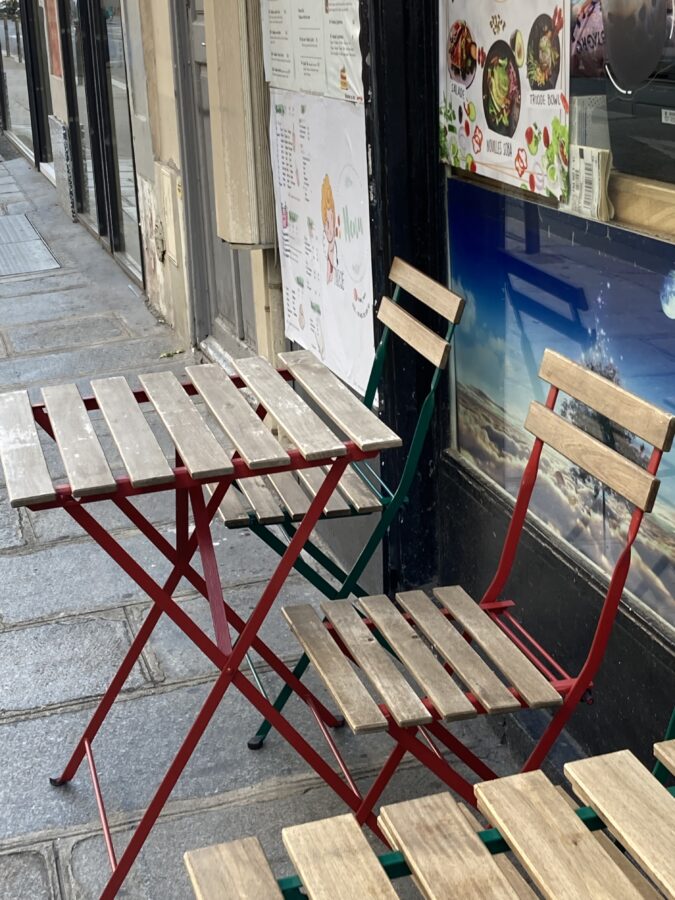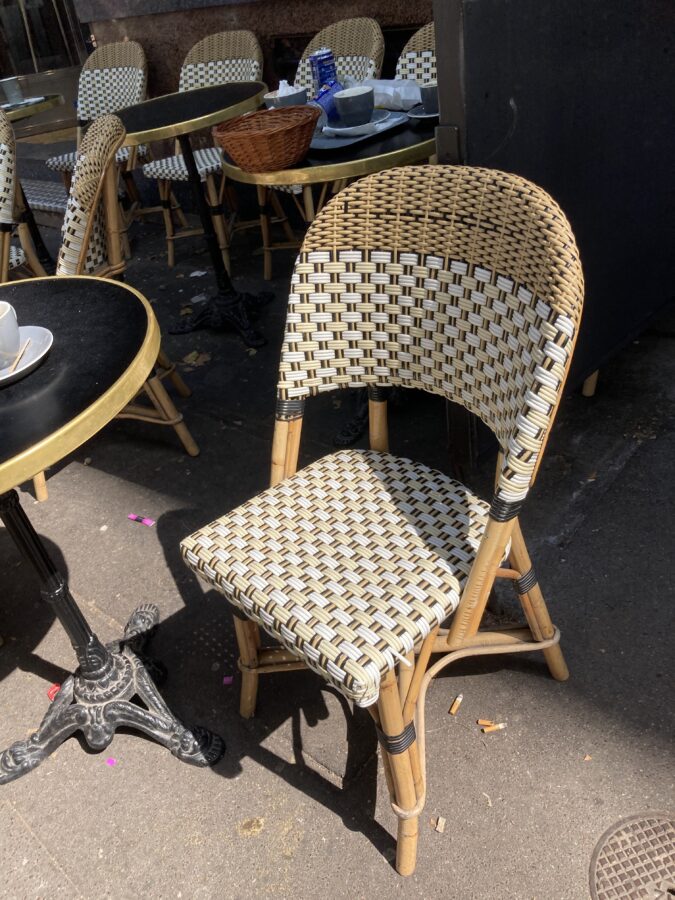 Today's plan is a quick trip to the Bastille Sunday market for some personal items like soap, Vaseline, disinfectant wipes, etc. because they are SO much cheaper there than anywhere else. Then mid-afternoon, we'll head to Le Tour de France. The major subway stops around the route will be closed so we'll have to be clever in finding a way there. The parade is what we like to see which usually comes through about 4:30. The bikers won't arrive until around 6 so we may scurry back home and watch on TV! You can get a much better view that way. Yes, just call us "old!"
Here's the lovely view of our courtyard from the dining room window.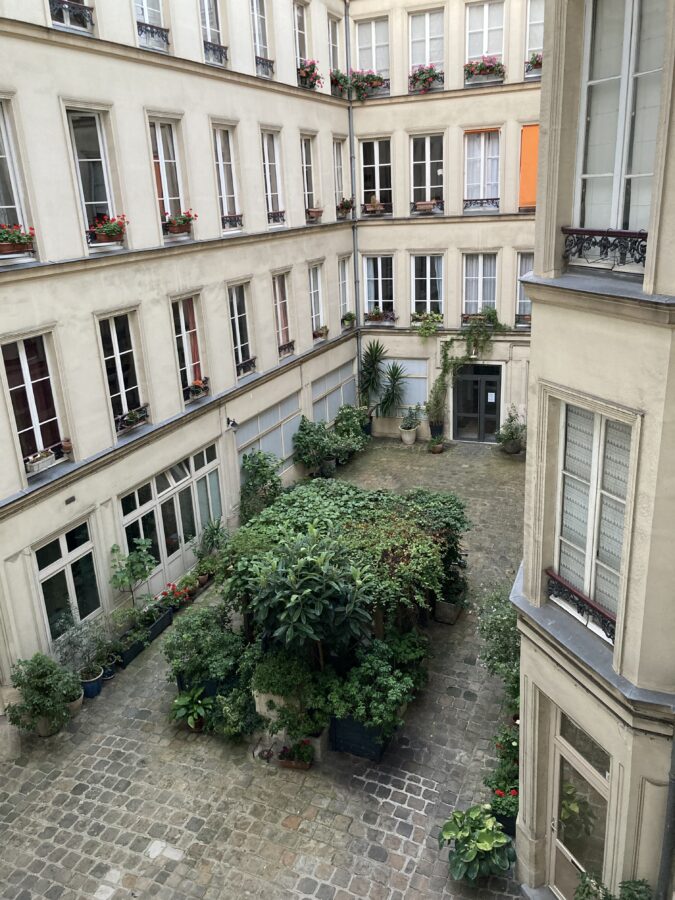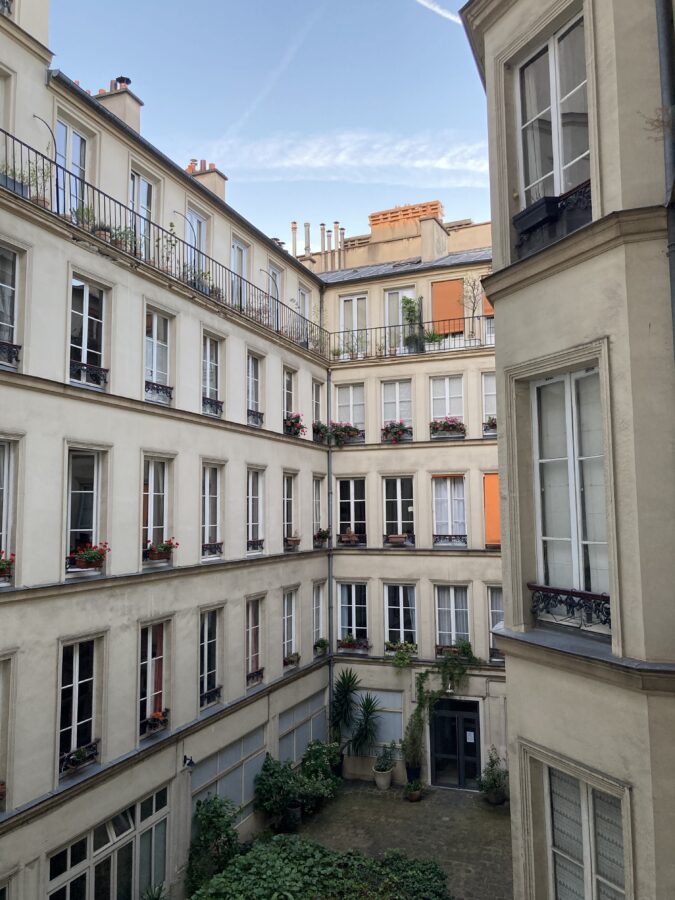 Bon dimanche!
L & B