Bonsoir,
Sunday (dimanche) in Paris is a lovely day, slower and quieter than usual, starting later than usual and reserved for family outings, exercise and enjoyment.  Truly not unlike our Sundays in the USA.
We slept late, started late and didn't really have a signficant outing planned.  We ate lunch down below us at Bouquet St. Paul which has changed hands since last year.  The food is really, really good and my meal was one of the tastiest I've had since arriving.  It was a white fish called bar in a light creamy sauce with mashed potatoes.  Though we miss the former patron (proprietor) Benjamin, we really like the food much better.  It's always our fall-back place and easy on price.
Bernie selected the "programme" for the day.  First stop was to a construction site where they are rebuilding Les Halles into a fabulous modern monstrosity for shopping, green space and a new subway station.  It is a 7-year project.  Today, it was open for walking beneath the new "canopee".  This cover is made of steel and glass and is totally open air.  There will be no doors into or out of the new structure.  Bernie was fascinated; I'm not totally sold on how it will look.  I liked the old structure and hated to see it get torn down.  (This was once the very famous main city market but closed in the 1950's for hygiene reasons.)  918 million euros is the cost of this government transportation project which translates to over a billion dollars.  The horrible subway station and underground mall presently there will all go away so that part will be a welcome change.  It's one of my least favorite spots in Paris.
We took pictures of the rendering and then some actual pictures of the present state of the construction.   I hope we live long enough to see it finished in 2017. The glorious St. Eustache church sits right next to this project which makes getting to the church a real pain.  Eventually, the area will juxtapose the very old with the very new and modern which is something the French do well, e.g. the Pyramid at the Louvre.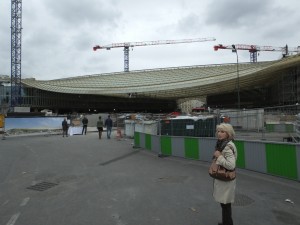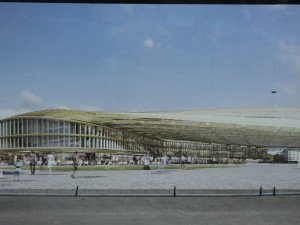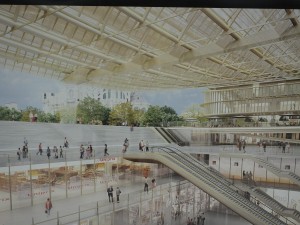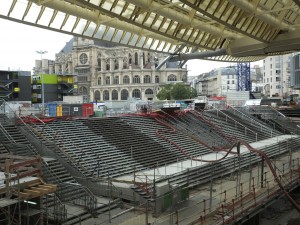 Then Bernie took us to Montparnasse thinking we would make a dinner reservation at a cute restaurant called Montparnasse 1900.  The entire area was covered with police and security for an upcoming huge concert tonight.  The music was already blaring and it was only 2 in the afternoon.  We both laughed and agreed that this wasn't the ambiance we wanted for dinner.  We went to Avenue Edgar Quinet for the Sunday Art Market which we have been to several times before.  It's always interesting and filled with local artists selling their wares.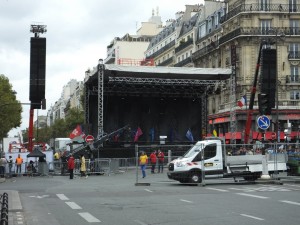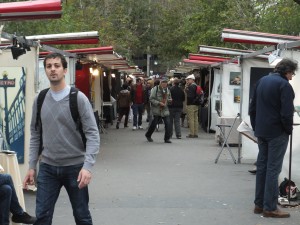 If truth be told, we spent much of the day walking around in subway stations…ha!  It just happens sometimes.  And that was actually okay as today was our first really chilly day. There was no rain but a cool wind, enough to wear three layers plus a scarf.  We certainly can't complain.
We may be in for the night except for a quick walk to the river for coffee.
Happy Sunday to all,
L&B