Bonjour mes amis,
Last evening, though tired, sleepy and feeling our age, we made our way to the Eiffel Tower. . . when reasonable people should be heading to bed!  There were special ceremonies in memory of the victims of the Orlando shooting. We felt we had to be there since it was our country  which had been attacked by a madman. The most iconic symbol of Paris, the Eiffel Tower, was certainly an appropriate way for the French to show their care and support of America.
Bernie stood for over two hours with his tripod to get these photos so kudos to him! I sat on the sidelines and visited with some very pleasant Parisians who wanted to talk about Mr. Trump! Quite interesting. It did not get fully dark until 11:15 when the show actually began. All in all, our day consisted of 15,000 steps!
The light show at first depicted the colors of the European countries playing in the European Cup with the suspended center ball changing to reflect the flag of the appropriate country.  The final lights were for the United States, and then the rainbow tower concluded the show in reference to the LGBT community in light of the Orlando shooting. The featured image at the top of this post is not  one of Bernie's photos. It was taken from the LocalFrance web site.  Merci for this great photo from obviously a privileged vantage point. This would be the time to take some extra effort to click on each photo and enlarge.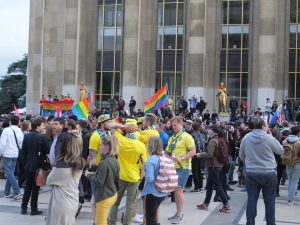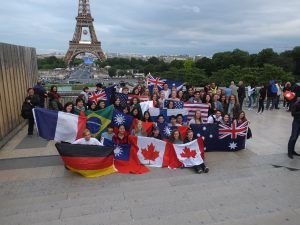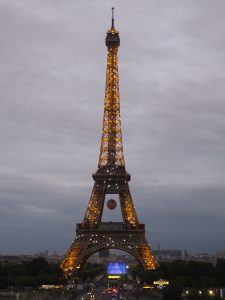 By the way, just a kind word for all the vendors at the Eiffel Tower.  When you sit for two hours, you have time to take in more than a quick walk-through.  These guys, yes, drive you crazy trying to sell their trinkets of the tower, their lights, beer, flags, whatever.  But I must say, that theirs cannot be an easy life because of all of the rejection.  Some are funny, quite charming, and certainly persistent. It takes all the pieces to make a puzzle, and their piece is definitely part of the total ambiance.
This morning we went on a photo shoot for our book with friend, Richard Nahem, and got caught by the rain. What a dreary, cold, rainy June so far in Paris! Here's a couple of the choices, some of which I took. What do you think, given the book title is "Bernie's Paris – Travel Stories with Love?" What would make you want to pick up the book if you didn't know us? More choices will be forthcoming.
We love hearing from you and hope you are off to a great week.
A tout à l'heure
L & B