Salut!
It's a gray Monday in Paris with intermittent light drizzle and around 60 degrees.  We welcomed Bernie's son, James, this morning and his partner, Stephen.  Their studio apartment is about a 3-minute walk from us on the top floor of another 16th century building in the Marais.  I'm sure they have at least 70 steps, maybe more!  We enjoyed a late lunch with them in the neighborhood, and as luck would have it sat next to the team from Ireland playing in the European Cup.  They were lively to say the least, but fun and polite.  Enjoy the picture! I'm in there somewhere but passed on the chance to sit on the lap of the goalie!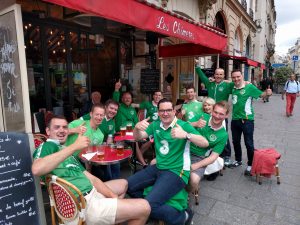 Paris is full of very loud, enthusiastic fans and players, all wearing their team colors.  Just hope there are no incidents here like the ones in Marseilles.
After lunch, James and Stephen headed out to the Shakespeare bookstore, and we walked over to the Etienne Marcel area, doing a little reconnaissance for possibly staying there in the future.  We really like the area, but for the life of us couldn't find a grocery store anywhere which is crucial. What's so great about our location is that we have absolutely everything at our fingertips. Here's a few pics of our stroll.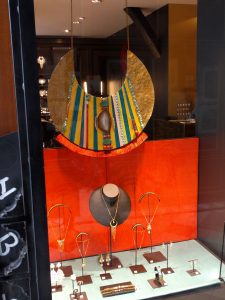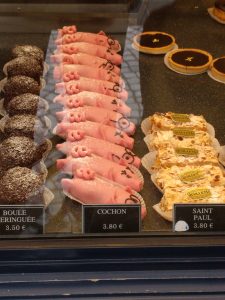 We have walked 12,000 steps today so will eat in tonight and rest.  Our hearts are broken and our minds still reeling over the Orlando shooting.  We don't get CNN so we've been trying to piece everything together as best we can via the BBC and CNBC.  Tonight the Eiffel Tower will be a rainbow of colors in commemoration of the lives lost.  Though I would love to see it, I doubt we will get out at 11pm.
Here's another set of café chairs. Some want to vote on their favorite so keep a mental list!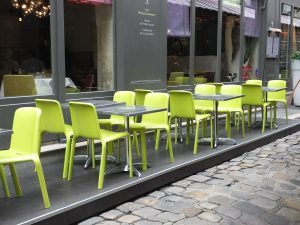 A bientôt
L & B