Bonjour,
Today we were up early to greet the agency representative at Bernie's son's apartment on Boulevard Beaumarchais, about a 15-minute walk from us.  James and his partner, Stephen, arrived right on time, a little groggy from the long flight over but so very happy to be back in Paris.  Sorry, no picture!  We will try to do better.  They have two other friends joining them to share the apartment–two bedroom, two bath and very nicely decorated.
We had a rendevous with the Bilbros since Peggy taught James at Randolph many years ago. She was his Spanish teacher.  Then we all walked through the Sunday market at the Bastille which was right across the street.  The guys stayed only a little while and bowed out to go take a long nap.
The Sunday market at the Bastille is a must-see when in Paris.  Busy, great buys in everything from geodes to fresh tuna and some odd characters once in a while.  It's so much more than just fruits and vegetables.  Enjoy the pictures.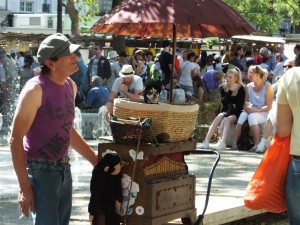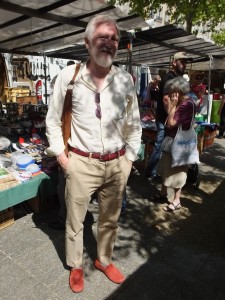 Last evening after a lovely dinner with James and Stephen at Chez Janou, we sent them off to the beach, Le Paris Plages.  I caught another gorgeous sunset from our window.  Such a perfect spot for stunning photos.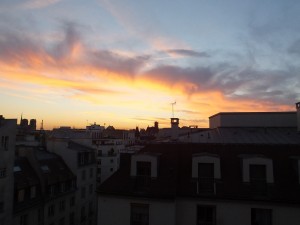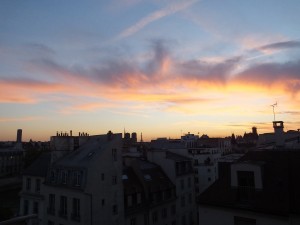 We understand the weather has moderated some for most of you, and school bells are about to ring!  Have a great week.
Linda & Bernie