Bonjour,
It is in the 90's again in Paris, not as bad as earlier this trip, but still a scorcher.  We thought it a good idea to have minimal time moving around and selected a new spot for lunch, the Hotel Plaza Athénée in their garden room or La Cour Jardin.  This is a 5-star hotel with an additional 2-star formal restaurant.  The garden courtyard was cool, intimate, quiet and away from the hustle and bustle of the busy Avenue Montaigne.  It was our best meal so far in Paris for this year!  Absolutely gorgeous surroundings, exquisite service, and food that was trés, trés bon.  It was as you might expect also very, very expensive.  But we will not eat any dinner so it averages out to be okay. La Cour Jardin is a seasonal delight only open from May to early October.
Bernie got a regular shot of the beautiful facade and then a panoramic.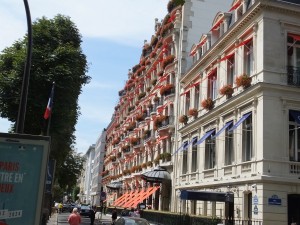 We dressed up a bit and played the role we have feigned so often in Paris in nice places…acting as though we are rich!  We're hoping maybe if we pretend enough, it will become a reality.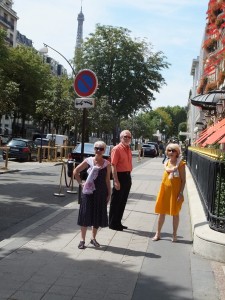 You can catch a view of the lovely interior with its red awnings and red umbrellas.
Bernie is always a little shy about taking pictures of our food because he feels it's impolite, but I twisted his arm today.  First, our starter or entrée was foie gras accompanied by minced pear, almonds, fig, and strawberry foam.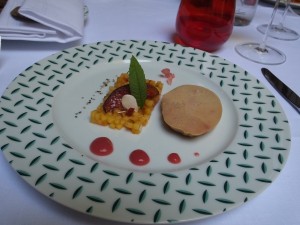 Next the waiter is mixing Bernie's steak tartare, table-side, which Bernie thinks is the best he's ever had!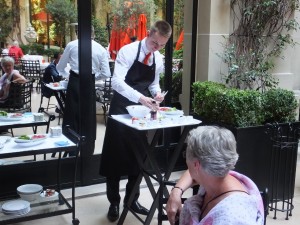 Jim Bilbro has already posted their food but we did get a final picture from Bernie of his Ice Coffee dessert which is not like any iced coffee you have ever seen before.  Peggy said it was probably the best dessert she's ever eaten. It was chilled, gelled cubes of iced coffee along with figs, foamed cream and a granola-like mixture.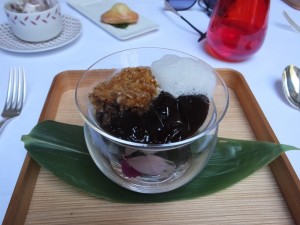 Jim's dessert is at the top of the blog, a chocolate cream with delicate strands of chocolate criss-crossing the top.
As we waddled home, we caught a discreet shot of this African attire and commented that she and I should be standing side by side in our orange dresses.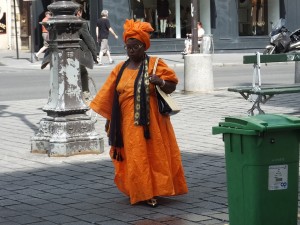 It was a fabulous outing which we highly recommend.
Have a great evening,
Linda & Bernie