Bonsoir mes amis,
This Friday evening we are back in the apartment after a day at Montmartre to take in the wine harvest celebration or Fete des Vendanges.  The weather has been just great, not too warm, not too cold, no wind.  It was an ideal day for an outside activity and Bernie seems to be on the mend with his cold.
Here's a funny for you.  We spent about $55 on lunch and THEN went up to the festival.  Big mistake.  All the booths were giving tastings for 2-3 euros and we could certainly have made a walk-around lunch there and spent much less money.  Oh well.  We ate at an Italian restaurant on Rue des Martyrs called Le Coryllis.  It was very nice with a great presentation and huge servings.  I ordered a mushroom ravioli which was delicious.  Bernie had a starter salad and then squid linguini.  We'll let the picture speak for itself.  I couldn't have eaten it, but he said it was very tasty.  Yes, it was black with the ink of the squid!  (Charles Gattis, eat your heart out.) O-la-la!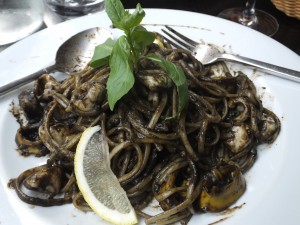 The best part of  Le Fete des Vendanges is the big parade which we discovered isn't until tomorrow.  (Strike two!) We got a map from the tourism office which showed the route and there's a way to see the parade without going all the way back to the top of the mountain.  We'll make an effort to see that tomorrow perhaps.  Today was just a fun, easy day and we people-watched over refreshment at a sidewalk cafe for several hours.  Enjoy the pictures, which capture the displays of speciality food items from throughout France including wines, champagnes, cheeses, sausages, foie gras, cookies, candies, etc.  Remember, click on the picture to enlarge.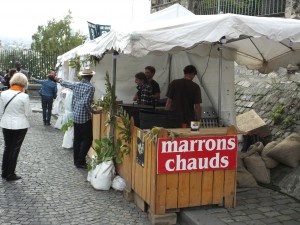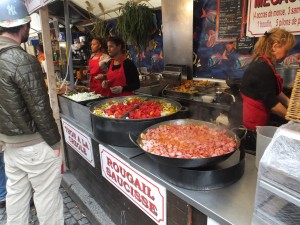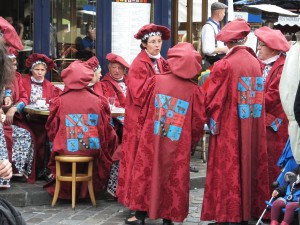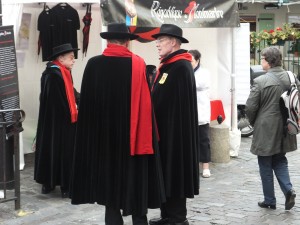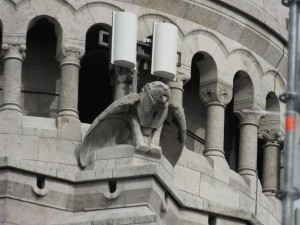 Just a word about the picture at the top of the blog.  Two weeks ago, we were in this exact spot with Charles and Judy and did not have nearly as much color to the foliage.  Really nice!
Happy weekend everyone,
L&B