Bonsoir,
Happy Saturday to all as many of you anticipate more SEC football and othes are returning from fall break with family.
It rained all through the night in Paris but by 10am, the skies had cleared, and we were blessed with yet another gorgeous October day.  Just slightly cool with sun and blue skies.  I am still amazed at the throngs of people who continue to engorge the city.  Tourists are everywhere!
As promised we made our way back up toward Montmartre to see the wine festival parade, a first for us.  It was not terribly organized or professional but spirited in its home-grown naiveté, and the people came out en masse with happy, smiling faces to watch their friends and neighbors.  I think this parade is a treasure for the local people who live on and near Montmartre.  It has to be much the same every year but obviously eagerly anticipated by all.  Montmartre is a special place and the parade caught that aura of regional pride. All the areas of France who make wine, cheese, grow flowers, produce speciality foods like foie gras, cookies, candies, and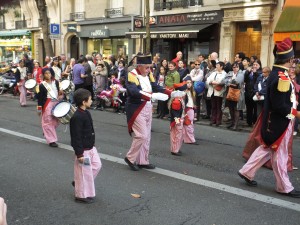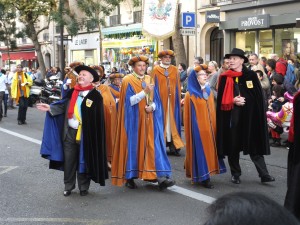 sausages were represented along with some local bands, etc.  If you know the country at all or the wines of France, you will recognize some of the regions.  One nuance which we didn't understand was the inclusion of a group from both the Ukraine and Russia, and they were juxtaposed in the parade line.  Perhaps the message was that we should all get along and enjoy the art of fine wine and good food.  Interesting!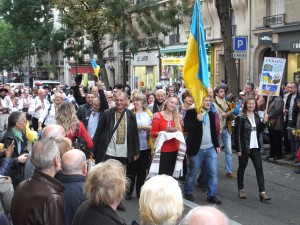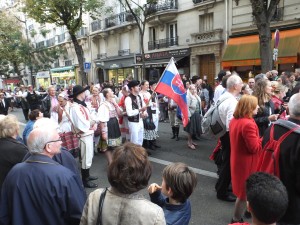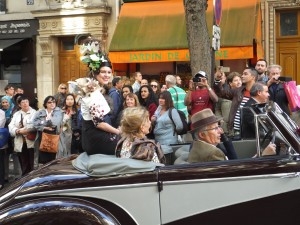 Bernie took 100 pictures!  I dare not bombard you, and it was very difficult to pick out some of the best.   I captioned only a few and hope you enjoy them all.  The lead picture at the top of this post shows what the vineyards look like after they have been harvested and embraced by cool October nights.
A tout a l'heure,
L&B