Dear Friends,
Since most of you are spending your time enjoying the long holiday weekend in the USA, I will do a collective post over a few days.
On Sunday morning around 11am in Paris, it was 58 degrees, cold and rainy. Incredible. I believe we are having what is usually a cool, wet June in July!
Sunday was a big laundry day for us as we have been too busy to find the time. Four loads of laundry took us about seven hours. We use the washing machine in our apartment and then run back and forth across the street to dry at the Laverie or lavomatique. This process is the bane of my Parisian existence, but we got it done and have clean sheets, towels, underwear, and all the basics of our wardrobe ready for another week or so.
We took a familiar, favorite stroll on Sunday evening over to the port of Paris, where the Canal St. Martin begins. It's a lovely park with beautiful views of the yachts and sailboats.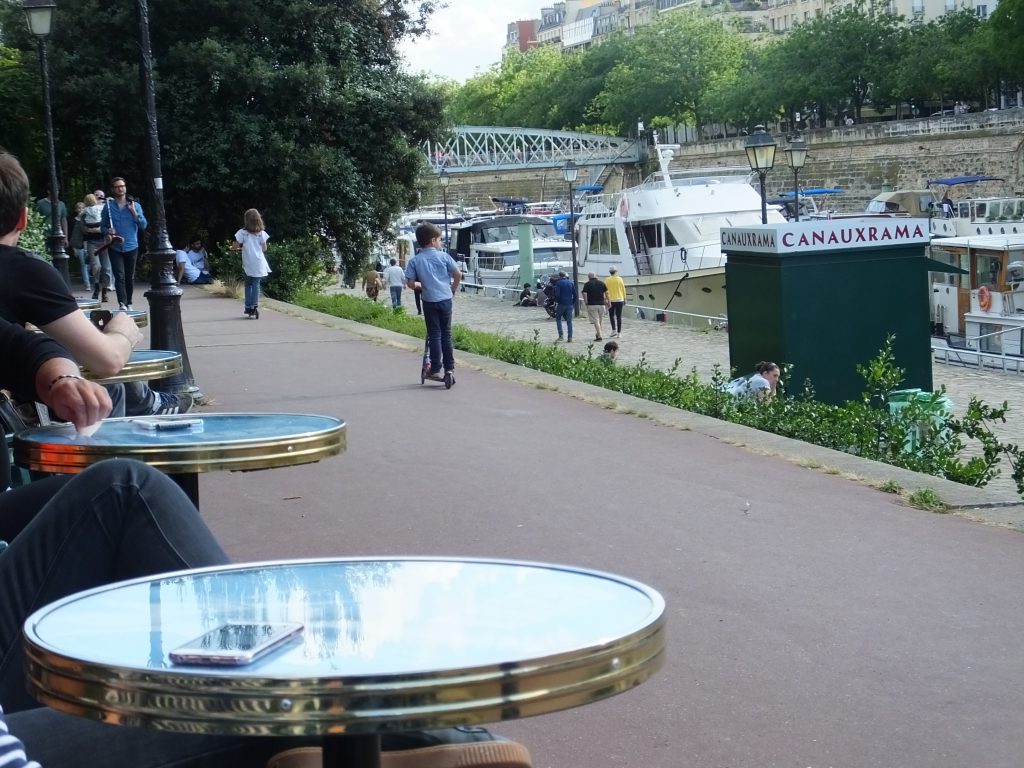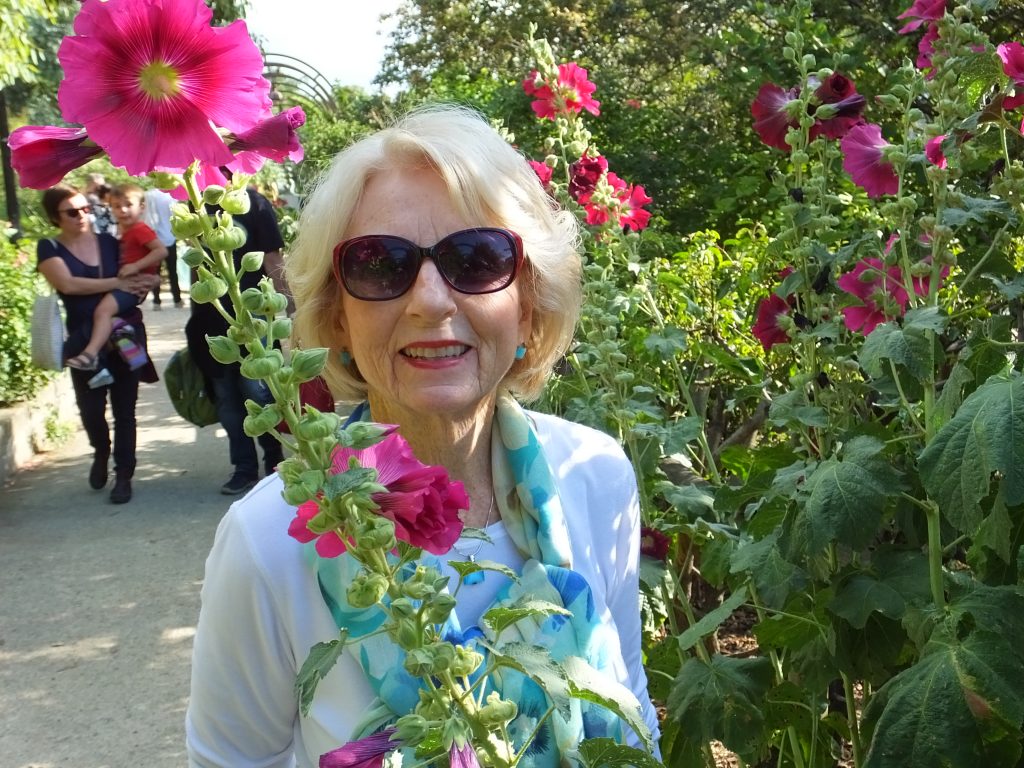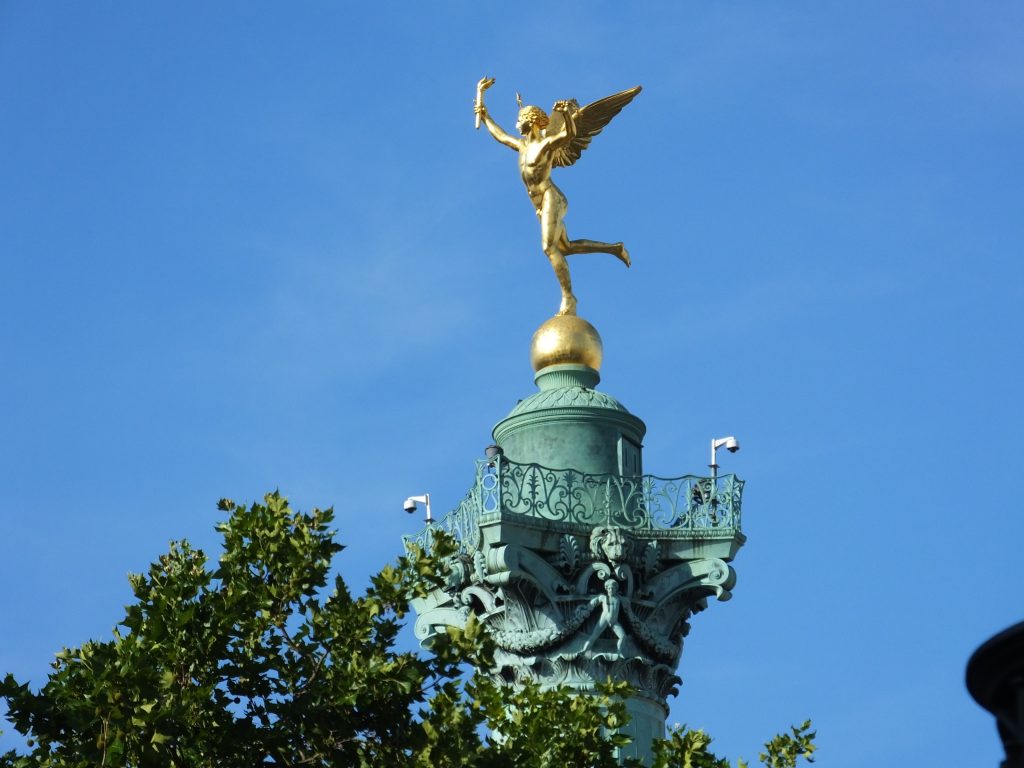 Le Tour de France has begun which Bernie loves to watch on television, and there is an American cyclist who is doing fairly well. We would love to have someone new to follow. Our early years here in Paris were heightened by our allegiance to Lance Armstrong…we all know how that ended up. I have said this many times before, but it's worth repeating. If you want a beautiful tour of French countryside, try to find Le Tour on your television. It's enthralling, and they do a marvelous job sharing the aerial beauty of the areas along the bike route. We will be here for the conclusion of the race on Les Champs Elysées, the evening before we leave.
On Monday morning, July 3, we sought out a suggestion by our friend Richard Nahem (eyepreferParis.com) to visit the recently rennovated subway station on Line 12 called Le Assemblee Nationale. It is quite nice. Bernie took a panaramic plus some close-ups.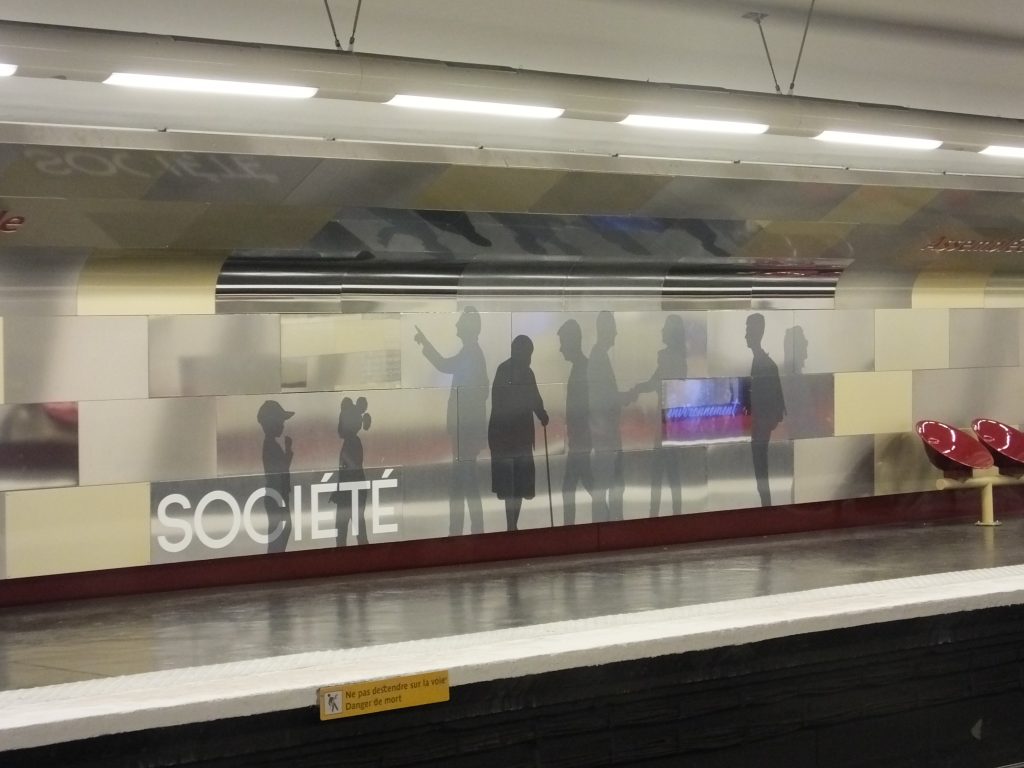 Along the way,  we caught several interesting photos: an older, historic building still pot-marked from World War I bullets, a taxi driver dressed in a suit and tie, the funkiest pair of white tennis shoes to date, and a cute little doggie on the subway which is a familiar sight.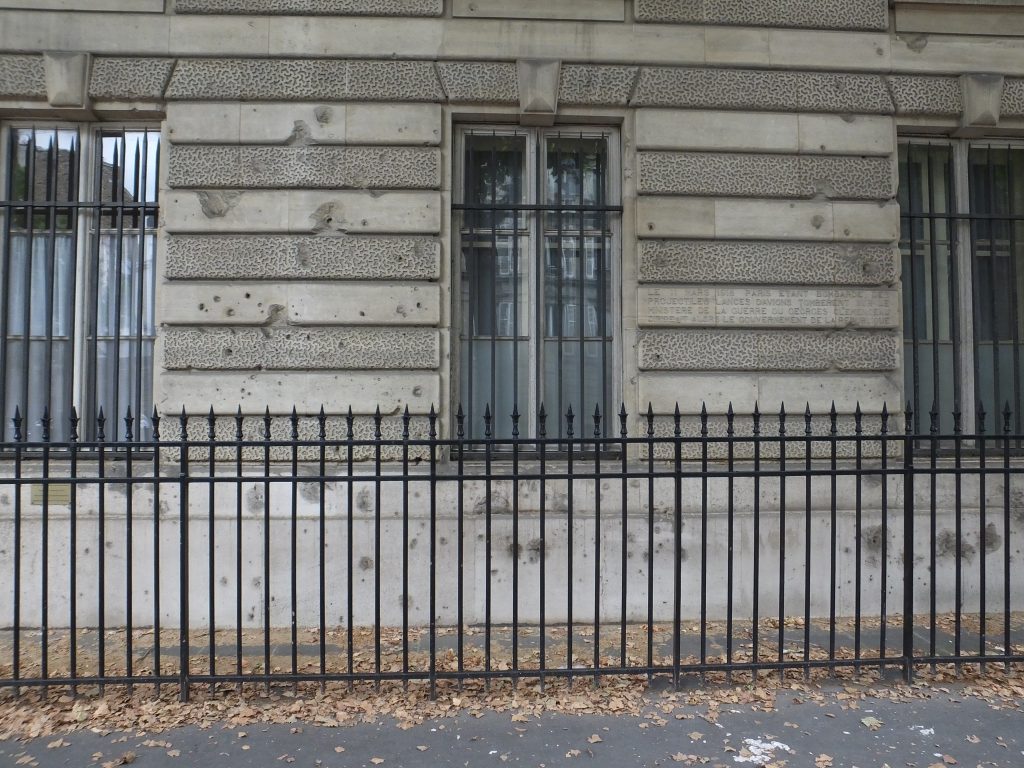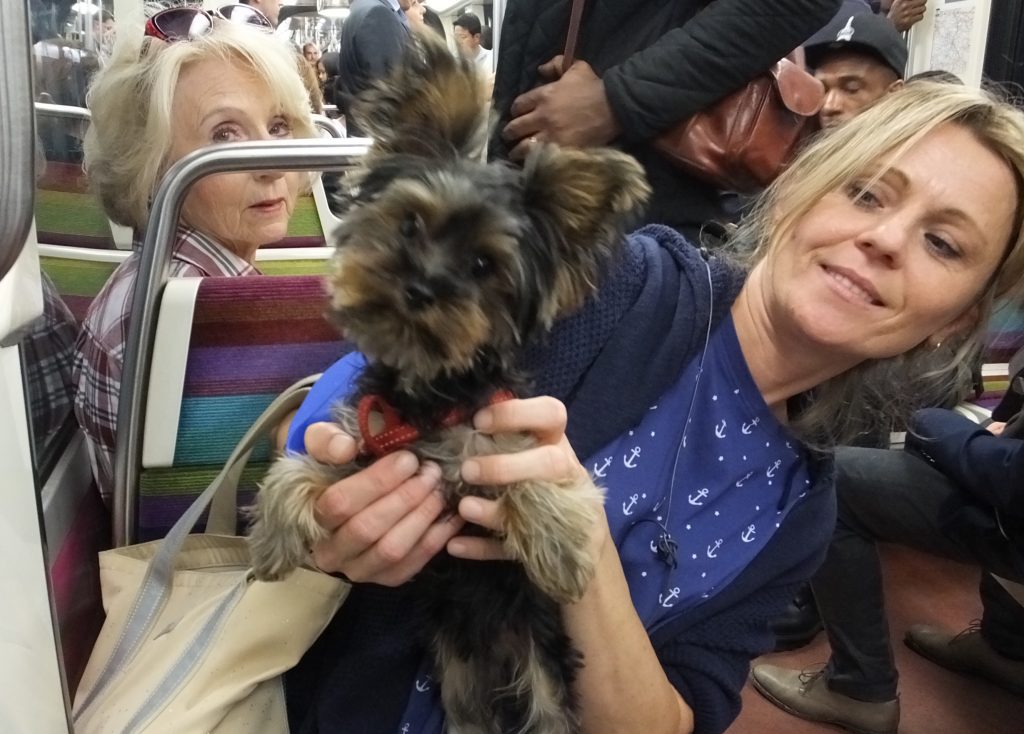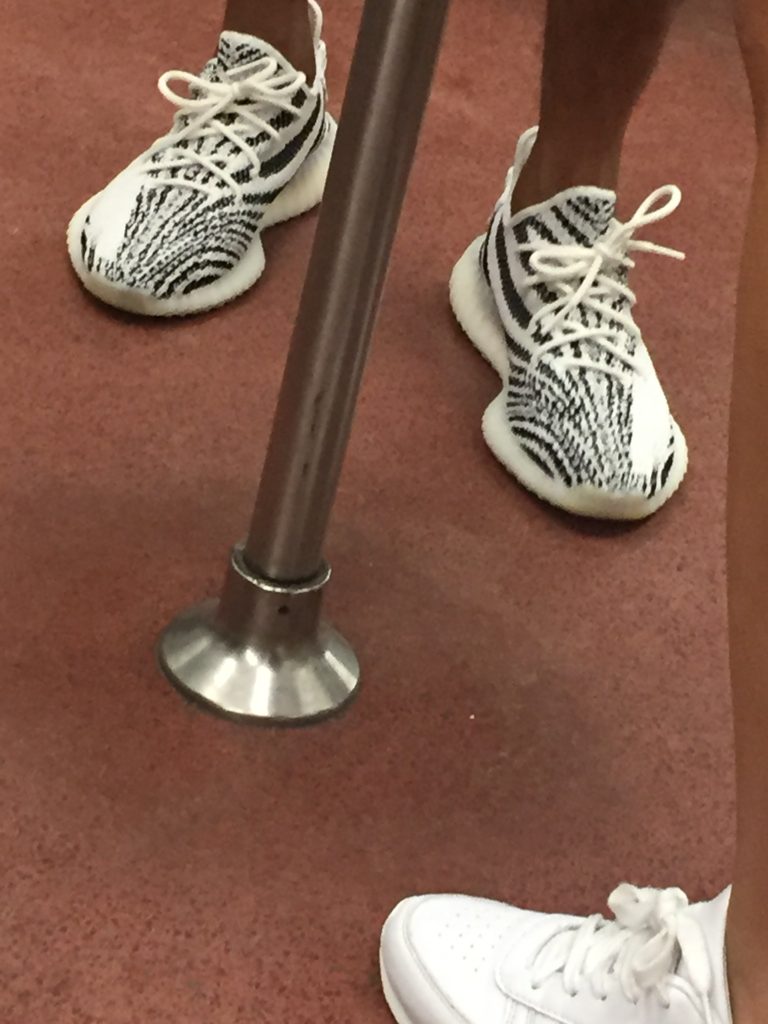 On Monday evening, we attended a performance at Le Palais Garnier, the classic original opera house. That was on our bucket list. The performance was La Sylphide which is a romantic ballet in two acts. There are two versions of the ballet; the original one choreographed by Taglioni in 1832 in Paris. The second version was choreographed by August Bournonville in 1836. It is the only version to have survived and thus is one of the world's oldest surviving ballets. In 1972, a revival of the Taglioni version was staged by Pierre Lacoste for the Paris Opera Ballet. His style has been criticized by some as inauthentic. This was the stage performance that we saw, and it appeared to be sold out. We were in a very tight box which made me feel like I was in the Ford Theatre! There was no photography allowed.  The last time I attended a ballet was the evening of 9/11 in Prague where I saw Romeo & Juliet. That was a very sad evening, and I couldn't help but think of it last night. Here are some pictures of Le Palais Garnier. 
The story is about a Scottish farmer who is engaged to be married, but falls in love with a Sylph, a forest spirit. It ends tragically when the farmer, enticed by the village sorceress, takes a scarf and tries to capture the Sylph for his own. Her wings fall off and she dies in his arms. His betrothed marries another man and he is left forlorn and alone. As the critique read, "Justice had been done." The Sylph was never really there, so to speak, and the staging was amazing as she miraculously disappeared several times.  Poof…and she was gone. We have no idea how they did it!
The "Purely Paris" photo of the day is some street art, so typical around Paris. Otherwise, known as grafetti, this one is pretty nice. Translated, it says, "we arrive" or " we are coming." And we have no idea what the reference is to, perhaps Trump coming for Bastille Day but certainly not by boat!
We wish all of those in America a Happy Fourth of July!!
L & B