Bonjour mes amis,
One of our favorite activities to do in Paris has always been a picnic on the river. Yesterday was the perfect day: the wind was down, the temp in the mid-80's and no clouds in the sky. It is the Paris Plages right now or Paris Beach.  The beach chairs go out just a little before noon, and the people start to come, ready for some sun bathing. It's a cheap way to enjoy lunch…sandwiches, a little fruit, some dark chocolate, wine and water. Divine!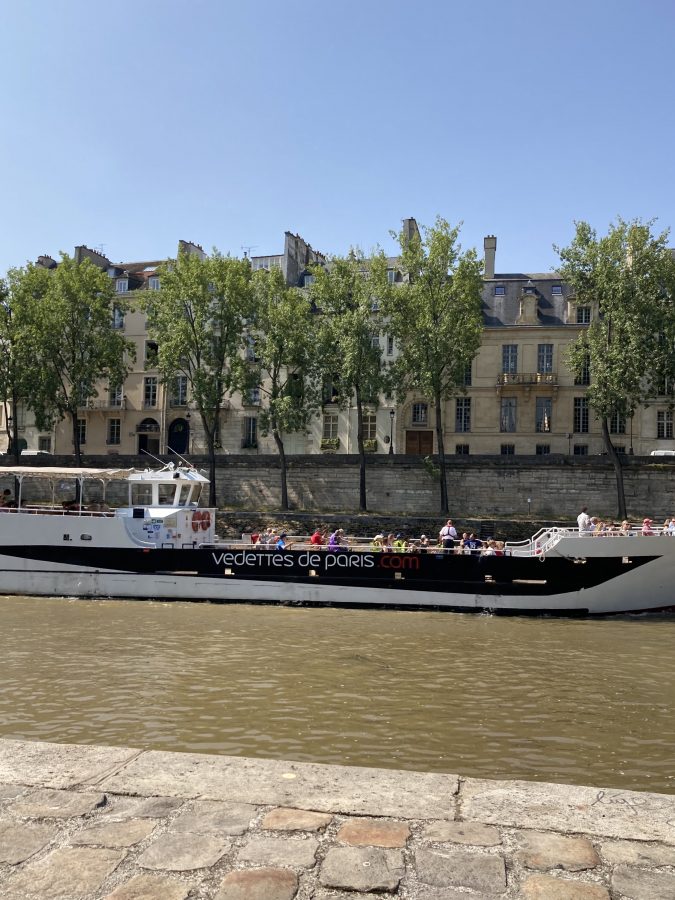 I reserved tickets at 3pm to see the magnificent exhibition showing right now at L'Artelier des Lumières on the works of Gaudi and Dali. If you've been to Barcelona, you will already know about the works of Gaudi who splashed the city with his colorful architecture, most prominently La Sagrada Familia, a basilica started in 1882 and still not quite finished. It relies on public donations. Gaudi was the main architect and is buried in the crypt. At the time of his death in 1926, less than a quarter of the project was complete. (Wikipedia).
The Artelier or venue is an old warehouse in the area where Bernie was born. It is just a HUGE room where they have scattered some make-shift seating. It's impossible not to get people in your photos but that does give a perspective to the ambiance. We have seen two other exhibitions of Klimt and then Van Gogh, both magnificent. This is an immersion experience in multi-media with imaging appearing all around you, moving, morphing on the floor, ceiling and walls accompanied by appropriate music. The Gaudi started with Gershwin's "Rhapsody in Blue" much to my pleasure. The Dali was much more modern music which all the young people were swaying to. Really a fantastic experience!! There is a Dali museum at Montmartre which we've never been to, but we might check it out after this. Sorry to all of you contemporary art lovers, but we find his material in Bernie's words to be "really weird."
There's a bunch of pics so we hope you enjoy!! Please forgive the order and the duplication as both of us were shooting from different locations inside the room. Bernie got some of the basis in actual works and images which help explain the exhibition. I'll present those at the start of each artist. First Gaudi.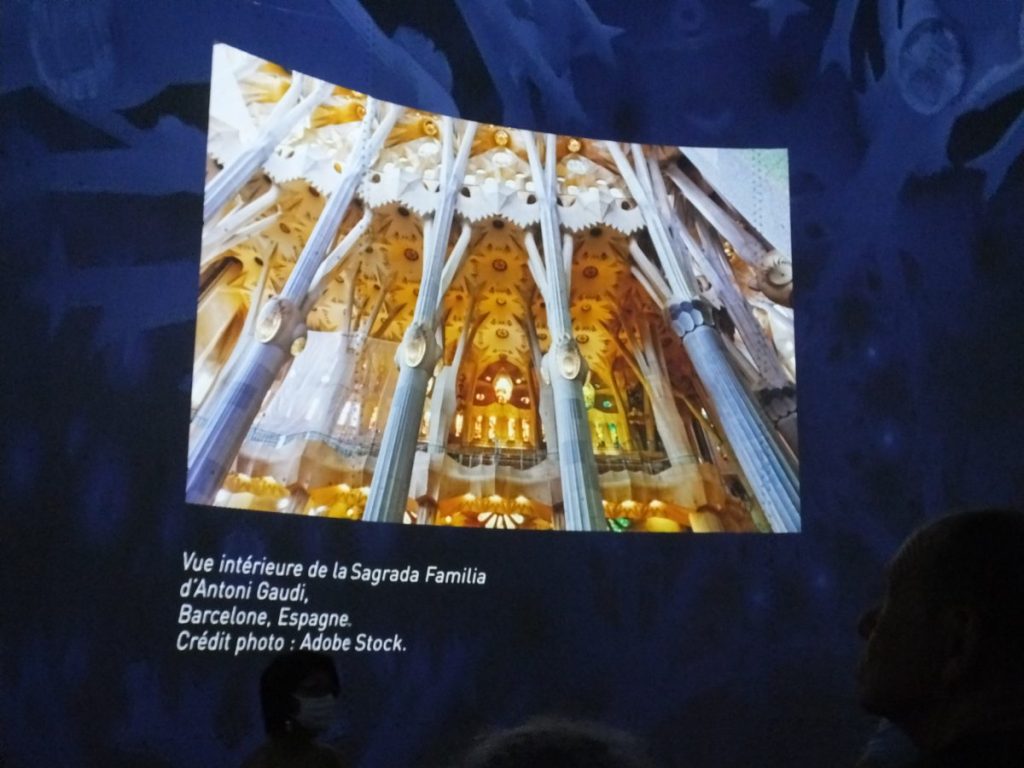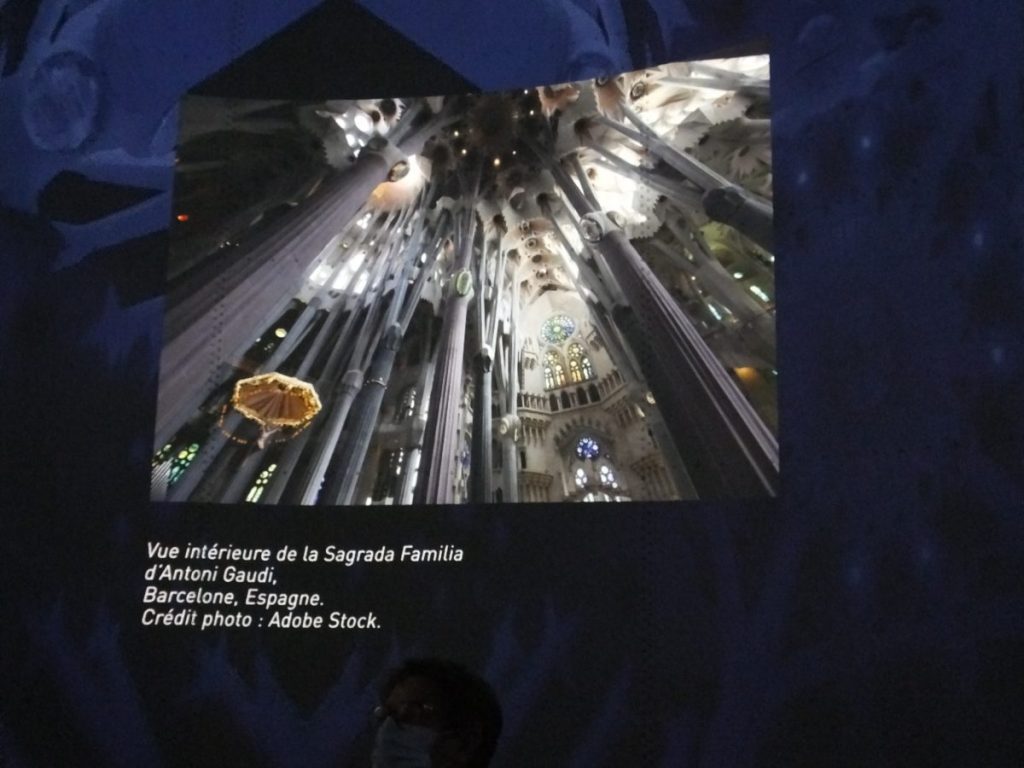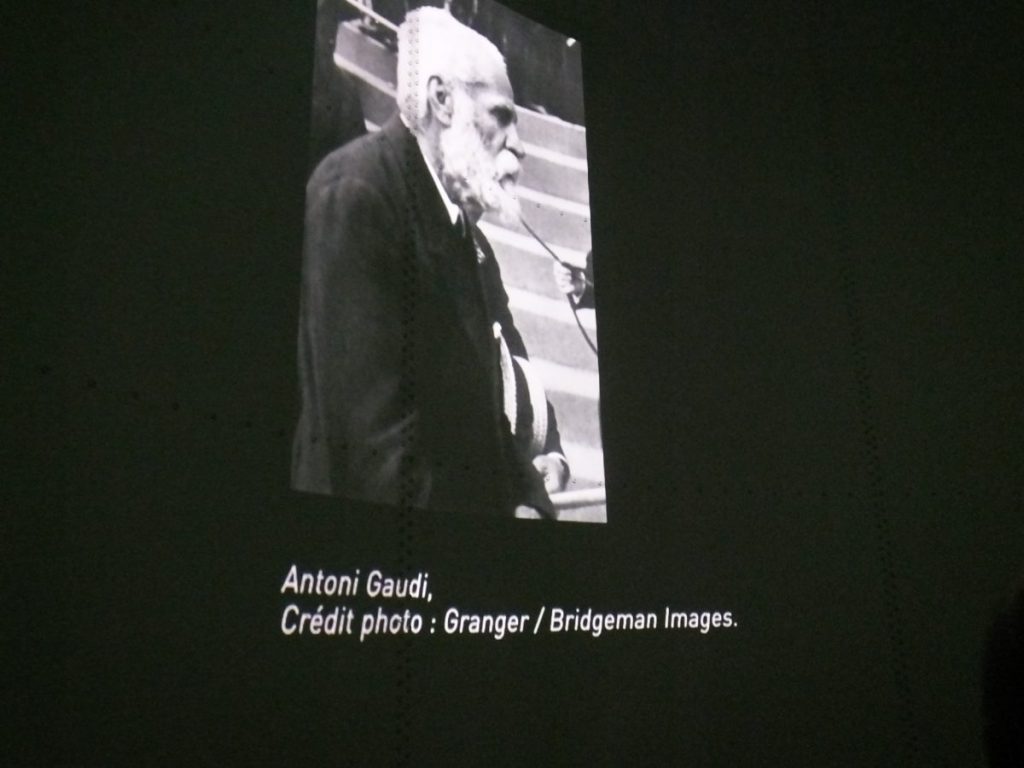 And now the Dali, first with some of his actual art, followed by the multi—media interpretations.
So there you have it! With a slow internet dropping in and out, it's taken all morning to put this together.
The door of the day is very special as it's the door to the apartment where Bernie was born in the 11th arrondissment. To get to the exhibition, we walked past it and through the park where he played as a toddler and also past St. Ambroise church where he was baptized. As I was getting the photo of the door, a car pulled up and a man got out who currently lives in the building. He most graciously let Bernie go inside and we saw the array of mailboxes (#6) and the courtyard.
The lovers of the day touched us as we were having a refreshment after the exhibition.
This last photo captures both of our themes. I must confess I saved it from someone's FB post but it was a perfect combination!
Oops, wasn't the last photo. Must end with a little levity that I saw in Mrs. Paul's boulangerie walking home.  I've never seen these before.
Our project for today is a trip to the pharmacy to see if we can get a "willing" pharmacist to help us put our CDC cards into a special French app for easy access to our COVID info. There will be a proof of vaccination on August 1 for entry into any inside venue. Thanks for all the information from several of you!
À bientôt
L & B