Bonjour,
Yesterday, I totally forgot to mention Le Tour de France. We had watched it on television almost every day through the month of July except for the week we had company. We were primed and ready to stand once again on the Champs and watch the cyclists whiz by. Alas, the plan didn't materialize due to a miscommunication with one of the security guards.
Getting to the Champs is not an easy proposition on Tour day as almost all the subway stops are closed along Line 1 which is Le Métro access. Bernie devised an alternate route which put us out on Avenue George Cinq so we could walk up to the Champs. It was totally blocked off, and Bernie understood the guard to say that we could not enter here or anywhere. We were mega disappointed and stopped at a café  for refreshment since the weather was so nice. It was about 4pm. We sat next to a delightful young couple from Atlanta and had a fun time telling them about some things to do in Paris. They had just arrived and were first-time visitors.
When we returned to the apartment to watch the Tour finale, lo and behold, there were all the spectators on the Champs! The crowd was much sparser than normal and we presume there was no parade but we don't know that for sure. Every year is about the same so I have pulled old photos from my repertoire of past years.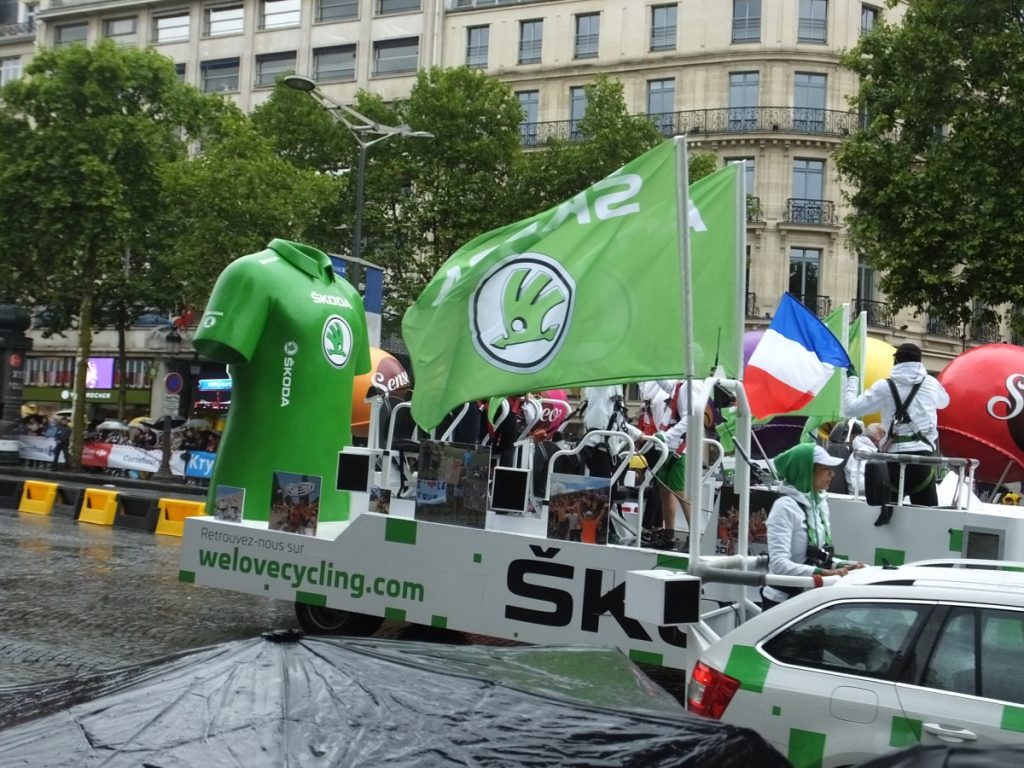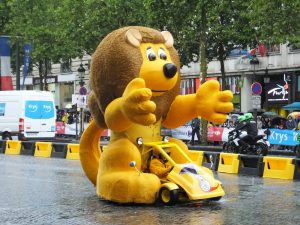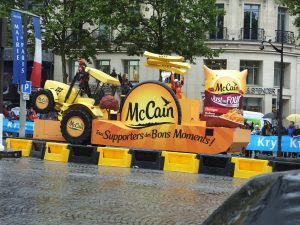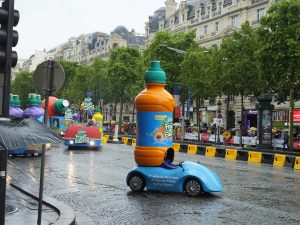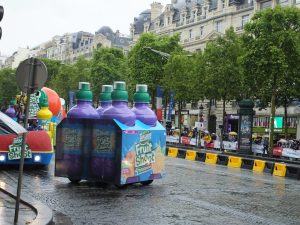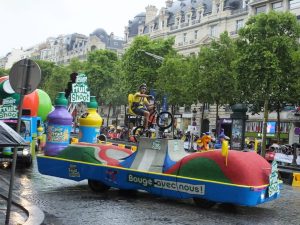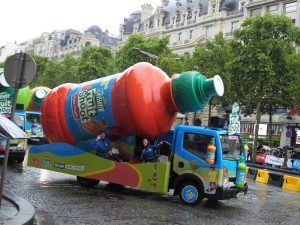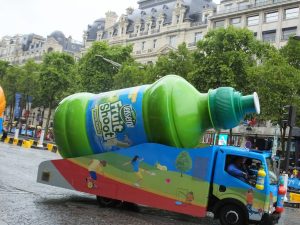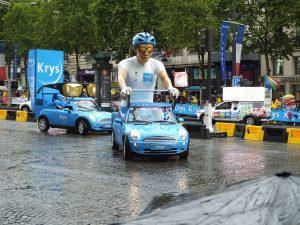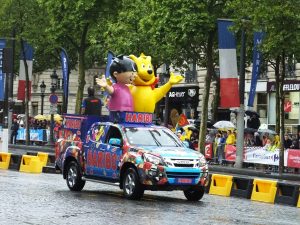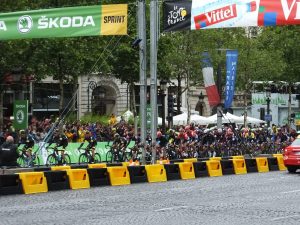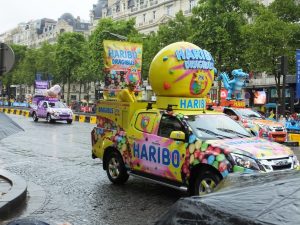 Our outing for the day was to try the new outside café at Musée Carnavalet, the museum on the history of Paris. It is free! It has been under renovation for the past three years or so. We will wait to see inside when the Bilbros come to Paris, but we were looking for a different spot to have lunch. It was certainly different with a most eclectic menu. Set in the lovely gardens, it was in essence a cafeteria, self—serve line. The food came stacked in small metal containers. I wish I could tell you what we ordered but I'll show you instead. We're glad we experienced it but probably will not return for the food. Of course, Jim Bilbro will know what everything is and can decipher for us so perhaps we'll give it another try. First a little history followed by the gardens and our food.
Lunch was not at all filling and we decided to stroll the 4th arrondissement and look for some dessert. I ordered a cappuccino, Bernie a regular espresso, and some sinful cheesecake with framboise or raspberries. Sorry, no photo!
Our evening ended with a light dinner at Le Carette on La Place des Vosges.
Sorry, no doors or lovers today but we may find them at our picnic lunch on the river.
We understand there's nothing but rain in Alabama and a soaring rise of the Delta variant. We are masking up everywhere we go with hand sanitizer required. Beginning on August 1, all Parisians have to show their Vaccine pass to enter a restaurant, public transportation, all shops, all bars, etc. We have nothing but our little paper card from the US so hope that will work for us!
À bientôt
L & B