Bon soir,
A beautiful day in Paris almost always beckons us up the mountain to Montmartre.  It is a favorite of ours and evokes a wistful sense of all the great artists who painted from its lovely mountainsides such as Renoir, Picasso and Salvador Dali.  It is  what I fondly call "old Paris" and the setting for the movie scenes in "Midnight in Paris."
Today was Charles and Judy's turn to experience this Paris gem.  And they loved it.  We had a glorious day which started of course with the beautiful metro station rue  des Abbesses and then the steps, steps, steps up to the top.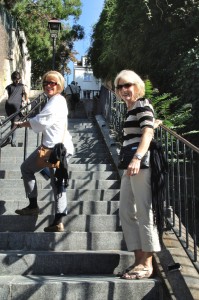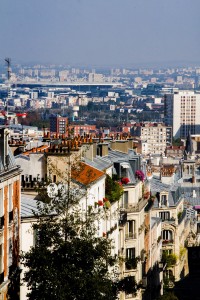 We walked through the Sacre Coeur before the swarm of people arrived, then down the backside for the wonderful views and the vineyards which supposedly are the last in Paris.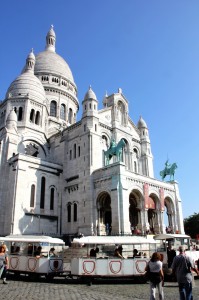 We ate a leisurely lunch at Chez Plumeau under the huge wisteria vine and then enjoyed watching Charles and Judy pick out an original piece of art from La Place de Tertra in the heart of  the village square.  We started our trek down the mountain past the very famous restaurant Le Moulin de la Galette and ended up at the bottom in the red light district to get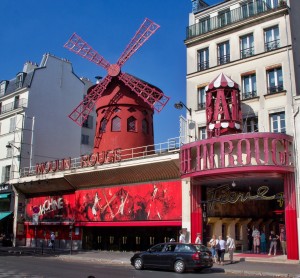 a picture of Le Moulin Rouge.  Charles and Judy were amazed at the unpleasant "ambiance" here amid the sex shops!
We made our way home for a little rest and a very early dinner.  Charles and Judy were off by 6pm for an 8-mile evening bicycle ride through Paris ending in a river cruise on the Seine.  We don't expect them home until midnight.  We'll keep the light on for them but these two folks are off to bed.
Tomorrow we head off for Normandy per Charles' request and hope the weather will be as nice as in Paris.  We are going by rental car and expecting an easy exit from Paris.  Remember I said that!
A bientot,
L&B