Bonjour mes amis,
Thanks to Anne of Green Gables (via Matt Doss' Facebook post today) for reminding us that it's great to live in a world that has Octobers.  Paris felt like fall today for the first time as we said hello to the second day of October. It was just a bit cooler, a slight airy cloud cover with peeks of blue, a constant breeze and temps just barely pushing 70 degrees this afternoon.  Next week is supposed to be quite cool for the first time.
October is a new experience for us here in Paris.  The days are much shorter;  we're finding it almost dark by 7:30 so we are discovering Paris at night for the first time.  In previous summer visits, it hasn't gotten dark until 10pm and these two folks were usually in for the night by then!  We are wondering how it will be after their time "falls back" and it is dark at 5:30!  I am looking for some jigsaw puzzles to do on these long dark days…ha!  This year, we have lost some of our television channels in English so evenings are either sitting in front of the computer, reading or whatever new venture we can find.
We have another great little, out-of-the-way restaurant to share with you, Le Reminet at 3 des Grands Degres right across from Notre Dame on the Left Bank.  Thanks to Richard Nahem for recommending this in his blog, Eye Prefer Paris.  Just like yesterday's new spot, it was unassuming on the front, buzzing with people, white linen tableclothes and napkins and chandeliers.  It is very tiny on the inside but definitely a popular spot for locals.  We arrived at 12:35 and almost didn't get inside.  They have a "Formule" for $14.90 which changes every day.  The food was delicious with a wonderful gourmet twist.  I had gazpacho with shredded chicken, quail eggs and avocado foam.  Bernie had a salmon, tomatoe starter followed by a filet of daurade with sliced vegetables.  His formule included dessert which was a pear tarte.  Yummy!  It appeared to be a family-run business with the father and two sons.  Great reviews on Trip Advisor.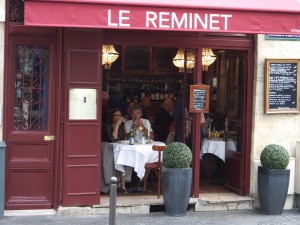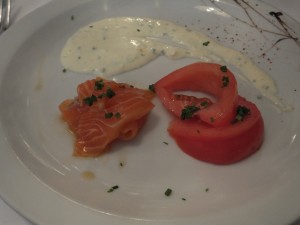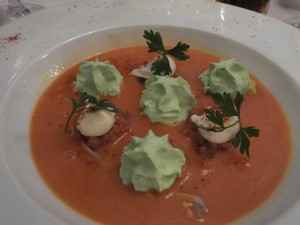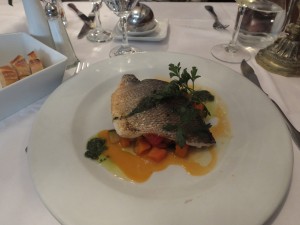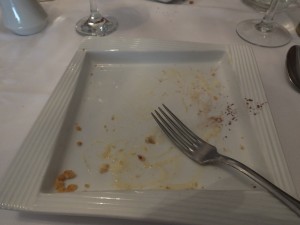 And, yes, Lynne Berry, just for you, we got some pictures of the food.  Another recommendation for delicious food at good prices.  I'm sure the dinner menu would be much more expensvie but we plan to check it out.  Reservations for both lunch and dinner are a must because of the limited seating.
We walked all afternoon along Avenue George Cinq and Les Champs Elysees with a quick rest stop at  the famous Fouquet's.  My Perrier was 11 euros and Bernie's beer was 10 euros.  Nothing cheap in the high rent district.  But the people watching was great and free!  We have noticed a huge influx of Asians visiting Paris right now and they were enjoying the afternoon all around us.
Finally, some pics of Bernie and a few shots from last night's walk.  Hope you enjoy.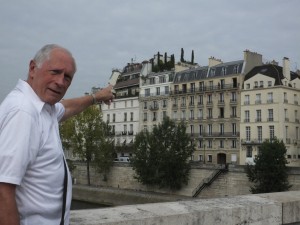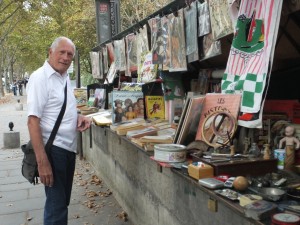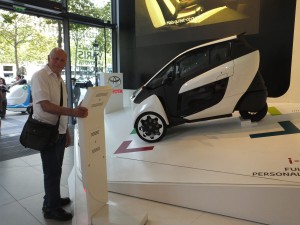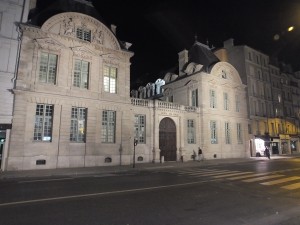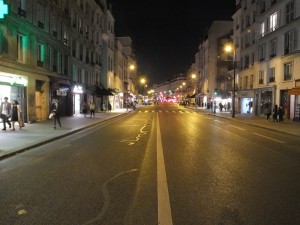 L&B