Bonjour,
Today has been what the French refer to as "meli-melo", a little of this and a little of that.
This morning we did some reconnaissance around the different apartment that we will use for the last two weeks of our visit while company occupies our rue St. Paul spot.  It is on a quiet street and a 5-minute walk from La Place des Vosges.  However, right now all the streets in and around it are completely torn up because they are laying some new conduit for cable, etc.  Just a mess.  Hopefully, in a month, the situation will be better.  We found a cute boulangerie for bread in the morning, some pleasant street cafes but not a very close grocery store, lavomatic or taxi stand.  Darn!  We will have some extra walking to do.  The truth is that we are extremely spoiled with our current location.  It has everything within a few steps and that's why we return every year.
I made us lunch in the apartment and we tried one of the frozen Picard dishes.  Delicious and easy.  Must be why this franchise is so popular in Paris.
Our afternoon outing was a suggestion from Gilles, our landlady's friend.  He recommended we go up to La Butte aux Cailles, known for its good restaurants.  Translated, it means quail hill.  Our expectations were high about seeing a totally new area, and we were quite underwhelmed.  There is a slight hint of similarity to Montmartre but not much and the restaurants were unappealing in our opinion.  One of the favorites with great reviews is Chez Gladines, serving Basque cuisine but with an hour wait, loud music, big servings but great prices.  I'm not sure what we expected but it wasn't what we got!  We did find a lovely church, Eglise Saint Anne de la Butte aux Cailles.  Bernie got a few shots but much of the altar area was under renovation.  Much to our surprise, we were right up the hill from where the Burritt cruise group stayed last year!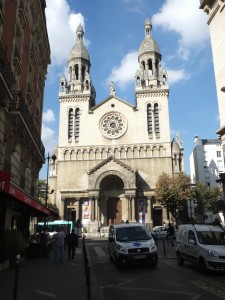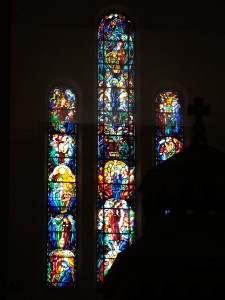 We stopped for some refreshment and right in front of us came an adorable little group of daycare children, maybe four-years old.  Of course, they were walking two-by-two holding hands. Bernie grabbed his camera and started taking some pictures.  Suddenly, the male teacher came racing back to us and told Bernie politely but firmly that it was against the law to take pictures of children in France.  So, you will not see any of those here.  We hate to "break the rules" and learned a lesson we won't forget.
We also found a Chez Nathalie and took a picture in honor of my daughter, Natalie.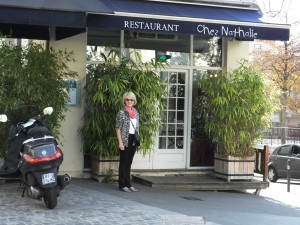 Tonight is dinner in with porkchops and veggies.  Felt like summer again today by the way.
A bientot,
L&B