Dear Friends,
Later this spring, a very special, exclusive, never-before-event is coming to our area…Diner en Blanc. You've heard me blog about this before from Paris… where everyone rushes to a secret, pre-arranged spot by invitation only to have dinner in the open air. Everyone dresses in white. We've gotten to see this twice in our summers in Paris.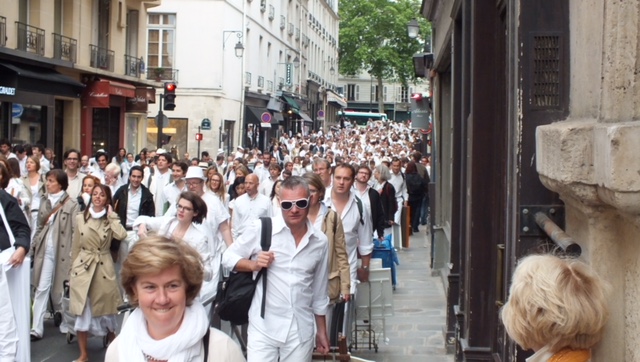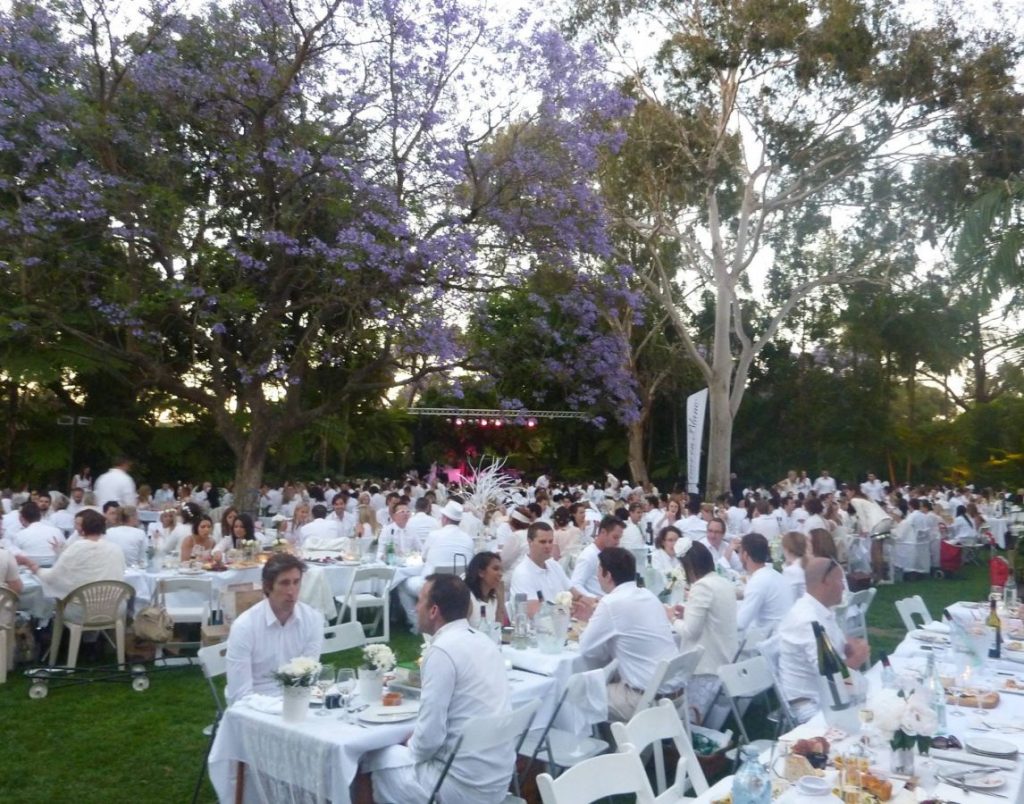 Well, you don't have to go to Paris to participate in this lively event. Several community enthusiasts in Decatur like Laura Ritch (Lana's sister-in-law) are organizing a major soirée to be held on May 19th from 6-10pm.  Of course, the location is a SECRET and you have to go online to find out how to attend and/or help. I'm serving as an ambassador and thus helping with some marketing and publicity.
Here's the key info in simple fashion that you need to know right now:
1. Register to get a ticket at decatur.dinerenblanc.com/register. This doesn't mean you have bought a ticket, just registered and will get more info when it's time. (Everything's held as a tight secret which is part of the fun.)
2. If you'd like to join me as an ambassador, send a headshot of yourself and a list of 10 friends you'd love to see included on the invitation list by emailing Laura Ritch at decatur@dinerenblanc.com. Use the same email for ticket requests.
3. There's a preview party on April 12th at the Princess Theatre prior to the actual event which you can also attend. Dates and all the scoop are available on the web site. It's free but you do need a ticket.
Worried about what to wear…well, it's simple. Every article of clothing  has to be white including shoes, dresses, pants, shirts, belts, hats, blouses, skirts. EVERYTHING. And this group of enterprising gals who are running the event have secured retailers who will be carrying special clothing to support the white theme and also some caterers who will put together all your food and fixings for the fantastic picnic.  Yep, you bring everything just like in Paris, meet at a specified location, park your car, load up your stuff, and hop on a bus that will take you to the secret location!
Bernie and I will be attending and hope you will as well. If you're interested in being on our "special list of friends to invite" just comment on this blog!! I get to send in ten names so the first ten to comment make my list! Give me your email please!!!
In case you're confused, don't be. This is a world-wide phenomenon now with very specific rules and guidelines. Just in New York City alone, there's a waiting list of 53,000 people!!! It's never happened in Alabama before.
I found it interesting to read about the Core Values of Diner en Blanc from the Paris originators.
Diner en Blanc Core Values
Friendship: Le Dîner en Blanc is built by friends, for friends. Host teams in each city surround themselves with a trusted network of volunteers; together, they create an unforgettable event for their friends, family, and colleagues. They experience their city's public spaces by participating in the unexpected.
Sharing: Dîner en Blanc is all about sharing—in terms of both food and conversation. At the original Paris events, each guest was asked to move over one seat to the right, so that they found themselves sharing a meal with a new acquaintance. Although this tradition is no longer adopted, the notion of sharing a meal with friends remains.
Elegance and gallantry: Le Dîner en Blanc emulates the noble values of French court society. Conducting themselves with decorum, elegance, and etiquette, guests gather in an organized fashion for a "très chic" mass picnic. Beyond all the spectacle and elegance of the Diner itself, guests from diverse backgrounds are brought together by their love and appreciation for the finer things in life.
Secrecy: The chosen location is always kept secret and is only revealed to patient, eager guests at the very last minute. Secrecy is key to the event's mystery and excitement.
Equality: For one evening, social status fades away. There are no VIPs and no reserved VIP spaces. The look and feel of the event is based on seating many kindred spirits at a single, long, elegant dining table.
Involvement: Unlike most large-scale events, Le Dîner en Blanc requires that guests get involved weeks ahead of time. They prepare their own menus and organize their own table decorations. Guests are elevated from "spectator" to "actor" in an event of their own creation.
Prestige: Word-of-mouth spreads like wildfire! And every year, more people want to become part of Dîner en Blanc. As places are limited and the waiting lists grow, members feel privileged to belong to the community, and so they increase their efforts by dressing up and preparing for the evening.
Non-Commercial: Dîner en Blanc does not aim to generate a large profit. Therefore, the number of partners linked to the event must be limited and ticket prices must remain reasonable.
Don't wait or you'll miss out on one of the most clever and sexy events ever!!
Best,
Linda