Bonjour,
Yesterday, Monday, was a holiday in Paris, in commemoration of Pentecost. However, the city was still alive and bustling with plenty of tourists. The weather was ideal for a jaunt to Montmartre, truly my favorite spot in Paris. We had a cool breeze all day under blue skies and fluffy white clouds. We have been up this mountain maybe fifty times over all the years, but each time is always a delight for me. Our entry is via the classic subway spot called Abbesses which has one of the few remaining classic subway facades.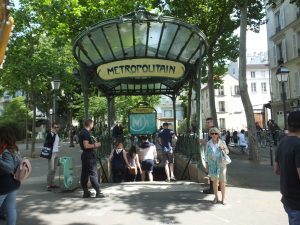 The station starts on one level and ends on a much higher level facilitated by huge elevators which hold approximately 50 people. HOWEVER, yesterday, they were not working, being replaced or renovated. So, we climbed 200 steps right out of the gate, up a narrow circular stairway, painted all the way up with scenes from the area. No pics, because there were too many people to stop along the way.  Of course, Bernie being Bernie, we know the exact count!  After that unexpected expenditure of energy, we started our regular trek up the mountain, passing through some of the more classic little streets of Paris… Another 300 steps. I did it all this time without using the fernicular or little tramway.
 The broken patella is definitely in the rear view mirror!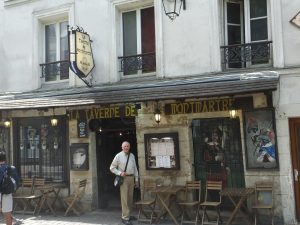 As we reached the top, we were met with a performance on a high wire by a very brave young man without a safety net. His fall would have been met with unforgiving cobblestones.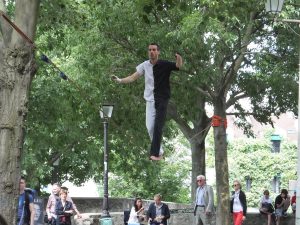 Because all of this was taking place at Chez Plumeau, we decided to change our plans and eat at another favorite little spot called La Bonne Franquette.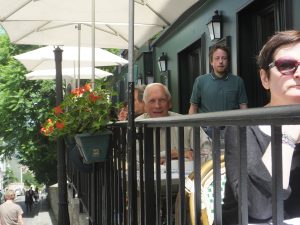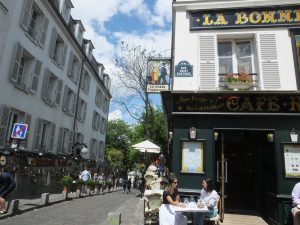 Our primary reason for going to Montmartre was to find a pretty park we had read about called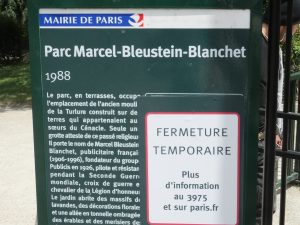 It is directly behind Montmartre and hidden from the flowing masses of tourists. Yesterday, it was teeming with families and picnics.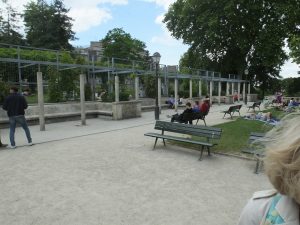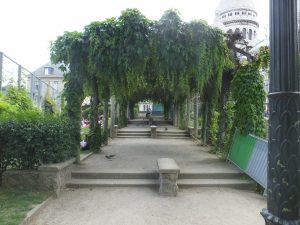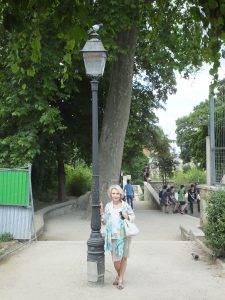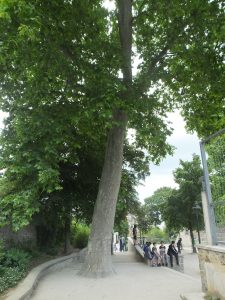 The "Purely Paris" photo of the day must be of the accordion player at the restaurant where we had lunch. 
For any of you like our friend Dorcas Harris who have read "The Only Street in Paris," you will appreciate that we walked down to explore La Rue des Martyrs featured in the book. In fact, it's the entire book, tracing the history of each shop. Today, not much is the same. I needed the book with me but alas had returned it.
We did find the most unusual jewelry shop I've encountered in Paris, and it was swarmed with business. The pieces were not cheap but not ridiculous either so people were making purchases fast and furiously.
NEVER go to Paris without experiencing a day at Montmartre.
À bientôt,
L & B