Bonjour mes amis,
Sunday morning is my very favorite time in Paris, where the streets are empty of traffic, people are fewer in number, and a lazier haze rests over the city. Many shops are closed, church bells are ringing, and families and friends gather round for a brunch of croissants, coffee, and le jus d'orange (orange juice) at local cafés. Our daily world revolves around one of the busiest streets in Paris, rue St. Antoine, and as you can see by the photo above, the traffic was non-existent around 9:30 as we made our way to the Sunday market at the Bastille.
Bernie thought no one would be there so early. Au contraire. It was already loaded with people, mostly locals doing their shopping from favorite vendors. There are hundreds. The tourists are snapping photos; the locals are seriously making their selections. We LOVE this spot and send the photos to tell our story.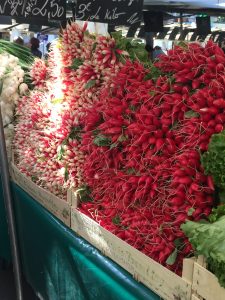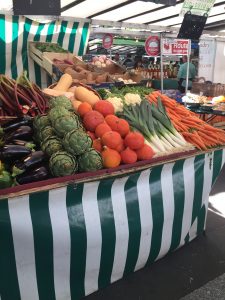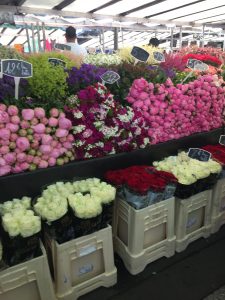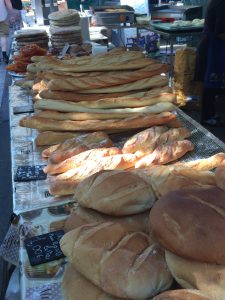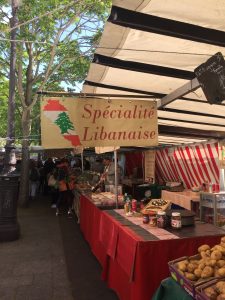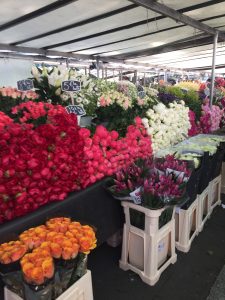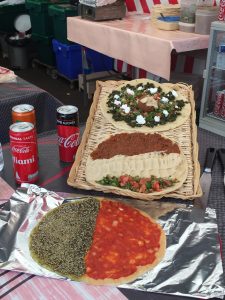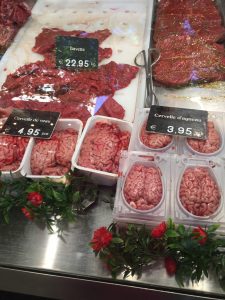 Bernie's camera battery was dead so yours truly took these on my iPhone. Some perhaps a little fuzzy!
More into the pure enjoyment than shopping, we purchased only some cherries, avocados, and a few gifts. I can't wait to show the market to my two grandchildren, ages 13 and 10, who arrive in a little over a week!
Lunch in La Place des Vosges netted two great photos, one the "Purely Paris" photo of the day.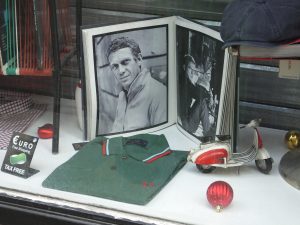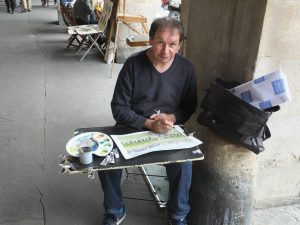 We headed to Le Champs Elysées in pursuit of the magazine "Where Paris" which we found at the Marriott hotel. But there was a surprise awaiting us as we exited the subway. We had forgotten that this busy thoroughfare is closed to traffic on the first Sunday of each month, but today we were met with tight security as we opened camera bags and purses and passed through restricted access. How I hate this, probably a result of yesterday's London terrorist attack.
Here's the trick to a lovely respite as you're strolling Le Champs. We dress a notch above most tourists, make our way into the Marriott with many warm Bonjour's, and order a little bite of something in the open bar area. It's lovely and comes with a wonderful restroom. Then we head to the front desk and ask for our magazine which they kindly present.
It's fun to walk down the middle of The Champs. We found an unusual street performer,
as well as our favorite waiter again, Benjamin, who will come by tomorrow afternoon to visit with us at Le Bouquet St. Paul which he used to own.
The end of our day brought another delightful bit of camaraderie with an Australian couple we met also at Le Bouquet over our evening cup of café . He's a doctor and she's a nurse with a 6-week holiday. We had deep political discussions and hope to see them again as they're staying in the area. This was the perfect ending to a Sunday in Paris.
Hope your Sunday wherever you were was also delightful.
L & B
P.S. Can't forget to share the inside altar of our local ancient church where we lit a candle for our friend, Barbara Buice who is very ill. Love to you, our dear, dear friend!