Bonjour from a sunny Saturday in Paris!
It's 73 degrees in Paris on a gorgeous day and we have thoroughly enjoyed the uptick in weather.  All the winter wardrobes overnight become summer, including mine!  And what better place to enjoy a summer day than along the Champs Elysees? 
We stopped by the elegant Marriott hotel first for a quick cup of coffee in order to ask for a WHERE PARIS magazine.  This is a free publication that is so handy, but is getting hard to find except at the larger hotels.  These seasonal publications are full of things to do, in this case for the month of May, and the rest of the summer.  With that accomplished, we went outside to Marriott's sidewalk cafe and had a small but tasty lunch. Bernie is lookin' good in the sunshine, don't you think?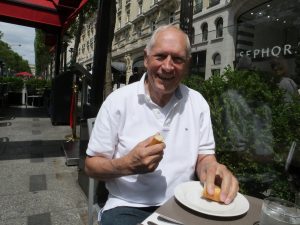 If you recall, I posted a blog before we left about my list of 24 new things to do in Paris on this visit.  We accomplished one yesterday with the Musée de l'Homme.  Another on the list was to locate the only remaining pissoir in Paris.  These were the notorious street-side urinals where men could relieve themselves on the go.  The location is on Boulevard Arago (14th arrondissment) which was a LONG subway ride and then a LONG walk after that.  But, we found it, and here are the pictures.  It's just a little history of Paris for your reading pleasure.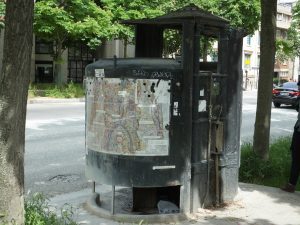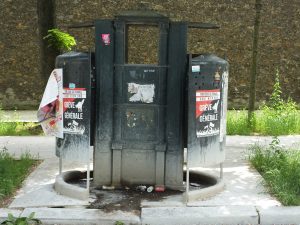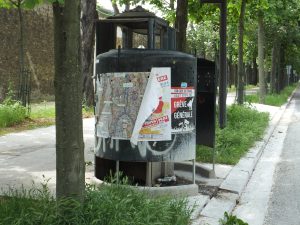 By the way, I recognized a public square and statue from the news this past week, so this was obviously where all the violence occurred from strikers who were demonstrating.  It's not a great part of the city, but all was quiet today.
Here are a few more of our café chairs.  Maybe we'll have a contest at the end to select the overall favorite!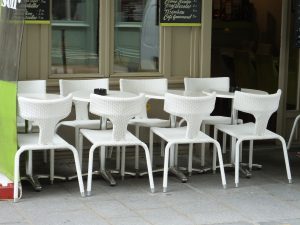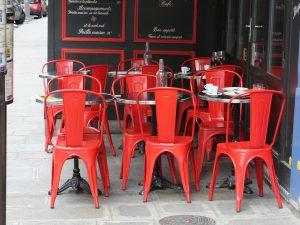 Have a lovely weekend,
L & B