Bonjour,
It was 58 degrees this morning when Bernie left the apartment at 9am to meet our next landlady and prepay our second month's rent. He did not get to see inside the apartment (just around the block) because it is currently rented, but he did get to assess those 70 steps leading up to it!  He gave them a thumbs up over our present set, insuring a slightly better ease of passage. My knee will be happy!
We headed out for a trip to Le Trocadero which is the huge Place in front of the Eiffel Tower. We are on a quest to shoot the cover photo for our book. We played around with several poses this morning and learned what worked and what didn't. Definitely, we need a blue sky, not the ominous, gray one from today. I took the photos just for fun, trying to come up with some good poses and facial expressions. We'll keep practicing.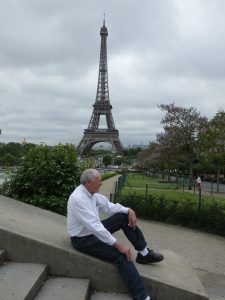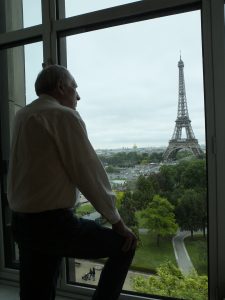 And of course, we're always now on the lookout for unusual café chairs.  I'm glad that so many of you have expressed your enjoyment of this little project.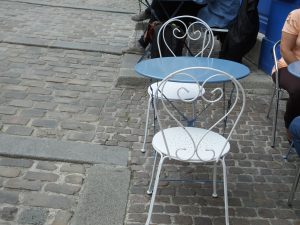 One of our favorite lunch spots has been closed for five years, Le Café de l'Homme with a patio that has THE best view of the Eiffel Tower.  Our plan was to visit the recently renovated Musée de l'Homme and then have lunch at the restaurant. It was a delightful morning, far exceeding our expectations in every way.  The museum was excellent, with a focus similar to the Quai Branly, but much smaller and brighter. Bernie took some great photos. I have captioned each one to give you an idea of the clever, artful displays which answer the questions: Who is man? Where did he come from? And where is he going?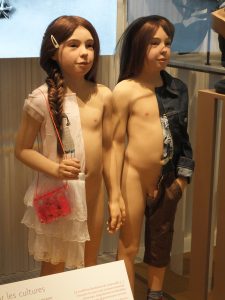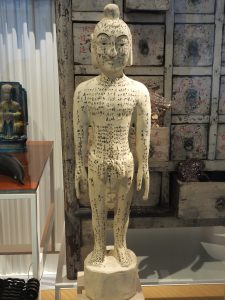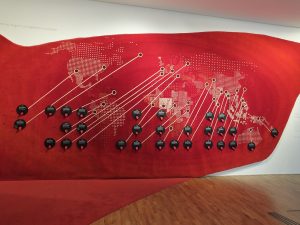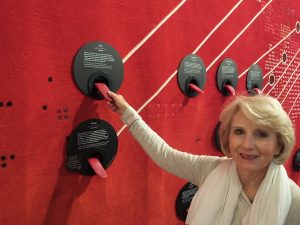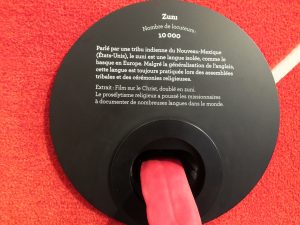 Lunch was a total pleasure, though the patio was closed because of expected rain. Ugh! We started with a mousse au foie gras mixed with ananas or pineapple. Trés Bon!  Sadly, there is no photo as we gobbled it up before I remembered that all of you love seeing food pictures. (Bernie hates taking them because he thinks it's impolite, but I will sneak a few when I can.) Then we shared a salmon fillet, haricots verts (French green beans) and some pomme frites, French fries.  Delicious at 65 euros which included a glass of wine and two cafés, graced with complimentary little pound cakes or gateaux.
On the ride back to the Marais, we sidetracked through L'Hotel de Ville where the Mayor of Paris is hosting a special exhibition of the spring plants of France, including people dancing on a climbing wall!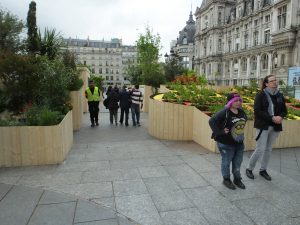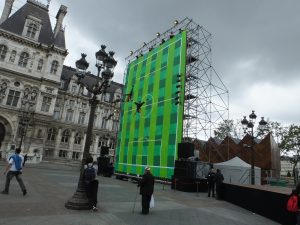 And then we walked across the river to take some more photos of possible book cover poses and to see if Le Féte du Pain (The Celebration of Bread) was open yet in front of Notre Dame.  It was not, so we will check it out tomorrow when it's supposed to be sunny and in the 70's. Formidable!
Have a lovely day,
L & B
P.S.  Oops, forgot to show you pics of our neighbors from our little party last evening at their apartment. The 8-year old son, Celestin, drew us a picture of the Eiffel Tower which he left at our front door!