Bonjour mes amis,
It's Thursday in Paris and even here, we are smothered in the James Comey testimony. We were so hoping to get away from the politics, but it's impossible.
Yesterday was a fun, busy day beginning with some housecleaning in our apartment. We will leave it far cleaner than when we arrived, and that's okay. Bernie discovered a new vacuum cleaner which he proceeded to clean out probably for the first time. He always does the vacuuming, and I do basically everything else. Maybe you don't remember that a fine black dust settles almost overnight from the car exhaust. We have to stay behind it daily or our sinuses will go crazy.
We were invited to lunch by one of Bernie's friends, Didier Quersin, who accompanied us to a new bistro called DaDa's in the 17th arrondissement, not far from the Arc de Triomphe. The ambiance and friendliness of the staff characterized this spot more than the food, and we thoroughly enjoyed the outing. We ran into one of our favorite waitresses from the cafe below us from last year, and it was great to see her. In many ways, Paris is a small town!  Here's a picture of these two good friends.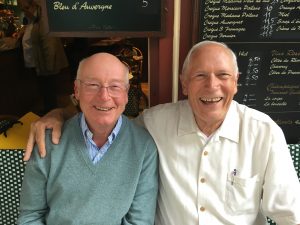 We left Didier and sought out the Marriott Ambassador Hotel for our friends, Joe and Marie Newberry, who are coming over for the Paris Air Show on behalf of the Chamber of Commerce. We will meet them on their arrival and take a spin around the Champs for dinner. Unfortunately, their dates directly coincide with the visit of my family so we will have only a brief time to share with them. The Ambassador is a very nice hotel on Boulevard Haussmann.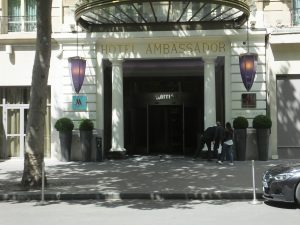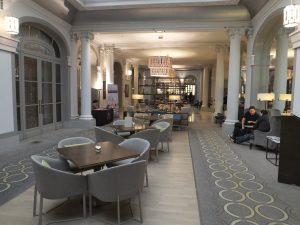 We walked over to the traditional opera house, Le Palais Garnier, to hopefully purchase some inexpensive tickets for a performance. After much back and forth in part French, part English, we secured two tickets for July 3 to a ballet called "Sylphide" for only 12 euros per person. We're in the upper tiers but at least we will get to experience something we haven't done before. Here are some shots of the opera house exterior, most of which were taken from the very famous and lovely, Café de la Paix, directly across the street.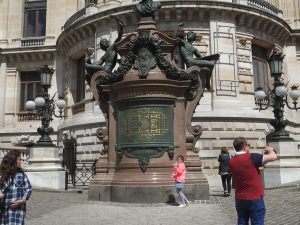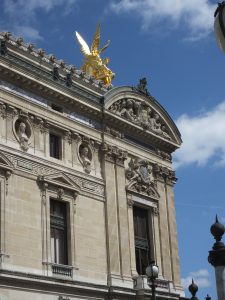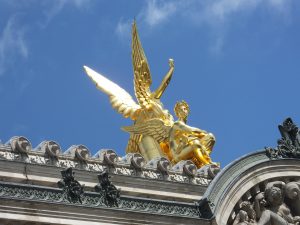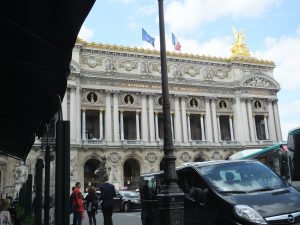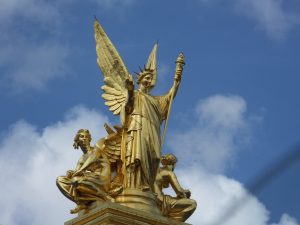 The "Purely Paris" photo of the day has to be the abounding chimney pots which dot the Parisian skyline. Bernie's zoom lens got a wonderful shot. To think that every one of these is tied to an internal fireplace says a lot about life in close quarters.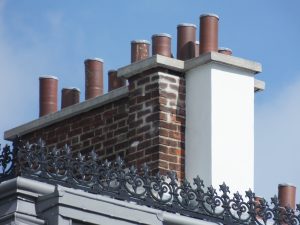 We love hearing from so many of you! Merci beaucoup. I don't always have time to respond to each comment, but they truly make our day.
Remember to tap on the photos to enlarge for a better view. Have a super day or as the French say "Bonne journée!
L & B