Bonjour,
Our step meter hit almost 16,000 yesterday thanks to our great luck in once again encountering Diner en Blanc or Dinner in White. This is a phenomenon which began in Paris many years ago and has spread to other large cities in Europe and beyond.  If you read Bernie's Paris, you will remember the story. A Parisian had invited a group of friends to a park to share in a picnic. He knew them all, but they didn't know each other; thus he instructed them to wear white for easy recognition. And so it began. It has grown to hundreds of people and is by elite invitation only. It's very organized in cliques which meet initially at designated locations close to their central dining point. Then they march in orderly fashion together in a mass convergence. And last night that final destination was the large place at L'Hotel de Ville which is the City Hall of Paris…and only a short walk from our apartment.
After an average day, which yes, included watching the Comey testimony (we are so American!), we went downstairs to our little café for a cup of coffee after our dinner. We were having a nice discussion with an Australian couple when suddenly a group of six came strolling by all in white, carrying tables and chairs and picnic baskets. I jumped up abruptly and said, "Bernie, it's diner en blanc. We have to go!" The couple was confused, I told Bernie to pay and offer our apologies while I chased after them. You see the destination is held in great secrecy, and we had no idea where they would end up!  Off I went, trying to keep them in my sights, asking the couple if they wanted to come as I was fast walking away. They declined which was their loss.
We chased them for about 30 minutes and as I predicted, the destination was at City Hall. This is the second time we've fallen into luck at being  at just the right place at the right time. Eventually, it gets so crowded, you have to leave for fear of being trapped!  Our original exposure as I captured in our book was in La Place des Vosges. Enjoy these fun pictures.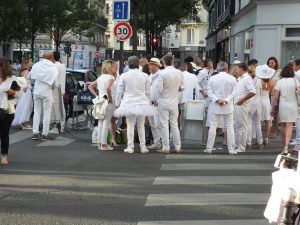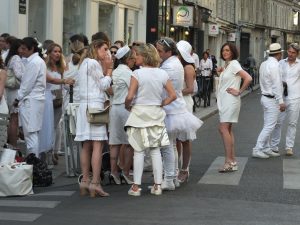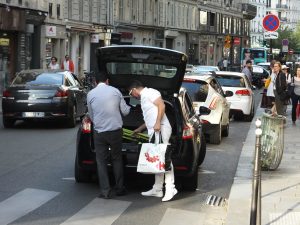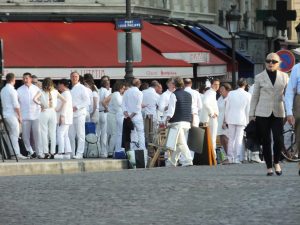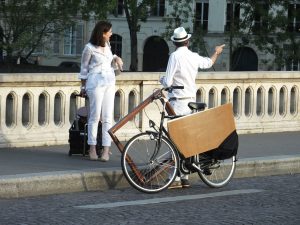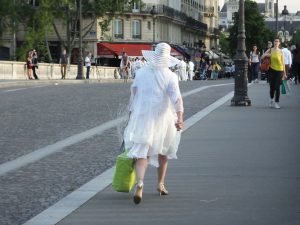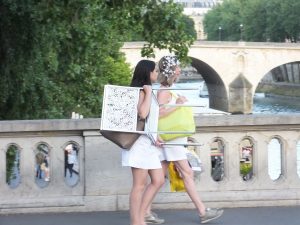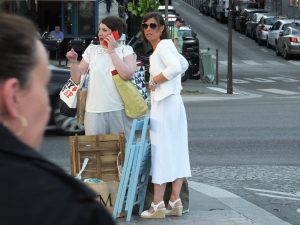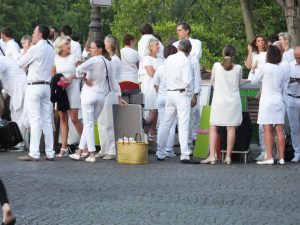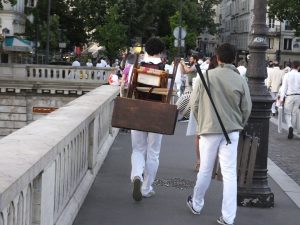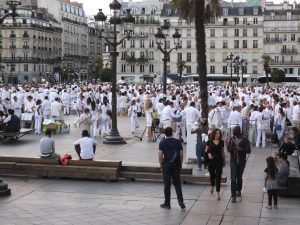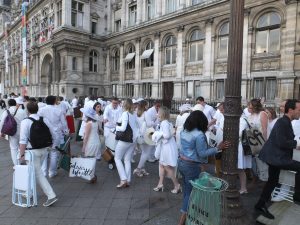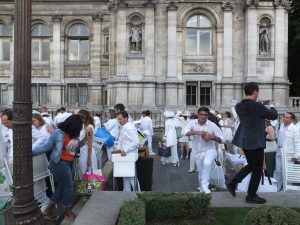 The earlier part of our day was spent looking for an art enclave called 59 Rivoli. Street numbers in Paris are crazy. There is no correlation between numbers on one side of the street versus the other, so after several missed cues and many steps, we found it. And, you guessed it, it was closed despite the fact that the posted hours were 1-8pm. Peggy Bilbro, this is one to look up. It's free and looked amazing on the internet. Knowing you guys, you've already been there!
Strolling back home, we ran across our favorite locally-owned shop in the Marais, Izrael,  which is also featured in our book. We love the pickled garlic!
The "Purely Paris" photo of the day has to be the guy in the tutu!
Hope we haven't worn you out with all the photos!
À bientôt,
L & B