Dear Friends,
If we seemed to have disappeared, it's because we did!  We have been without any internet or cable connection for almost two days due to a major outage in the general area.  Wow, we've all been having withdrawal.  It just came back up and I'll try to whiz through the highlights of our weekend.
Yesterday, we left early to hit Les Galleries Lafayette, Paris' largest department store, before the hoardes of people started queueing up for the designer handbags.  Charles was enthralled with the gorgeous stained-glass dome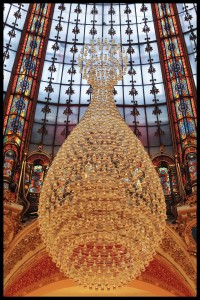 and then the panoramic view from the top.  We walked all around the Palais Garnier (the original opera house)

and had lunch at a street cafe.  We tried the famous, nostalgic Cafe de la Paix but couldn't get a table for four.
Next we walked to the Musee d'Orsay or at least we started off in that direction when I panicked at what I thought was the loss of one of my credit cards.  I broke off from the others, took the subway back to the apartment and discovered the card in another purse, whew!!  Not a great feeling.  Bernie came back shortly leaving Charles and Judy to experience the magnificent collection of impressionists' paintings.  Three hours later, they returned exhausted but exhilirated.  They rested up and we all made preparations for our big dinner out before their departure.  Since our night at Le Train Bleu was thwarted by miscommunication, we had reservations at an adorable intimate restaurant on Ile St. Louis called L'ilot Vache or Place of the Cows.  Charles and Judy LOVED it and the food was the best we've had there, perhaps a new chef adding his touch to their  menu.  Anyway, after a stroll along the Seine, we trudged up our 36 steps around 10:30, tired but joyful at the memorable evening we had shared together.
This morning (Sunday), we made it to the 11am worship service at the American Cathedral of Paris.  I've written about it many times.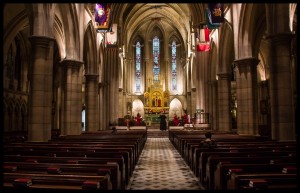 It's the church with a flag and needlepoint kneeling bench for every state in the Union.  It's our first time to go to a service other than during the summer with the actual Dean officiating and the chancel choir enhancing the lovely, traditional Anglican service.  However, here's an interesting tidbit which is a sad commentary on our world.  Printed in the bulletin was a short note about the fact that Paris is a very large city with thieves and the suggestion that valuables like purses should be taken up to the altar for Holy Communion.  That was a first!  Obviously, they have experienced some problems.  Judy and I watched to see if others were carrying their purses.  They were so we did as well.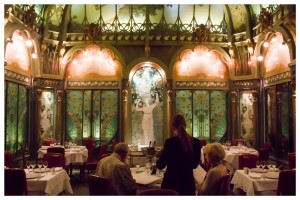 After the service, we walked one short block to La Fermette Marbeuf for a Sunday lunch in their Garden Room, a superb example of Art Nouveau.  The menu is very French and a little bit of a struggle the first time but Charles and Judy managed to find something to suit them, especially in the dessert category.   This is a fabulous little spot and a must-see if you're ever in Paris.
We left the restaurant and started an afternoon stroll down the Champs Elysees and just had a barrell of fun.  Rain the night before dropped the temps by 10-15 degrees and it was so delightful.  We walked underground to the Arc de Triomphe and all along the Avenue.  Judy managed to find a new black belt, and now can say that she has shopped along the Champs!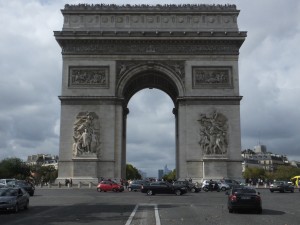 Charles and Judy will depart for home tomorrow.  They've seen the top layer of Paris and I think we've about worn them out.  Charles has roamed the streets of Paris at night with his camera and taken some breathtaking shots which I will pull together and share in a special forthcoming blog.
We wish them godspeed on their return home.  Thanks for the memories!
A bientot
L&B