Bonsoir,
Today has been a summer day in Paris with temps in the 80's.  Mix this with a fall wardrobe and we were pretty uncomfortable.  I started in one outfit, a light, cotton sweater and scarf, and ended the day much lighter.  Poor Judy has fewer choices with her travel attire and has just had to endure.  Of course, the Parisians are loving it since they did not have summer in July and August.  It's an upside-down weather pattern but supposed to rain and cool off by the weekend.  We coudn't have asked for better touring days for their visit so enough with complaints.
This morning, we were out by 10am and took Charles and Judy to the Louvre along with hoardes of other people.  (Unbelievable and a surprise for me as far as September  in Paris!)  They stayed a couple of hours while we went back to the apartment and did some laundry.  They found it "overwhelming" and that is generally the word for the first experience in the Louvre.  They managed to see the Mona Lisa, Venus de Milo, the Winged Victory, the two grand halls filled with Greek statues and the Napoleonic apartments.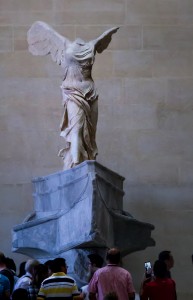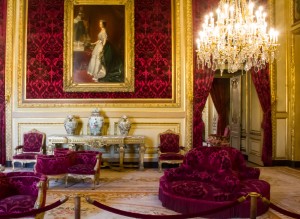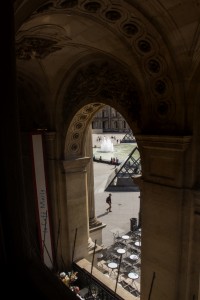 We met them for lunch at Cafe Marly which was delightful, one of our favorite spots.  After we walked the length of the Tuilleries Garden, Charles and Judy visited the fabulous Monet waterlily murals at  Musee de L'Orangerie.   This spot was much more to their liking and a great experience.  (No photos allowed, unfortunately).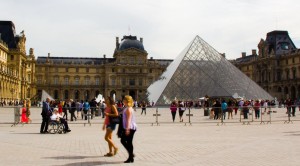 Bernie and I waited for them in the shade under the chestnut trees and I believe there was a nap or two.  Then we walked over to La Place Vendome to discover that not only is the rennovation of The Ritz Hotel not complete but the huge center tower is surrounded by intricate scaffolding.  This was disappointment number one and kind of a waste of time.  We hopped on the subway up to the Bastille to show them Le Port de Paris and one of our favorite strolling spots.   Our plan was to have an aperitif in the shade by the canal at a little spot called Petite Bleu.  Alas, we had disappointment number two as we ran into a very rude waitress who scolded Bernie loudly in front of the other patrons for moving one of the tables out of the sun.  We left knowing that the ambiance had been spoiled.  It happens but thank goodness not very often.  Judy immediately took revenge and wrote a very bad review on Trip Adviser.
We ate a light dinner in and Charles was off to shoot some night photography.  Suddenly, Bernie got a text from Le Train Bleu (our spot for a big dinner tomorrow evening) only to discover that the reservation was for tonight!  Disappointment number three.  o-la-la!
So tomorrow is another day and we'll start again surely with fewer disappointments.  Hope you are enjoying the pictures.  You can email us or leave a comment on the blog.
A tout a l'heure,
L&B