Bonjour,
The weather gods continue to shine down upon us! And I might say that it's well deserved! Our day was beautiful, nicely cool and sunny. We thought it would be a calm, easy catch-up day, but there were surprises afoot.
The visiting couple (Valerie and Derrick from Nashville) with their 4-year old called about 11 suggesting that we meet up with them after their river cruise over near the Eiffel Tower. First-time visitors to Paris have no appreciation for travel time or effort. With Line 1 down, it took us about 40 minutes to get to them. They were delightful especially little George, the 4-year old. Just precious. Sorry, no pics as I left my phone in the room on the charger, and all the photos of us were taken on their phones. We were ready to suggest a soirée for them to the Jardin d'Acclimatation, a children's playground. Suddenly about 2:30, they announced a desire to go to the flea market at Clignancourt! I politely did everything I could to discourage this (terrible neighborhood, long subway ride, closed at 6pm, not very child-friendly, need a whole day there, etc. etc. etc.) but nothing would do but to head out.
It's a bit difficult to get into the authentic part of the market (past all the hoards of vendors hawking knock-off products). When we finally got to the best section, it was 3:45! But they were completely mesmerized by its charm and all the antiques. Their clear intent was to purchase something LARGE and have it shipped. We had alerted them to our 6pm dinner reservation and left a little before 5pm. We have no idea if they made it back or what they purchased but c'est la vie! It was indeed a good memory for them. Here's a few photos from Bernie's phone of the market, Marché Aux Puces (fleas). It's a must-see at least once and is only open on Saturday, Sunday and Monday. The eating and "toilette" facilities are much better these days compared to earlier visits. I like to say that the market is held together by duck tape, electrical wires and bubblegum!
We hauled it over to Le Palais Royal and our final dinner for this year with our friend Hannah. Always the dancers in the area.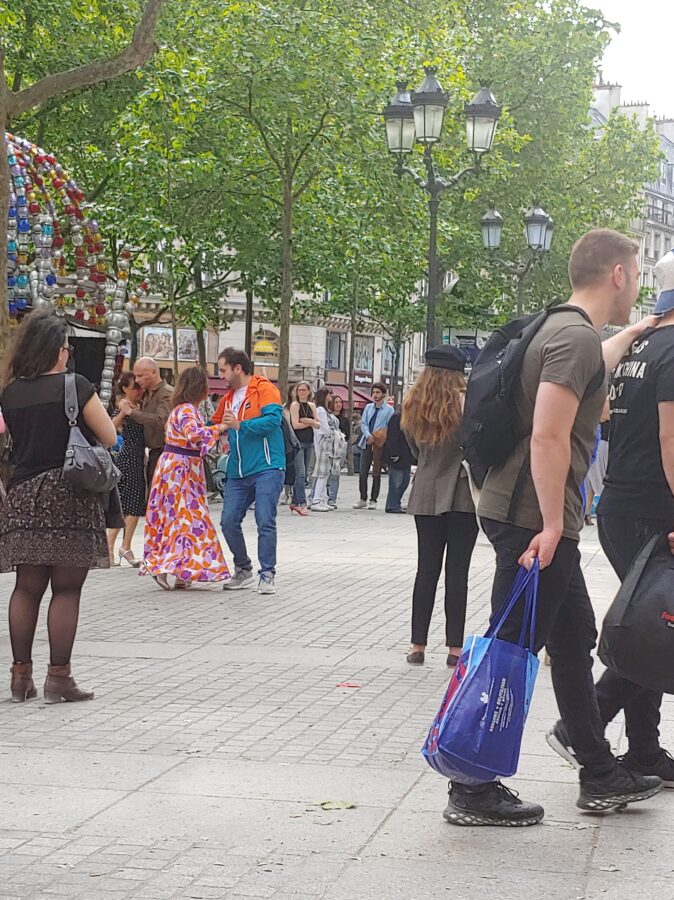 Our dinner was at Le Grand Colbert and it was perfect.Many thanks to Hannah for the photos.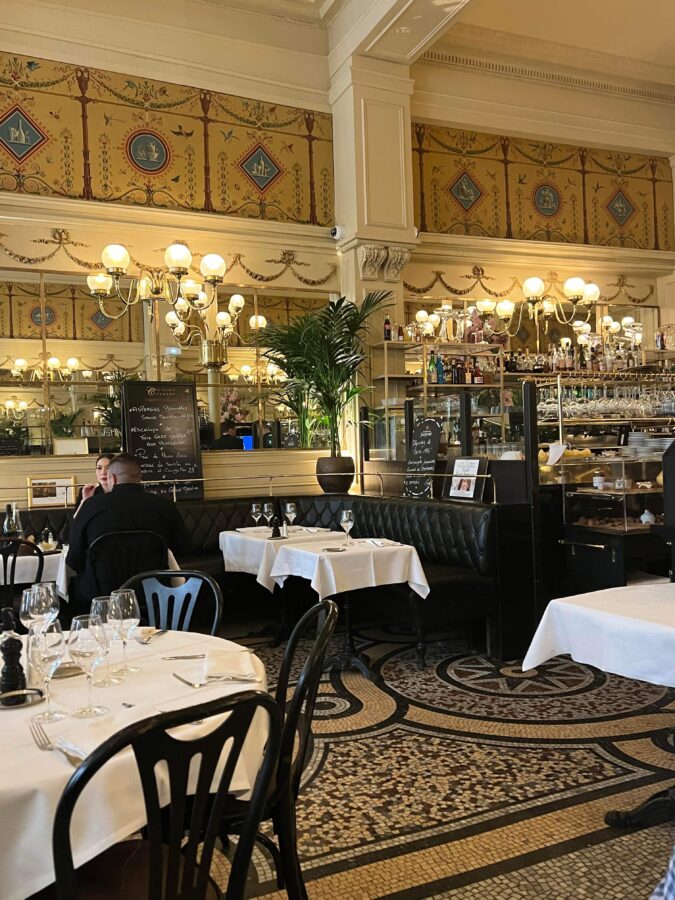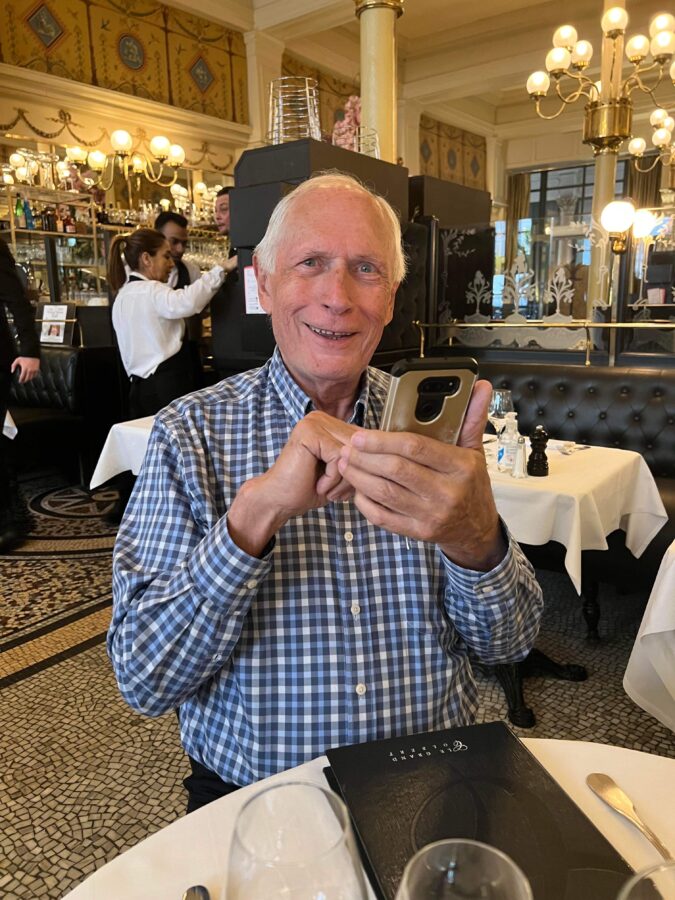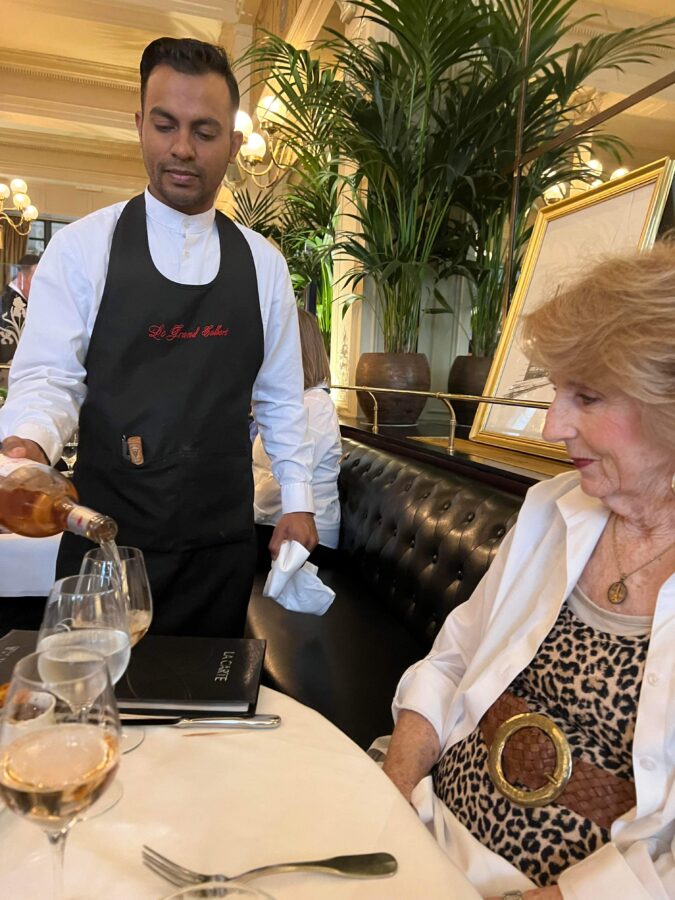 At the end of this week, my daughter, Natalie, and grandson, Carson, will arrive. Can't wait. It will be Natalie's fourth visit and Carson's second. I am blessed indeed!
L & B