Happy July to everyone,
We continued our fun days with Brooke and Kayla amid a cool, rainy Saturday in Paris. Temps hovered in the high 60's.
One of the "must-do's" for Brooke was a cup of chocolat chaud (hot chocolate) at the very famous tearoom, Angelina's, on rue de Rivoli. There are several locations in Paris but this one is the classic original. As always, we waited about ten minutes in line for a table, and since it was almost noon, decided to make this our lunch. 
Brooke and I had Eggs Benedict, Kayla had a Caesar salad, and Bernie had foie gras.  And of course, the very renowned cup of hot chocolate for Brooke as the grand finale.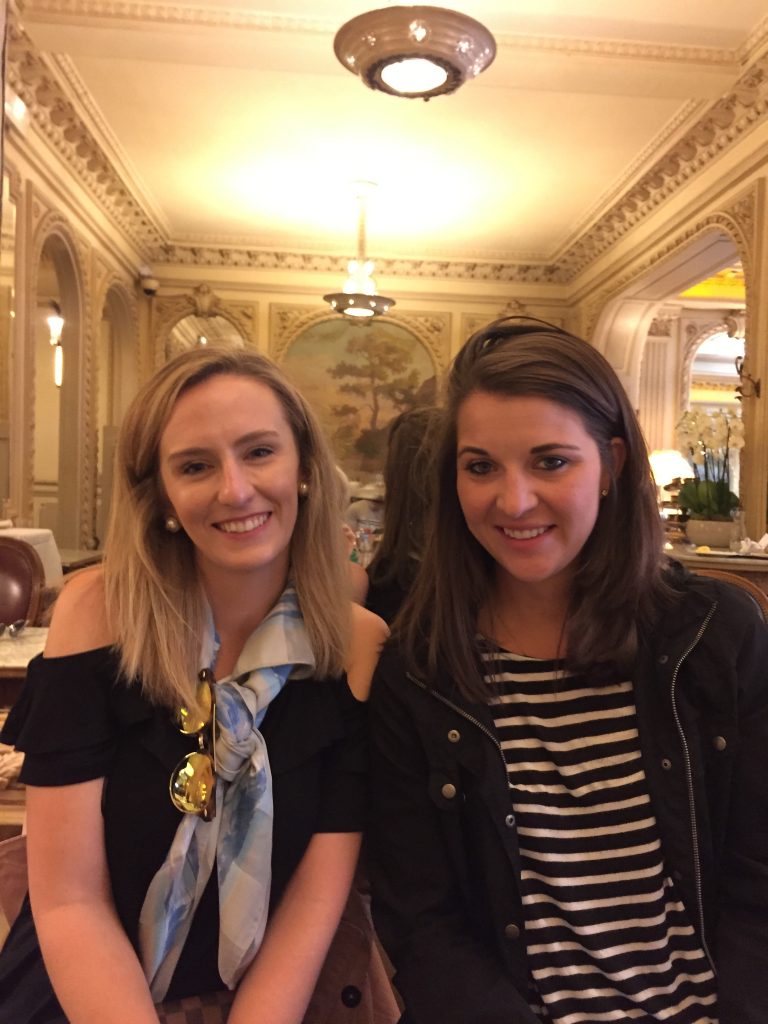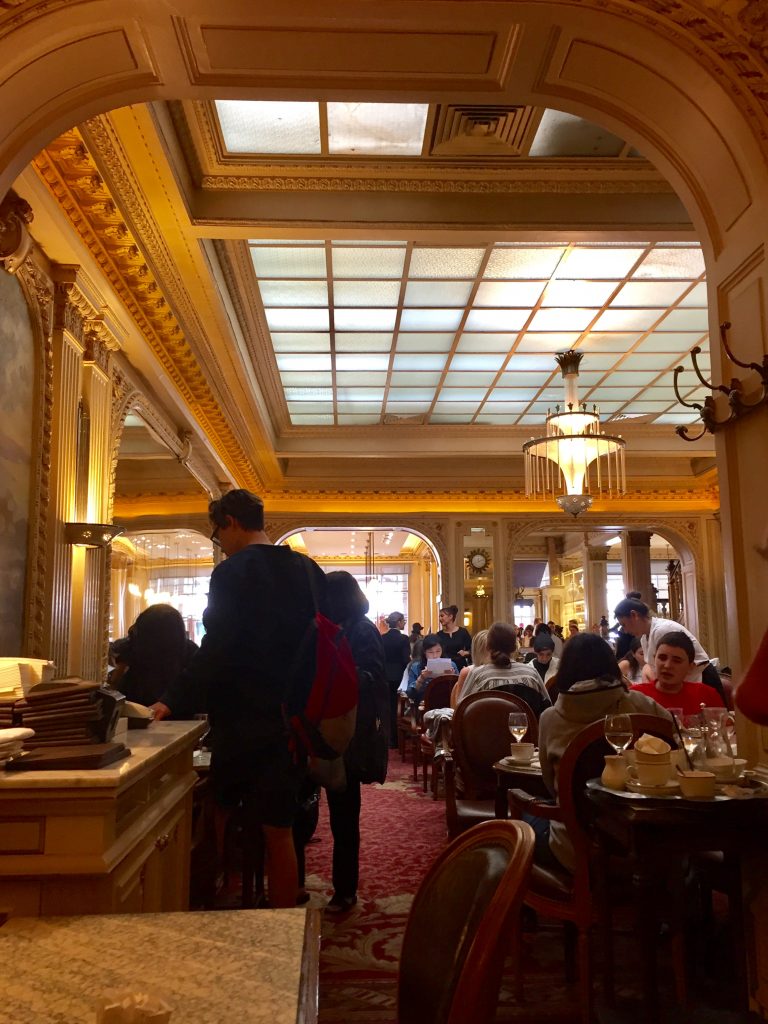 We spent the remainder of the day in shopping heaven for the gals in Les Galeries Lafayette, the very famous, amazing department store in the heart of Paris with the stained glass dome. We've written about this fantastic store many times, but yesterday was a new experience, even for us. These gals really know how to shop, each getting a designer purse. Kayla bought a Longchamps bag and Brooke,  a Prada! Can we all say…"Wow!" And we won't discuss the price. As to moi, I'll continue to sport the Coach purse my son gave me for Christmas! We took them all through the frenzied store…the soldes or big sale for July had begun, so they did get a slight discount. Bernie helped Brooke gain her "de-tax" receipt for a refund of the VAT or Value Added Tax of 12%. We ended up on the roof despite the gloomy weather for some photos.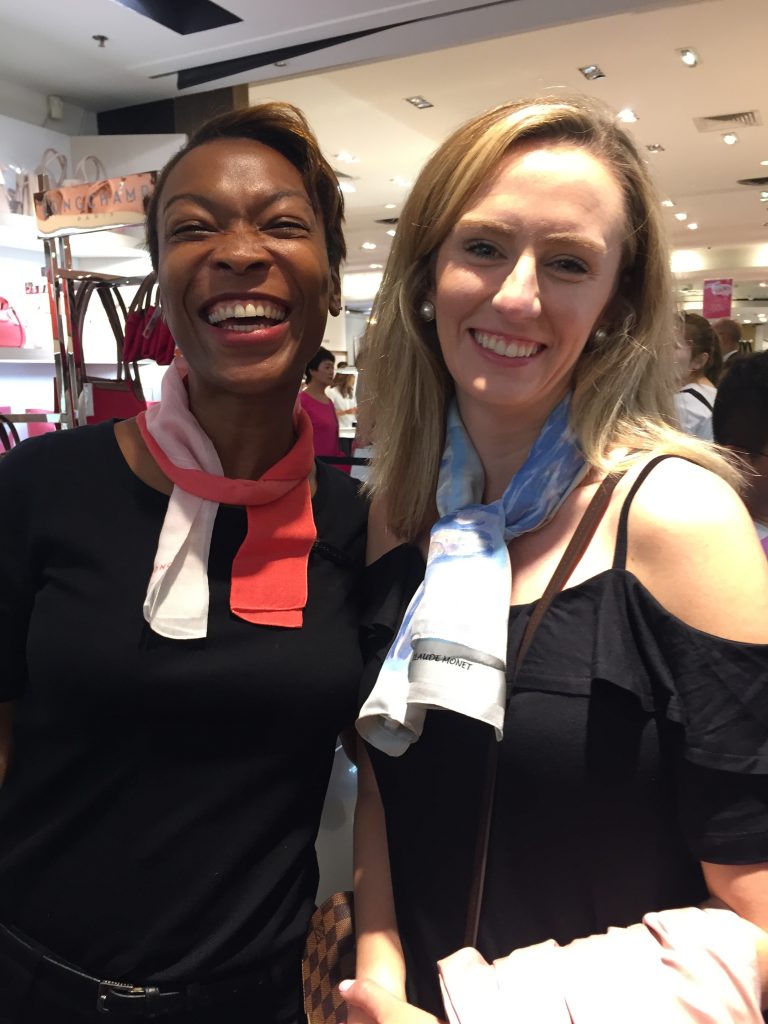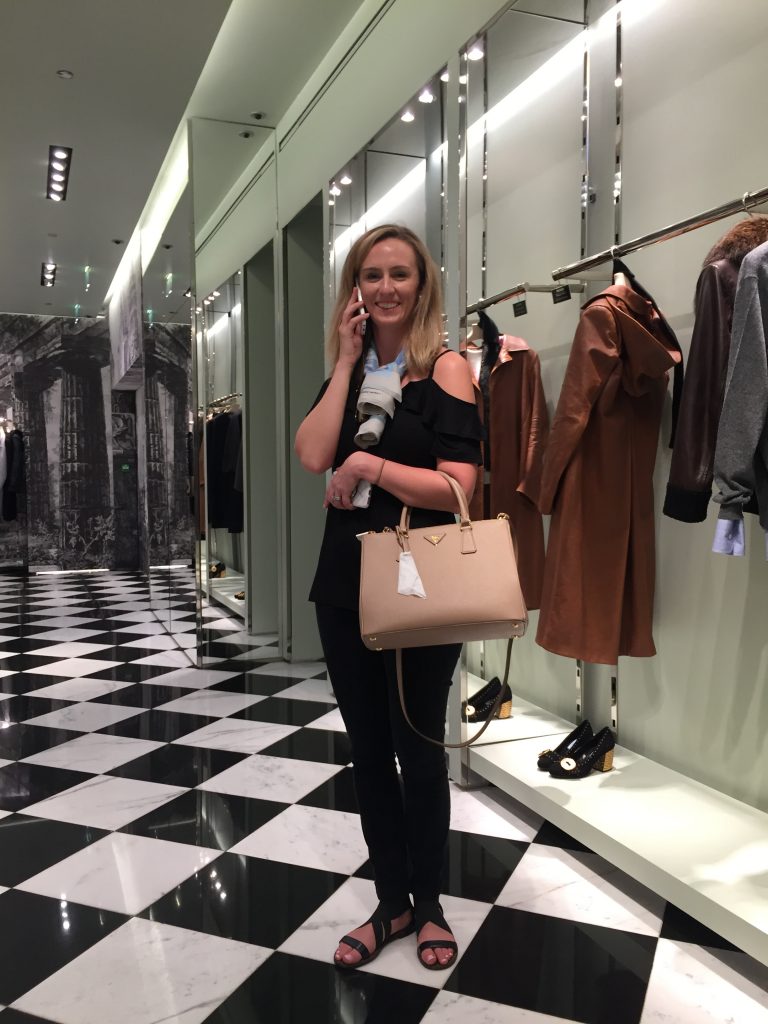 We left them to ride the subway back to their hotel. They were meeting a mutual colleague from Atlanta for a dinner out and a trip to the top of the Eiffel Tower.
All in all, a fun day for everyone. Bernie caught this photo promoting the Men's store which is in a separate building.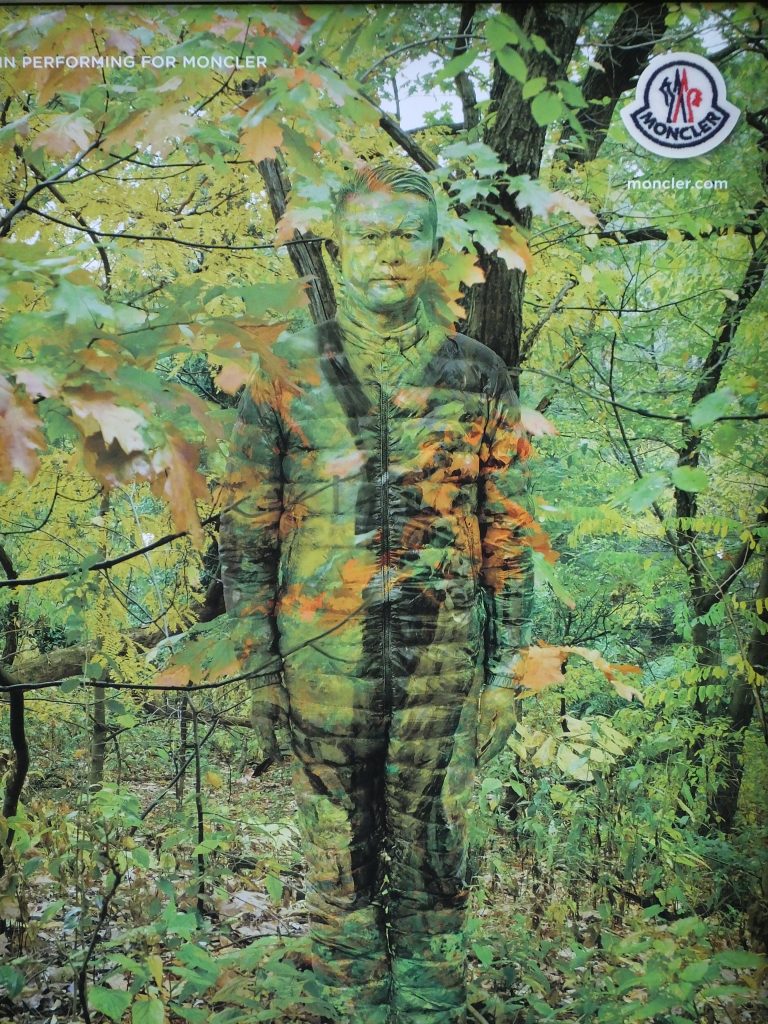 And then this photo which we think merits the "Purely Paris Photo of the day.
I think Kayla's impressions of shopping in Paris were similar to mine…the crowds of people, the quickness, the frenzy are pretty intimidating, but they both continue to be surprised at how totally courteous and downright nice the Parisians are to them. There are still some remaining skeptics out there who insist that all Parisians are rude which is so far from the truth, you just can't imagine, unless you visit. It's the basic Golden Rule at work…you get back what you give. If you come to Paris with an arrogant expectation that it will be just like America, that's when you get into trouble. Turn the tables…For example, how many American restaurants have menus in English and French; how many American bookstores sell books in French, how many of our taxi drivers speak French? You get my point, I hope.
We ended our night in pure delight for Bernie as we were invited to a gathering at our friends' home, Francois and Didier Quersin, just down the street. Didier is in the blue shirt on the right. I jokingly said to this gang of guys last night that they were continuing to corrupt Bernie, night after night, as they enjoy a few drinks together. They have embraced him as one of them, which of course, he is…a true Parisian.
We have another cool day ahead of us and if all goes according to plan, we will link up with Brooke and Kayla after their cooking school class for a trip to the flea market and a final dinner at Le Train Bleu.
À bientôt,
L & B