Bonjour mes amis,
From a rainy Paris, I'm happy to share that daily posts will continue. It's always good to check with our readers so onward and upward. Blogging is such fun for me, not work, and though I may fuss and fume over Word Press and an internet that comes and goes, overall, I would be somewhat lost without the daily connection. Merci to all who responded.
Yesterday brought two new experiences. Just when we think we can't find new adventures, they appear!
The first was a new church, Église Notre Dame-du-Travail or Church of our Lady of Labour. One blogger had the boldness to say that if he had only one day to be in Paris, this is where he would go. Take a moment to read his beautiful post.
Notre Dame du Travail: more than meets the eye
The church is located in the 14th arrondissement in the area around and somewhat behind Montparnasse in a working class neighborhood. In the mid 19th century, this area went from 2000 people to 35,000 in a short period of time, many of them workers on the construction of the Eiffel Tower. The priest Father Bodin decided to build a new church worthy of its brave inhabitants. The architect Jules Astruc disagreed with the interior ironworks which are obviously reminiscent of the Eiffel Tower. I could find no direct reference to Jules Eiffel but certainly one can infer that his influence was felt. The interior was made to insure that workers felt comfortable. "One should never say there is no place for beauty in poverty."  What a beautiful thought. Bernie and I were both taking photos so I hope we captured this unusual experience. You will probably never read about this church in the travel brochures, but it's a rare find.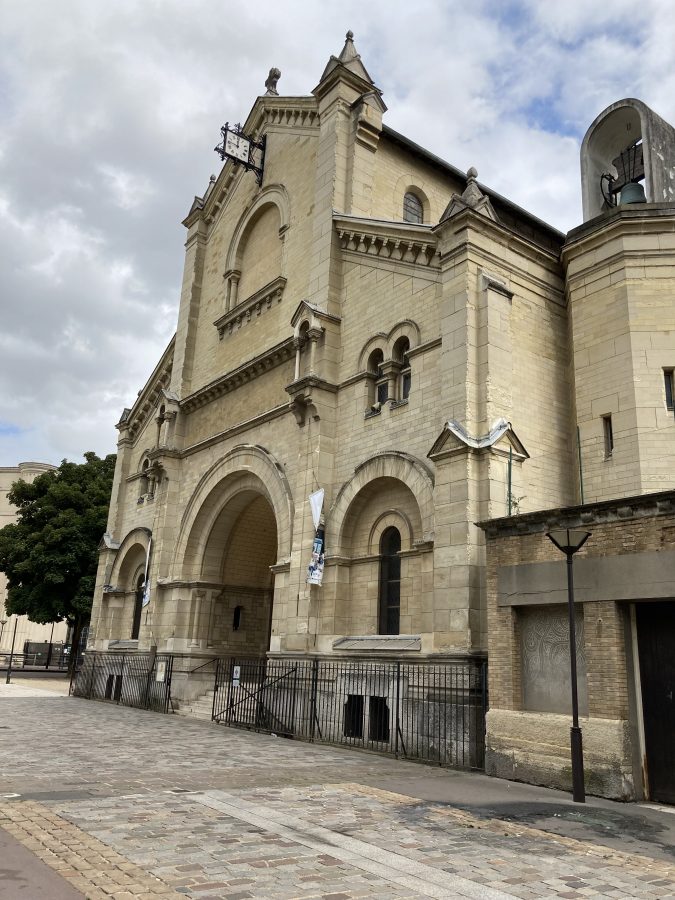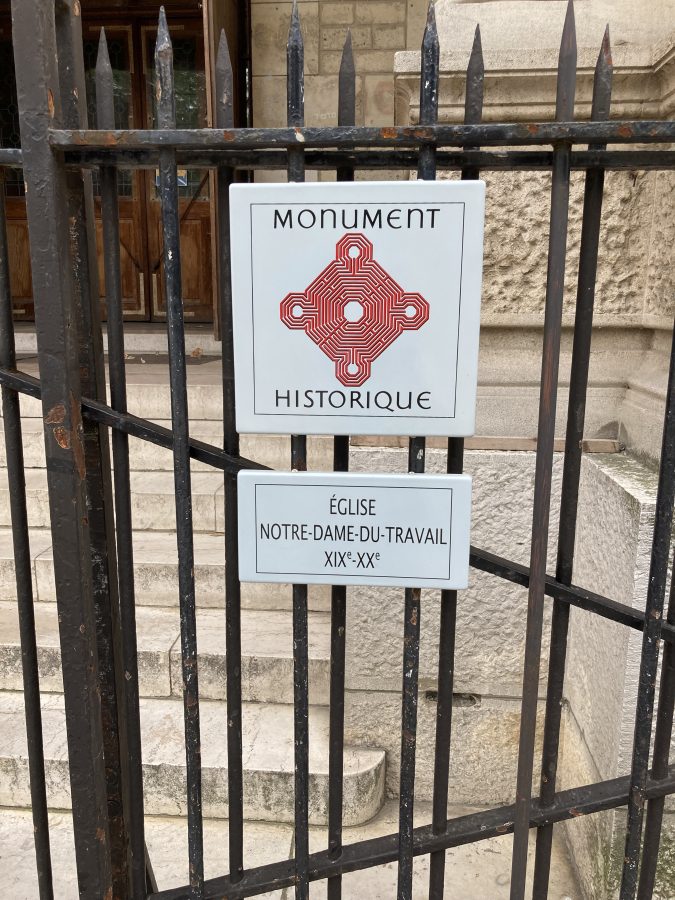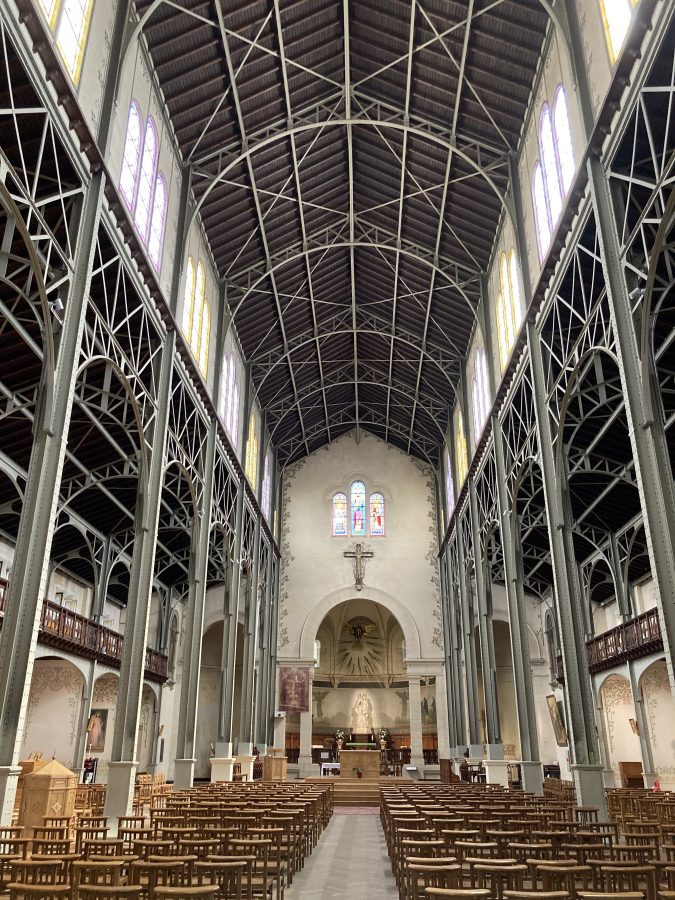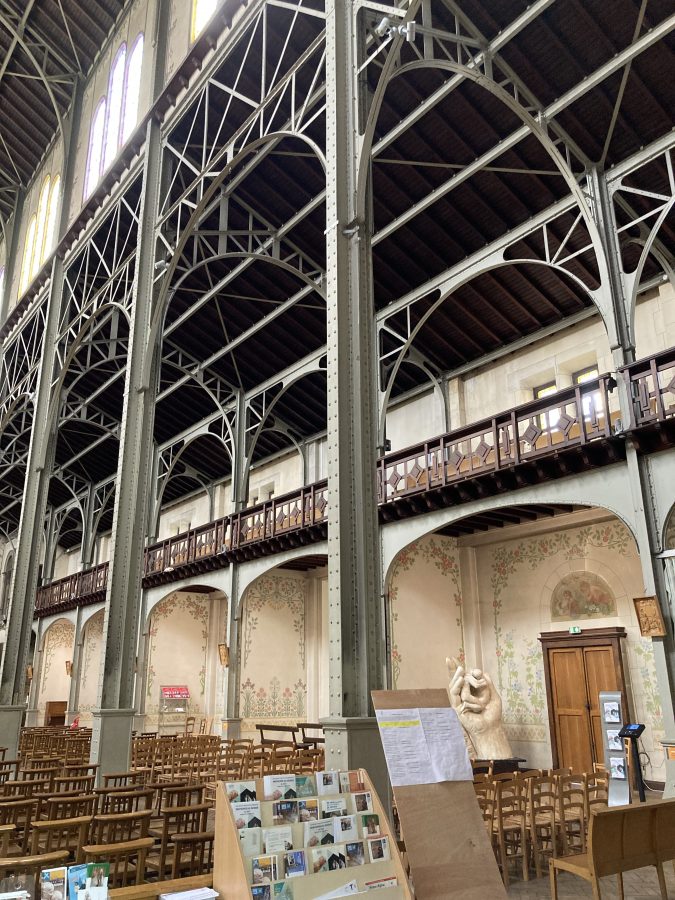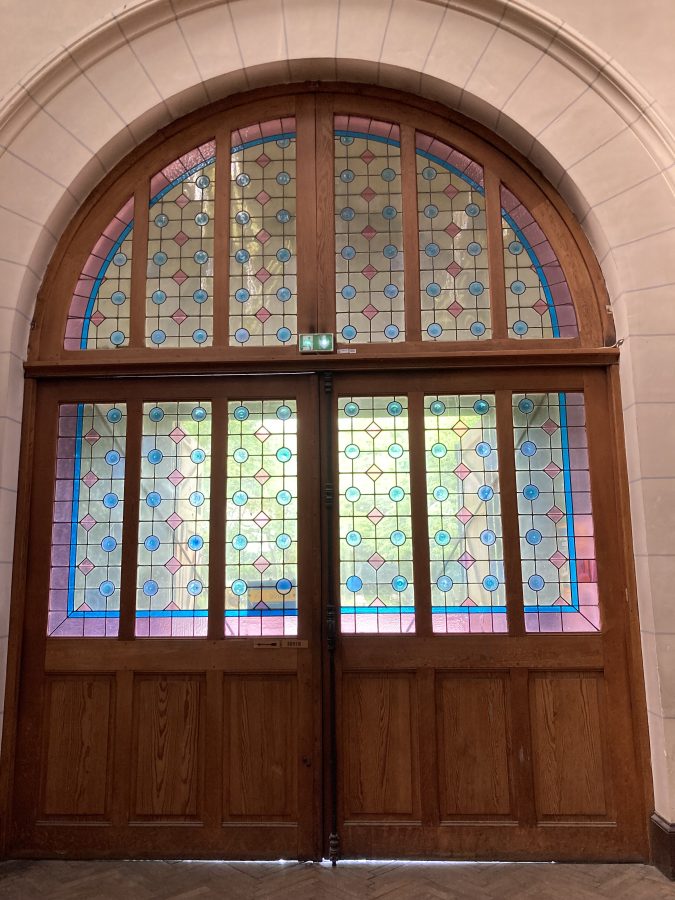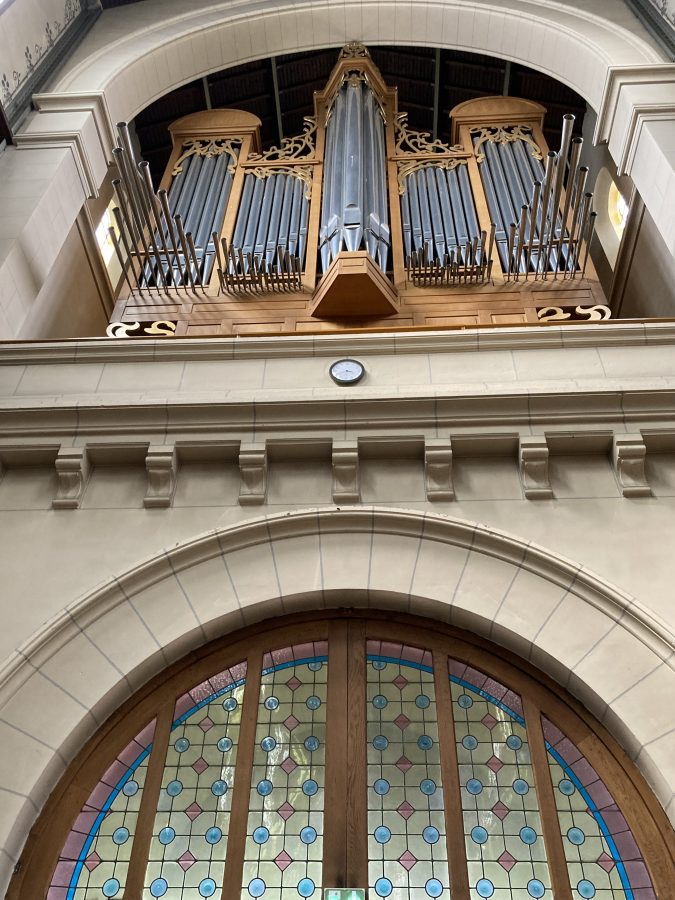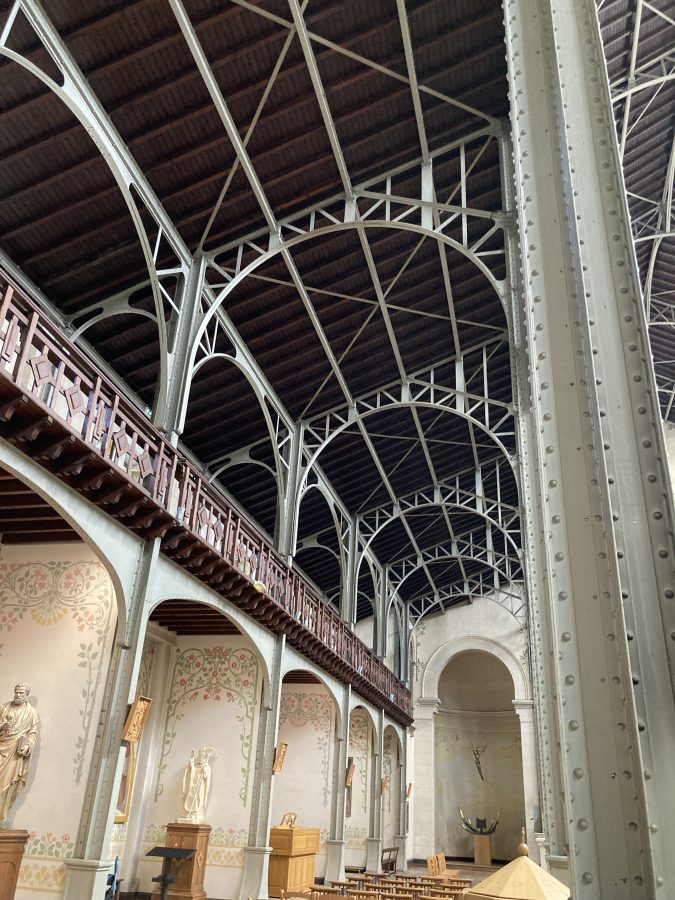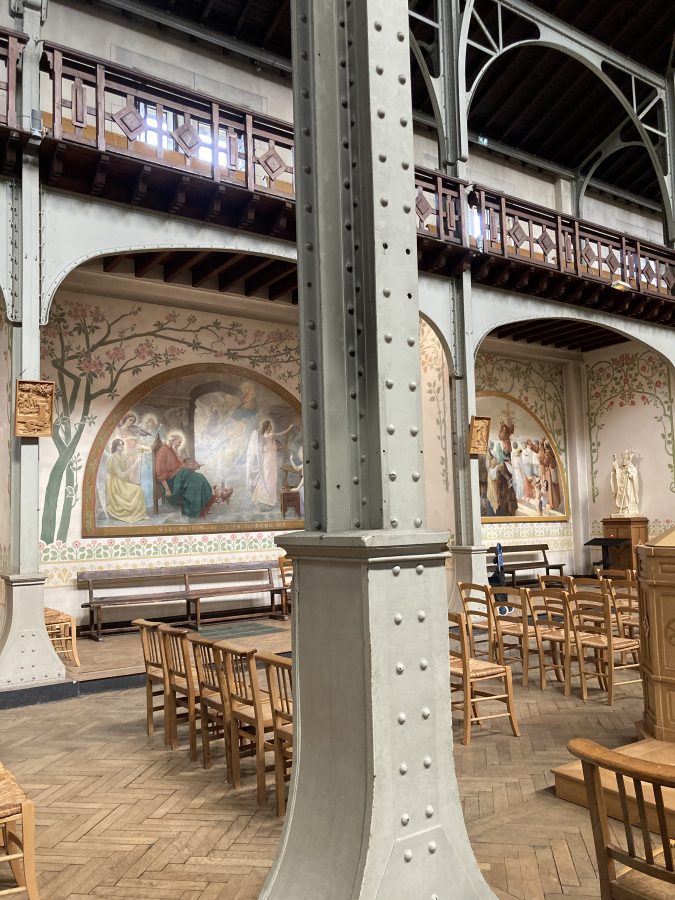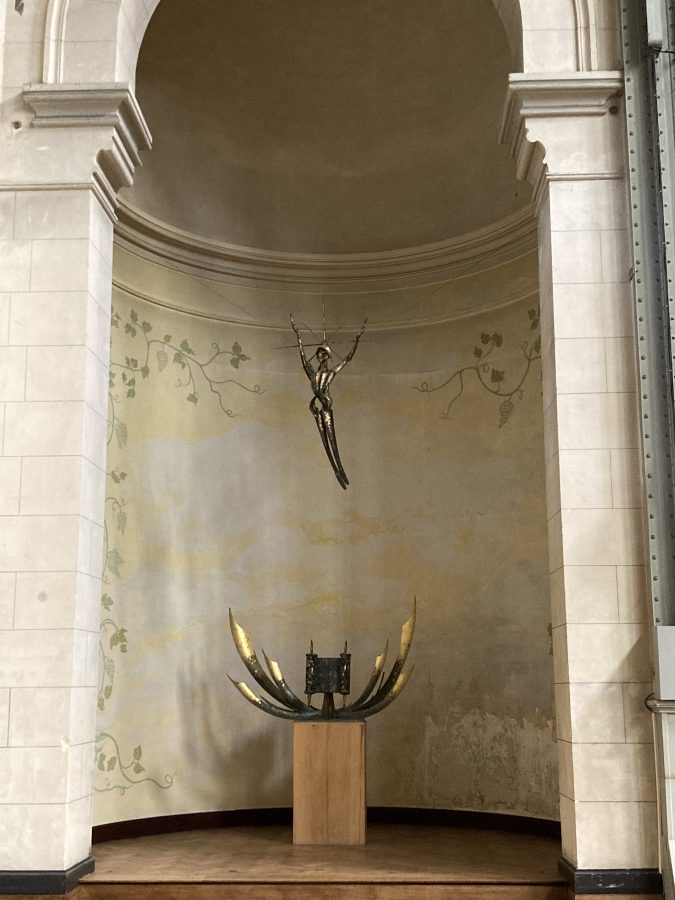 Our next stop after lots of walking was the historic Montparnasse Cemetery. Though we did not enjoy it as much as Père Lachaise, we always find the Paris cemeteries fascinating. Specifically, we tried to find the gravesites of Jean-Paul Sartre and Camille Saint-Saëns. An hour and a half of poking around left us with nothing! Sorry.  Still, the images are so interesting, and we hope you enjoy them.
---
We had made dinner reservations at La Coupole, a historic restaurant on Boulevard Montparnasse know for its Art Deco interior, beautiful tile work, and a famous dance club.
Speaking of cemeteries, here is a picture of Jim Morrison's grave at Pêre LaChaise. He died in Paris in 1971 at age 27. Musician, songwriter, and poet, he was lead vocalist for the rock band The Doors. Thanks to my friend Pat O'Brien for making this connection with my door theme. The adjectives to describe him were unpredictable, erratic, iconic and rebellious. He died mysteriously in Paris at #17 Beautrellis which is two blocks from us. We'll check it out!
Sometimes, we miss experiences that are right under our noses, mais. oui?  Such is the artwork in our apartment that we pass every day and hardly notice. Our landlady is very into African art and I thought I would share what we have. There are not the greatest photos because of the lighting, where they hang like in the staircase (!), etc. but you'll get the idea.
So, what a day and what a post. Hope I haven't worn you out!
À bientôt
L & B