Bonjour,
On this very hot and dusty summer day, we treated ourselves to something spectacular. We've been reading about a very different art experience in the 11th arrondissement near where Bernie was born. In fact, this is the actual apartment where he drew his first breath…not in a hospital.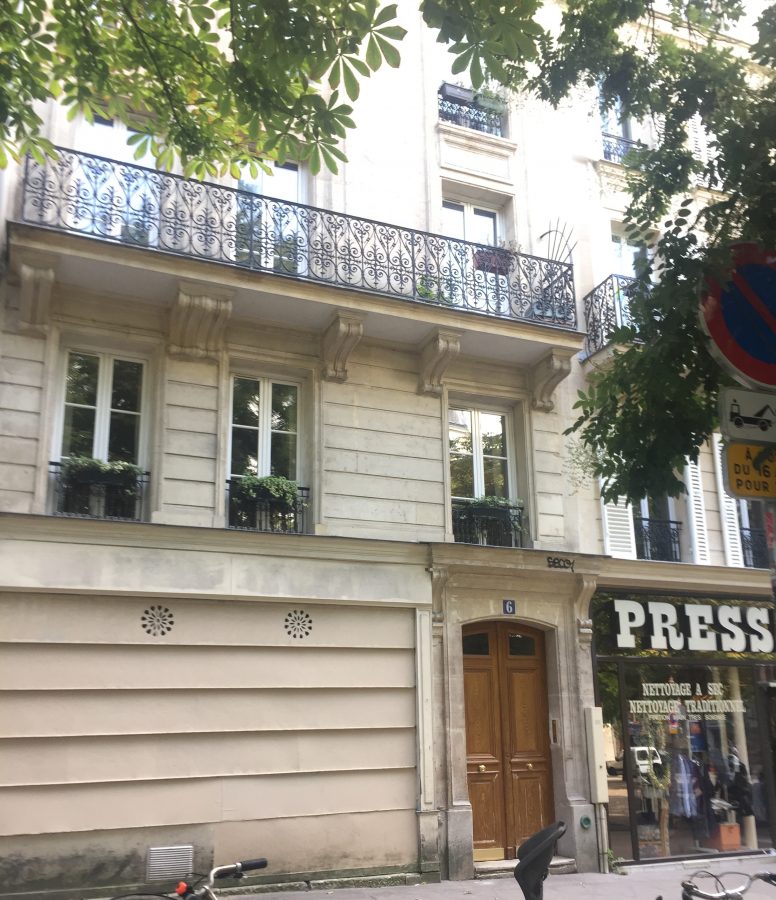 This is a very long post and for those of you who love art, you'll be in heaven; others maybe not, but humor me and take a look. First a little about what this exhibit is and where it is located. And we dedicate this post to our dear friend Peggy Bilbro who would have adored this!!
I'm quoting from some of their printed material produced by CultureSpaces. By the way, the word "atelier" in French means workshop.
"The Atelier des Lumières is participating in the widespread cultural vitality of eastern Paris. It is a unique space, not only because it is the only digital art center that focuses exclusively on immersive exhibitions, but also because it has the world's largest permanent multimedia installation covering 3,300 square meters of surface area, from floor to ceiling, and on walls up to 10 meters high." Their goal with this exhibit is to offer a different, innovative experience toward learning about art, and to replace contemplation with immersion. The creators have noticed that traditional museums are not reaching everyone even in Paris. The Atelier exhibitions project digitized images of masterpieces that are animated and put to music on immense surfaces. For people new to art, this initial discovery may encourage them to more easily decide to visit a museum. For art lovers, it's an opportunity to see these works in a new, more sensorial way."
The exhibit features the timeless career of Gustav Klimt. The first presentation spans one century of Viennese painting via a journey to the heart of the luminous colorful works of the artist, some of his contemporaries, and others he inspired. All are accompanied by a fantastic musical score to include classical works from Wagner, Beethoven, Strauss and Mahler. Bernard adored the music and almost went to sleep!! Most people were sitting on the floor and it was hard to walk around for fear of stepping on someone. The floors were very much a part of the display, constantly changing and moving. I almost got motion sick a time or two.
Now about the space which has a strong identity and history. "After searching for two years, we found a former cast-iron foundry, built in 1835 by the Pichon family, which had remained in business for over 100 years…With its monumental architecture, structured by the original metal framework, the former foundry offers a perfect setting for these digital exhibitions." It took two years to complete the project, refitting, rebuilding the roof, and soundproofing. And a final quote, "With the Atelier des Lumières, we rose to the challenge of redeveloping an industrial heritage on behalf of art." Thank goodness, they did!! Enjoy the photos and I hope the videos play.
For sure check out the final photo which is the "street scene" of the day…Bernie in front of L'Eglise St. Ambroise where he was baptized.
CCD4BC3E-3446-48B8-B97E-224EC1F3DD05
P
By the way, almost all of these photos were taken by moi on my iPhone…just too fast for Bernie to capture. Sometimes, cheap is better…ha!
Stay cool,
L & B