Bonjour mes amis,
Well, it's time to break out the jackets and scarves in Paris! Can you believe it after the summer heat that we've had?  Last night went down into the upper 40's and yesterday's temps barely cracked 60. It's a wardrobe struggle trying to transition; layering is the only answer, By the time we leave next Friday, it could be back in the 80's. No matter where you are, weather controls our days, mais oui!
I am still struggling a bit with my health issues but working hard with my doctor at home to find some remedies. Good health is our most precious commodity which we so take for granted. Appreciate all your thoughts and concerns, but I am moving forward.
Bernie and I are just being delightfully lazy, doing nothing of significance and enjoying some slow, easy days. We have three more special rendezvous with friends before departing and always look forward to these. Yesterday, we met a dear sweet lady named Lela for lunch at the tea room at Jacque-Marc André Museum. She is Sharon and Johnny Tyson's cousin. We had a wonderful soirée and hope to keep that friendship alive. If you don't know the museum, make it a point to go.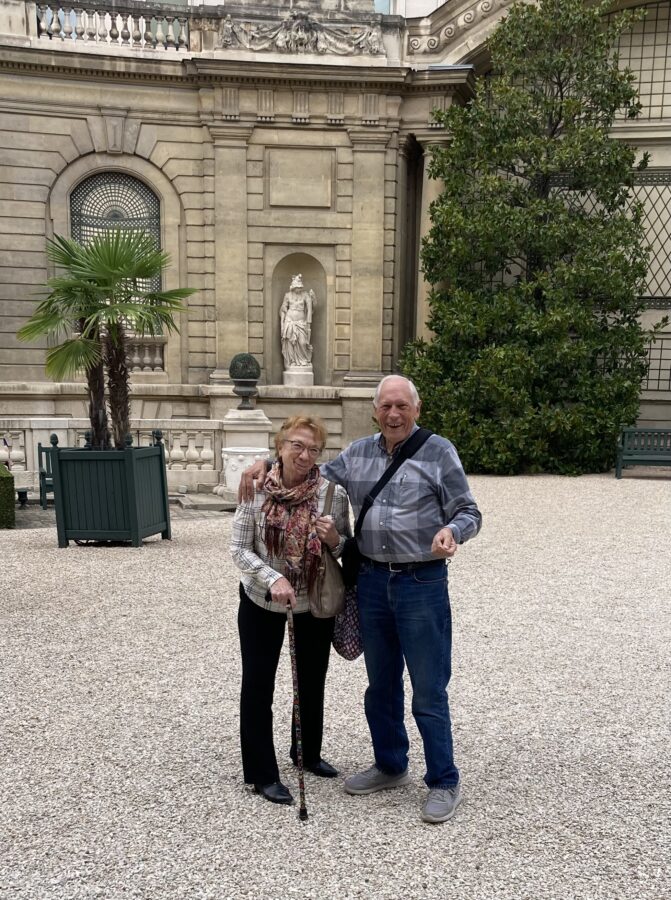 On Thursday, we finally made it to a Jim Bilbro recommendation which is always a safe bet when it comes to good food. It's a unique spot called Maison Plisson on Blvd. Beaumarchais. It's a fresh market along with a delightful café.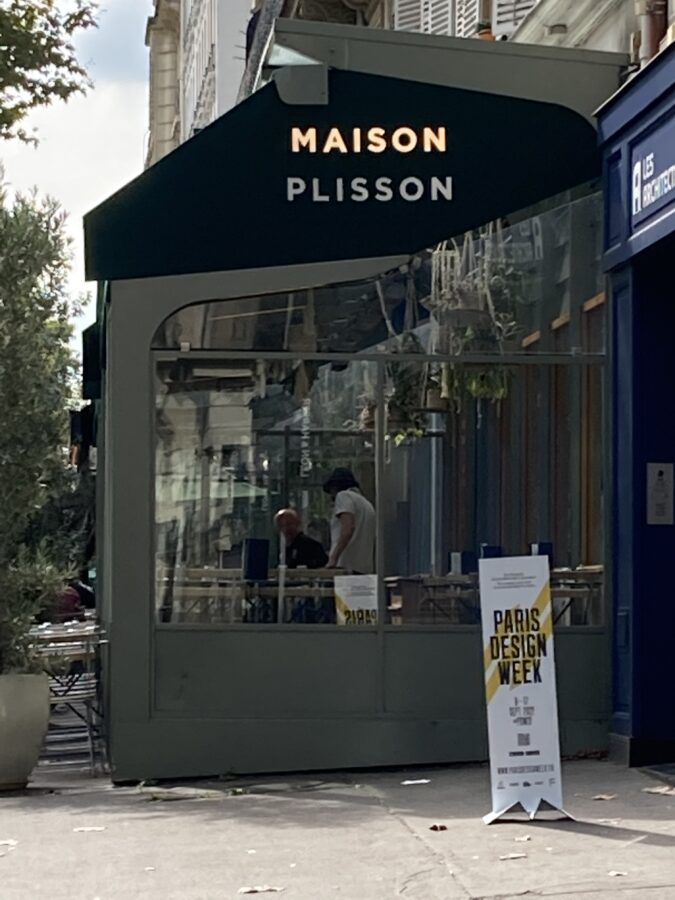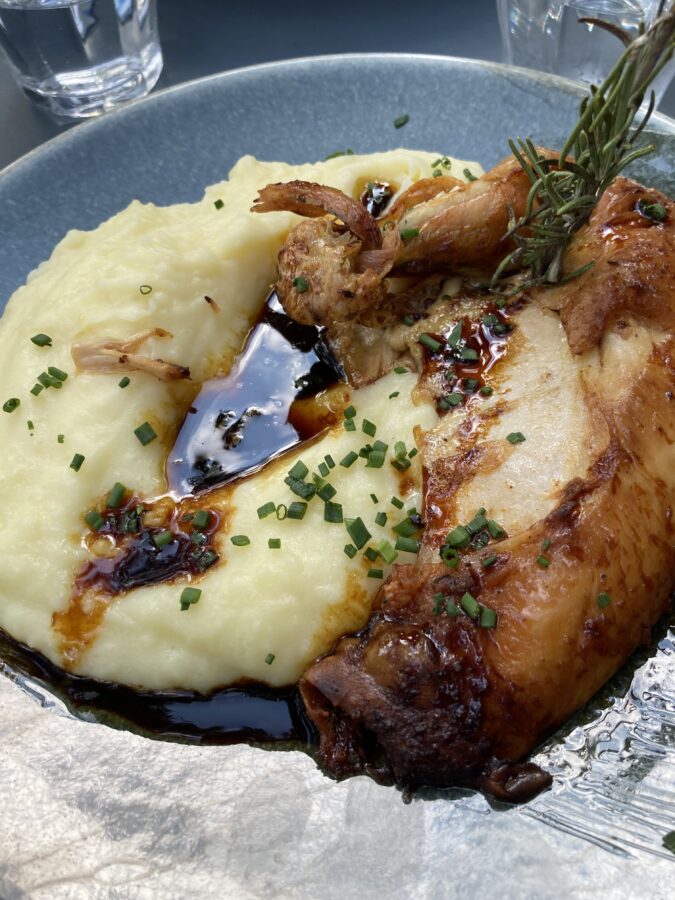 As we strolled along, we found another doggie in a café and also took in a shop with beautiful wedding gowns and the latest in bridal shoes!  Honestly, I'm not a fan.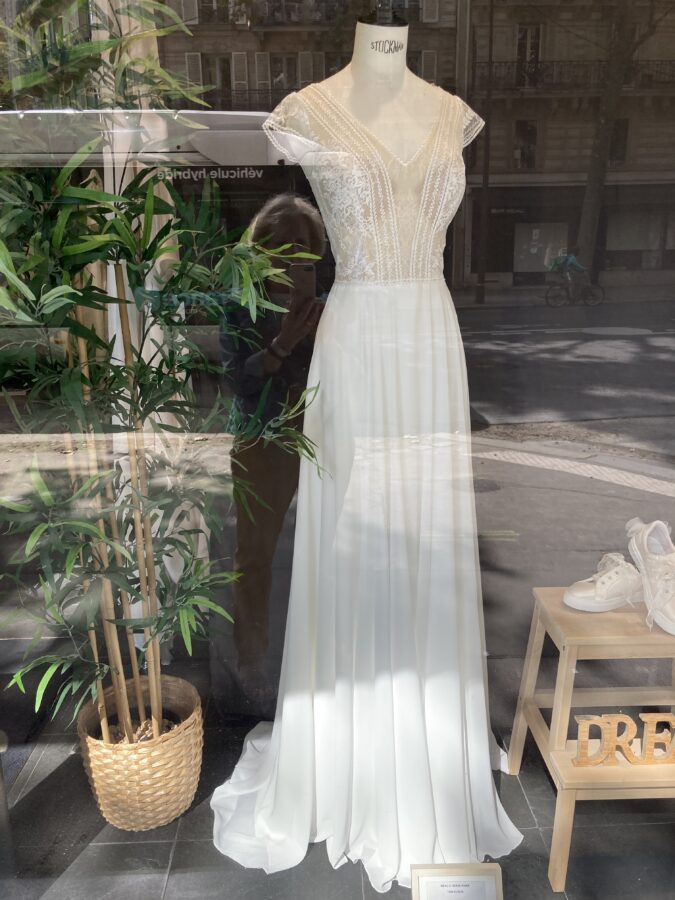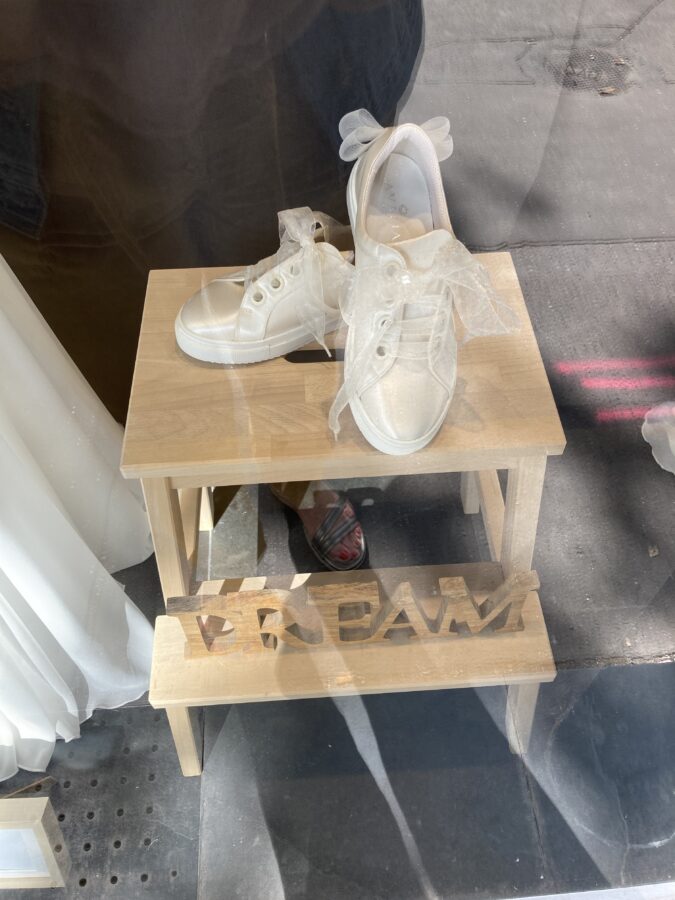 Based on a comment from one of you, we were encouraged to return to La Félicité which upon doing more research is billed as a "village" housing multiple elements: SO Hotel, Marche, restaurants, gardens, spa, roof-top bar, etc. I have always found that if you act with a touch of smug confidence and just walk into places, you can be successful. Such was the case here. We slipped inside the lobby area and had a drink in the bar area. It is lovely, and we were greeted with warmth by the bartender who was from South Africa. His name if you can believe it was John Smith! As I told him, first impressions are so important and he made us feel totally welcome. Quite a bit different from our first encounter. The Bonnie restaurant is booked and the roof-top bar will have to wait until another time when the "newness" has worn off a bit. It you've got deep pockets and want an unforgettable experience in Paris, book this hotel for a long weekend and live as the rich and famous do!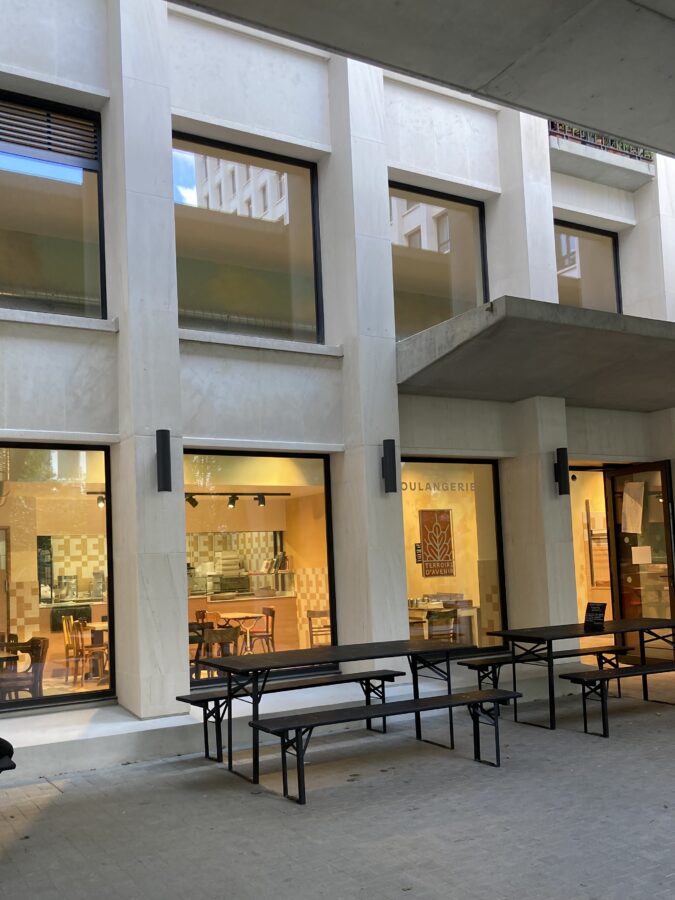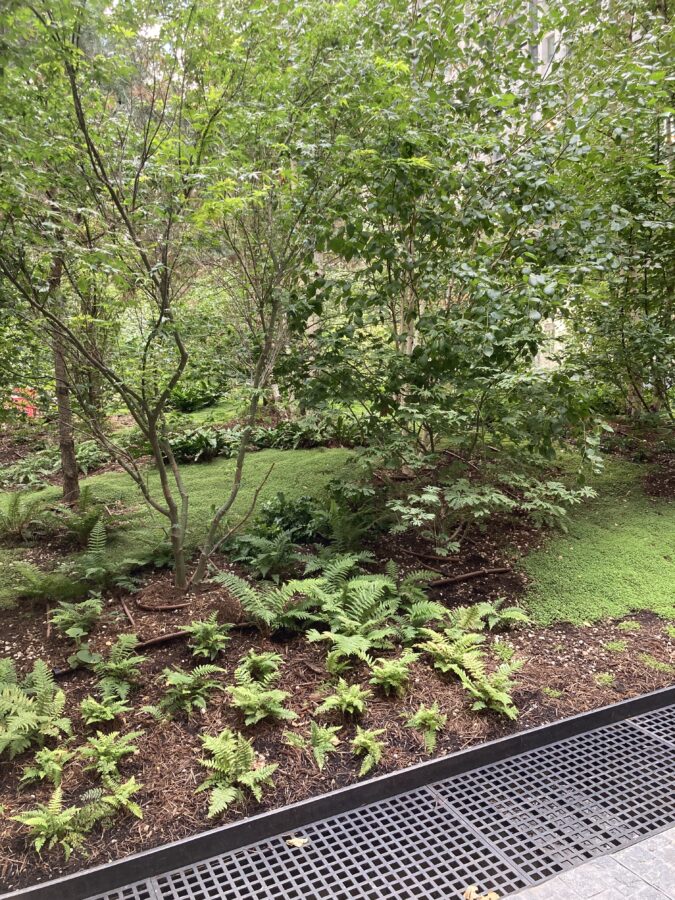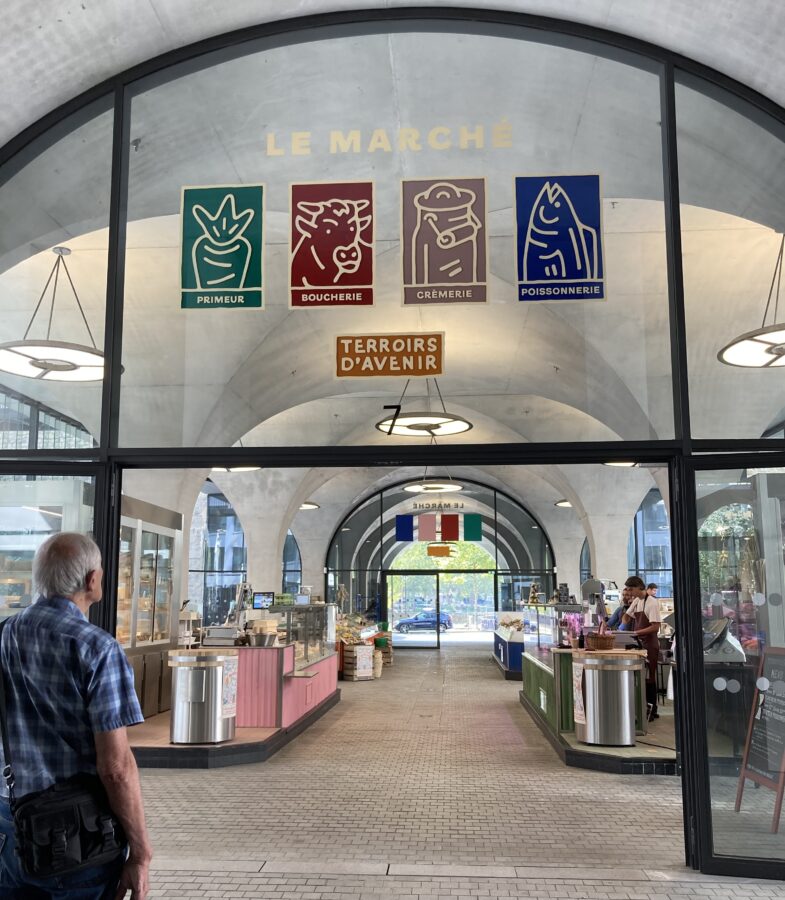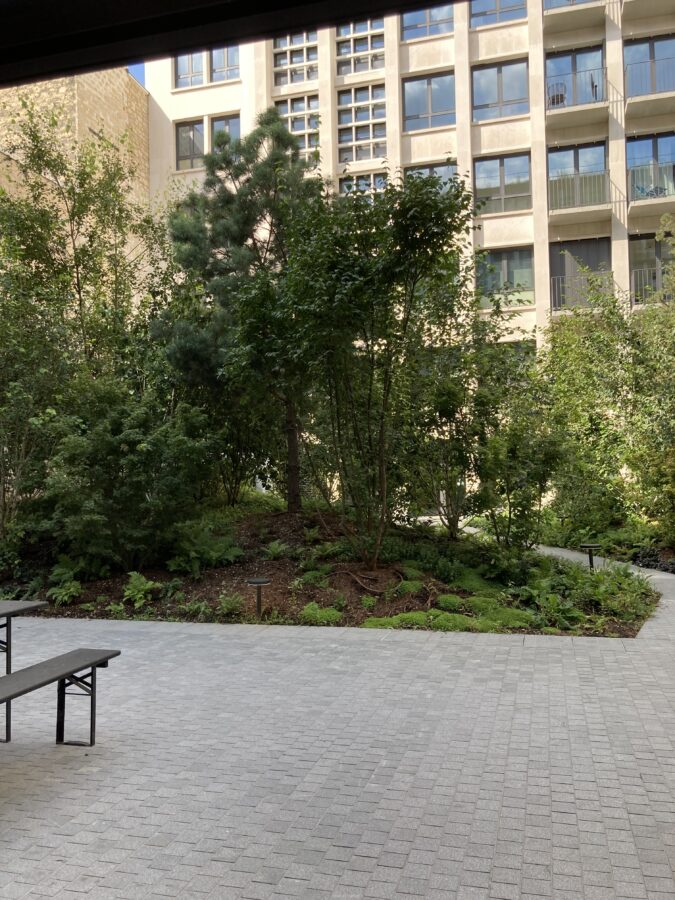 Here are a few more images as we strolled along including our dinner last evening at Léon. Bernie loves les moules or mussels and wanted at least one hearty potful before we depart. He was not disappointed.
So, the next few days, I will be posting my top contenders of café chairs and dogs in cafés for you to vote for your favorites in each category. There were almost 100 cafe chairs and almost 40 dogs so I had to eliminate. I truly hope I have captured your favorites!
I will number them so all you will have to do is vote for your top 3 choices by number in each category. This is an annual contest and usually a lot of fun. If you have trouble commenting on my blog, you can just email me at lindaspalla1@gmail.com or comment on FaceBook using Messenger. I will tally everything and post it in Thursday morning's blog.
As usual, I will send out a final post Friday morning as we're leaving for the airport describing our year here which I think will be made up of what I have found to be different about Paris.
Monday, of course, will be devoted to watching the queen's funeral until late in the day when we have a gathering with friends.
A personal word if I may. Many times while we are in Paris, something significant has happened:
-I lost a friend I had worked with for 20+ years and could not attend the funeral.
-I lost a dear neighbor whom I adored and couldn't attend the funeral.
-We watched with horror the great flood in Europe and in 2016, the flood here in Paris!
-Dear friends lost their grandson in a wretched car accident which broke our hearts.
-We watched David Cameron get thrown out as Prime Minister and the advent of Brexit.
-Last year, we watched the gut-wrenching withdrawal of the US from Afghanistan.
-This year, my first grandchild left for his freshman year in college which we were sad to miss.
-This year, the death of Queen Elizabeth, II.
Life does move on no matter where you find yourself.  It has been great to be here but of course, we are ready to go home. We love the connections with all of you and the support you render with your very kind comments.
A tout à l'heure
L & B