Bonjour mes amis,
As my daughter was getting into a taxi for the airport to go back to Alabama, Bernie's cousins were arriving by train at the Gare de Lyon. Oh, the memories we've had with them over the years. Two of his other cousins have passed away, and we remembered them with fondness in our discussions. Two other American cousins live in Macon, Georgia, and we so wish they were with us.
Since some of you are new to the blog, I'll quickly recount the background. Pierre and Laurie Verdier live in the Alsace region of France near the Rhine river which off and on has been part of Germany. Their small town is Soultz and is not too far from Strasbourg, France and Basil, Switzerland. It's beautiful wine country and they have a lovely home there which we have visited many times. But as Laurie said, "we have been in prison here with Corona and would like to come to Paris this year."
Bernie's mother sent Bernie and his sister to Strasbourg during WWII since it was then part of Germany.  Bernie was just a small tyke when he played with his cousins. He didn't see them again until over 20 years ago when Pierre found Bernie through ancestry.com. It's been a touching experience to reconnect. They look alike, talk alike, and are both hard of hearing so I fondly say that "now we have two deaf guys."
Pierre lost his first wife (whose name was Laurie) in a mountain climbing accident and met present-day Laurie in Norway where she was an anesthesiologist for many years. Pierre worked as a geologist for Elf Oil. They are both so very special to us and since the beginning, we have "clicked" like hand in glove. It's a pleasure to have them if only for a few days.
Yesterday was somewhere around 105 F. Very tough. Pierre and Laurie are staying at Le Pavillon de la Reine in La Place des Vosges which is air conditioned, thank goodness for them. We may camp out in their lobby! We dropped off their suitcases as check-in was not until 3pm and made our way for a lunch reservation at the Café Lapérouse in the Musée de la Marine which opened last year.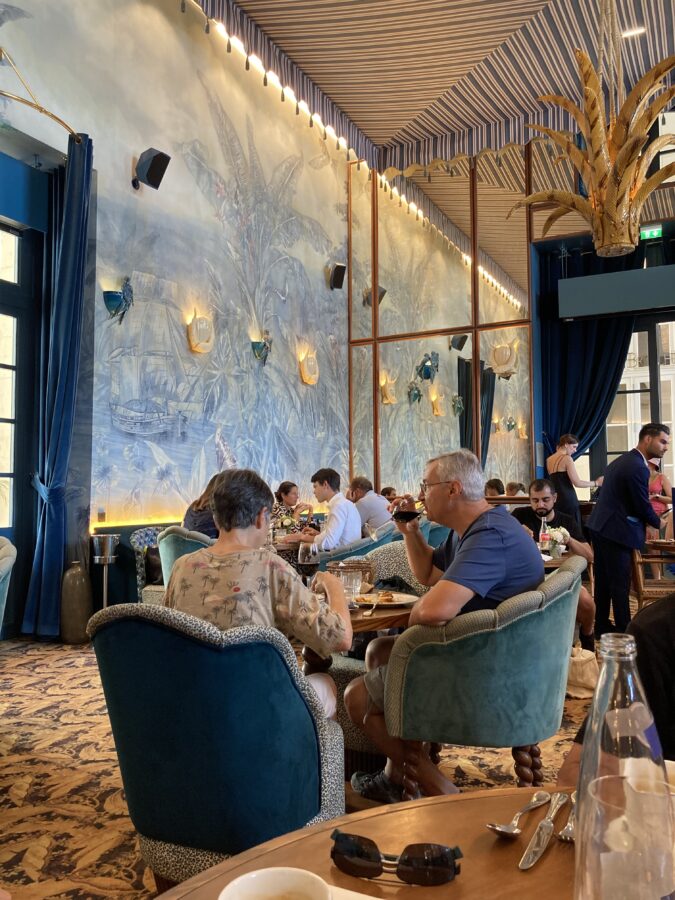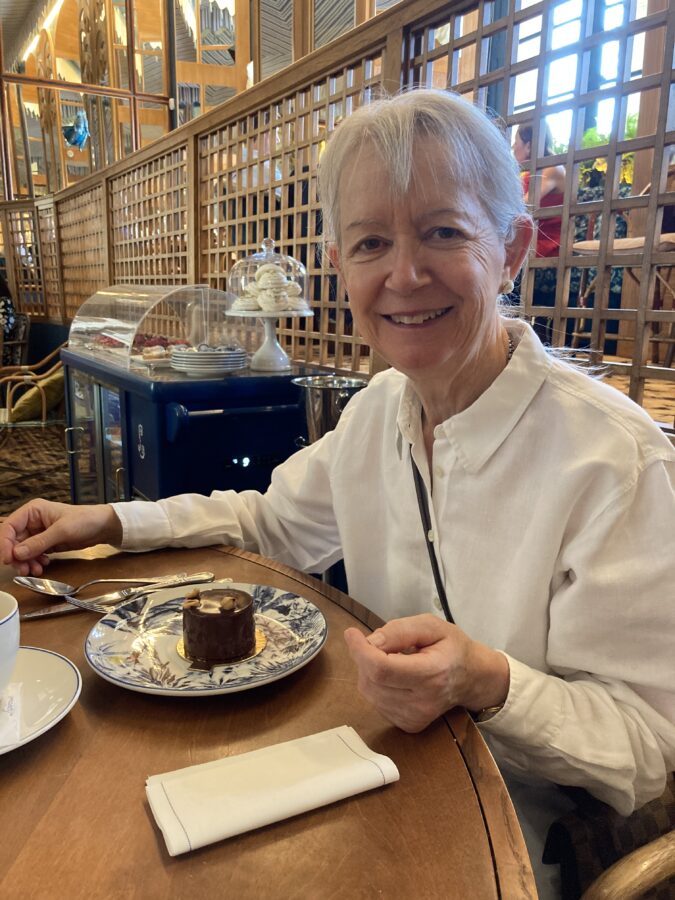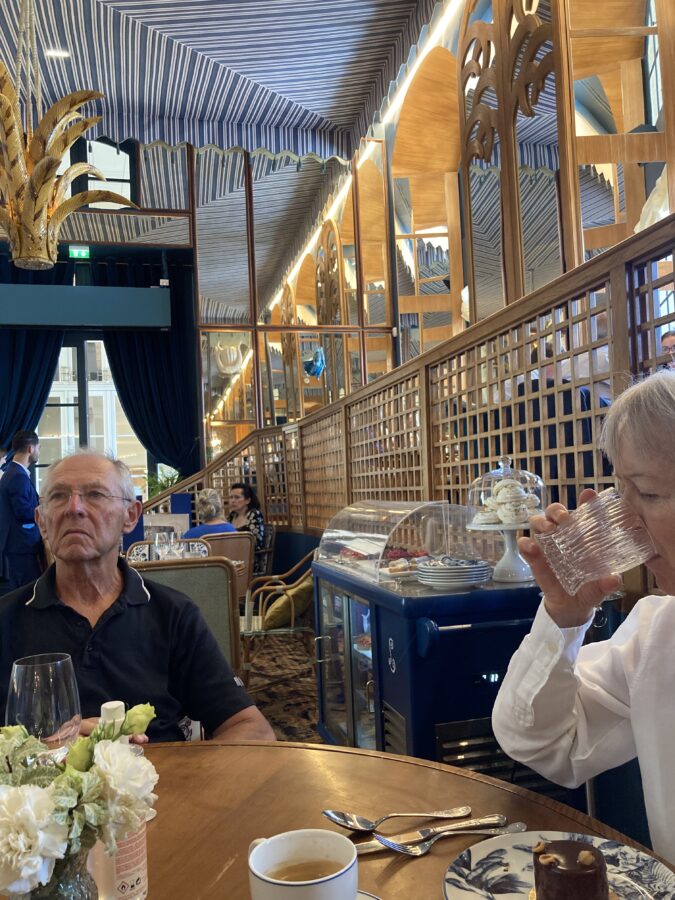 At that same location, we had tickets for a special exhibit which included masterpieces from Calousta Gulbenkian's Museum in London called Al Thani Collection. Here's a screen shot of explanation from the web site: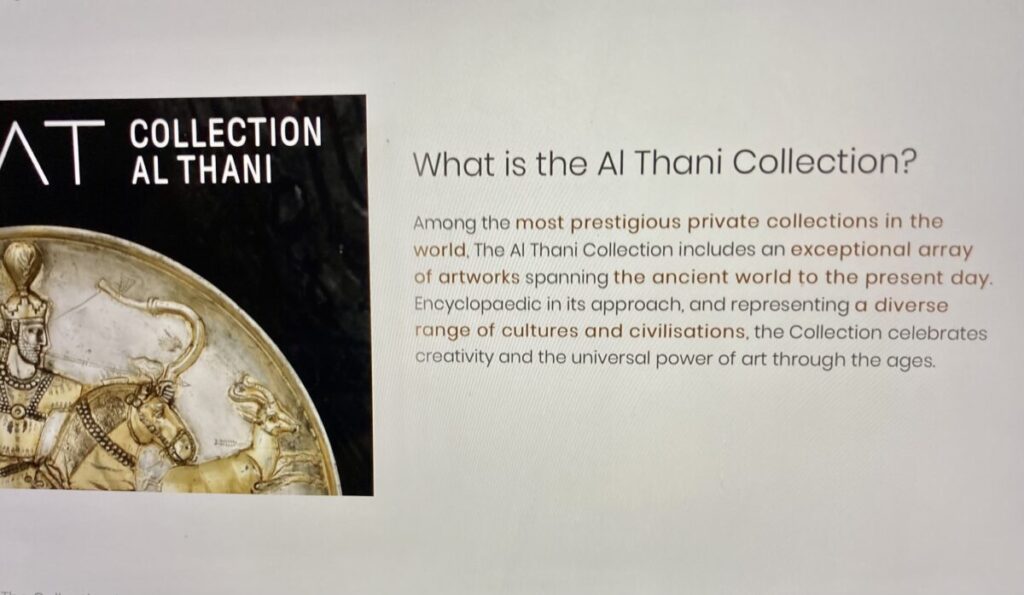 Here are some of the beautiful pieces with a few explanations (some of which are blurred, sorry.)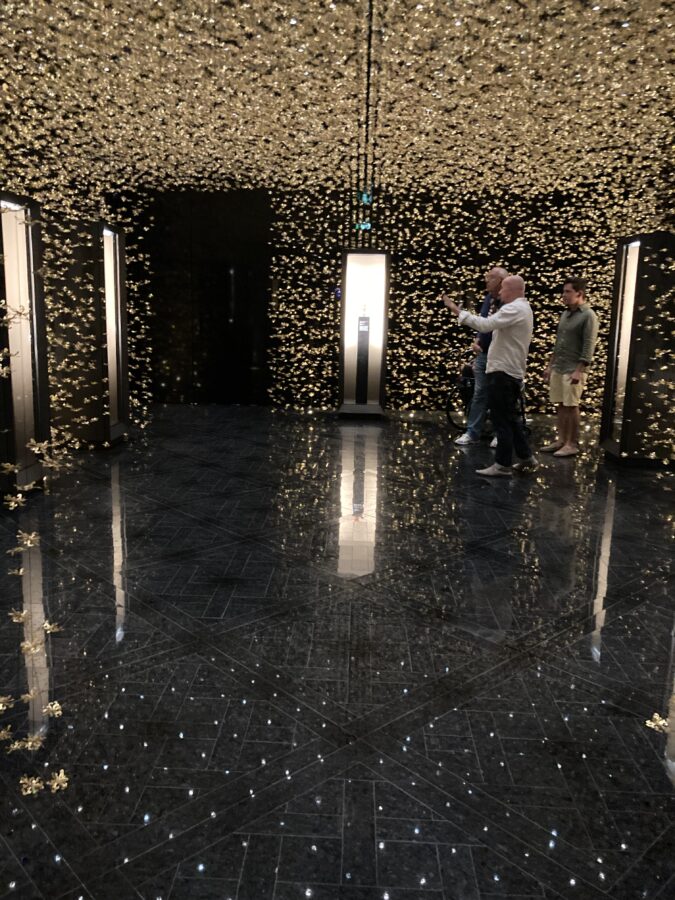 Forgive that some of this is out of order, but I think you get the general idea. It was most enjoyable.
Circulating around in the intense heat was not pleasant so we parted ways about 4pm and each took a break, then met up again for dinner on the island at one of our favorite little restaurants called SORZA. It's air-conditioned and the Patrone Esther knows us and always makes us feel so welcome. She flooded us with cold water!!
Tomorrow we are off to the new Dior store on Avenue Montaigne.
Thanks again for your comments!! They keep me going. AND as I am writing this, it is raining a bit in Paris and cooling down. Can we all say "Hallelujah!"
L & B