Bonjour mes amis,
Knowing my own pockets of deficiency, I had several basic rules of leadership: always hire people smarter than I was.  Such was the case with Bill Shory who served as our New Director for WHNT-TV for several years. Ethics in journalism was his hallmark. He was also my friend. And I remember so well when he graced me with the honor and his excitement of meeting his chosen life mate, Michele. Those were special times. I and several from the station attended their wedding up in Wisconsin. This year marks their 25th year of marriage and with that came their precious daughter, Isabella or Izzy for short. Their presence holds a bit of magic for us as it brings smiles, endearment, good memories, and a sense of fulfillment at having done well by a meaningful relationship.
They arrived yesterday by train from Belgium with a stint in Amsterdam. The original plan to meet them at the train station and help them metro over to their apartment (a first for them) was changed. Bill considered their error in using such large suitcases to pack and wisely deemed a cab would be better. Since a cab for five is difficult and expensive, we opted to meet at their apartment near Le Palais Royale in the late afternoon. The apartment was interesting and roomy but alas had no silverware, of all things!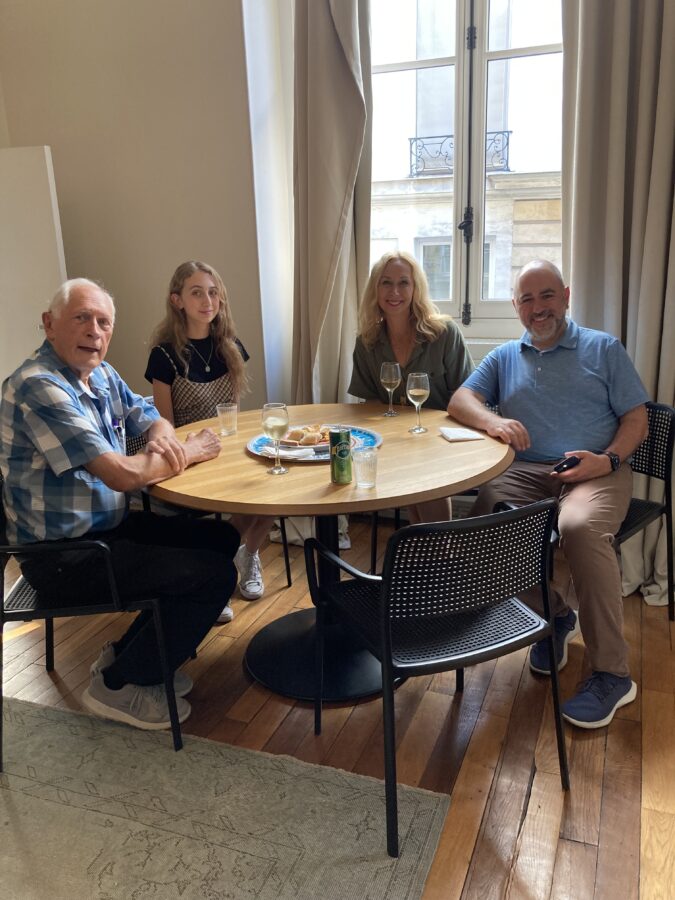 After a gracious moment of welcome and refreshment, we hit the fast track and made it to a Le Petit Prince shop for Izzy, the Shakespeare book store, a glance at Notre Dame, and then dinner on the river at Le Flore en L'Ile. Afterward, just a gorgeous evening on Pont Marie at the perfect moment for a sunset…Parisian-style. Then we shared our apartment and chatted much too long. They have a huge day today with a trip to Giverny! We will meet them in the evening for dinner at Cafe Marly, which was a request from Izzy!
We loved the chair for the cat and think that perhaps should be our joie de vivre photo of the day, at least certainly for the cat!
À bientôt
L & B