Dear Friends,
Nous arrivons…we have arrived on a picture perfect day in Paris.  The local temp is in the low 80's with that sharp, sunny blue sky that cuts across the landscape with a fierce crispness.  It creates the penetrating light that Paris is so known for.  There's a parade blaring around La Place de la Bastille, church bells are ringing and we have delighted in seeing familiar people and images while being challenged at finding some foreign obstacles in our path.  More on that later.
The flight over was perfect from a scheduling perspective.  We had no problems at all, no delays, no cancelled flights.  Our biggest frustration was this morning when we were met with a 45-minute, stand-in-line wait to get entry through customs.  We landed at Charles de Gaulle airport instead of Orly because we flew a new airline.  AND despite all the news and publicity, we had no problem in getting a taxi.  The ride took one hour and was 56 euros, compared to 20 minutes and 35 euros from Orly.
However, the new airline was fantastic.  It's called La Compagnie and is owned by the same man who started  L'Avion before it became Open Skies. We decided to give it a try. A business class ticket is $1400 compared to $4-5000 on Air France. The aircraft was a brand new Boeing 757 with THE most up-t0-date technology in the amazing seats.  Just a push of a button and you could slightly recline or lay all the way back or have your food tray pop out!  The airplane was equipped with room for only about 75 people and it was full.  Everyone had a brand new Samsung pad and classy blue earphones with every imaginable entertainment delight pre-loaded in French or English.  The part I liked the best were the warm, thick, clean, baby blue blankets.  Not those ratty things we often get.  This was like a comforter!  I slept well and so did Bernie.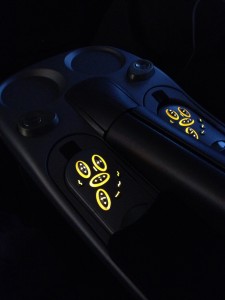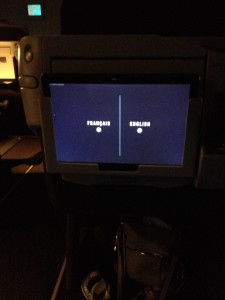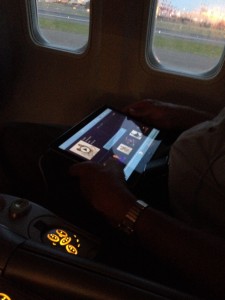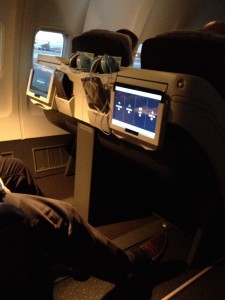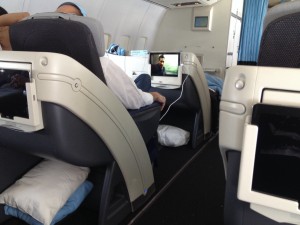 The special business class lounge was provided by La Compagne but we received some bad information last night by those who were working the desk.  They told us that all we would get on the airplane was a little cheese and fruit and that we should eat well from their hot buffet.  And we did, but the food was very mediocre.  Then when we did get on board for the flight, they brought a lovely chicken caesar salad, cheese with walnuts and apricots, bread, and lemon pie.  We weren't even hungry when that meal came.  Not sure what that was all about but Bernie especially was frustrated.
So what's the good familiar stuff?  We love our street on rue St. Paul though our actual address is 22 Quai Celestin.  If you have Google Maps, you can most likely see exactly where we are.  It's a 7-story corner building right next to the river.  And we can indeed see the towers of Notre Dame and La Tour Eiffel.  We ate a late lunch at  Le Bouquet St. Paul and found the same crew as last autumn which was fun, and we made our run to the Monoprix for groceries to find the same little man still working the fish market.  I forgot my Jiffy p-nut better so we know exactly where to get it at the Thanksgiving shop two blocks up.
The challenges are missing our regular apartment with the large refrigerator, the dishwasher, ice trays that we bought, garbage cans in the bathroom, second bathroom, many, many more dishes and items aplenty in the refrig that you don't have to go purchase like mustard, butter, preserves, etc.  But this little spot is very cute and it's going to work just fine.  The pictures are ones I took on my iPad so not nearly as good as Bernie's.  Somehow I did not get my SD card connector into the suitcase though I distinctly remember getting it out. My pics will have to do today and we'll go to the Apple store tomorrow and buy what we need.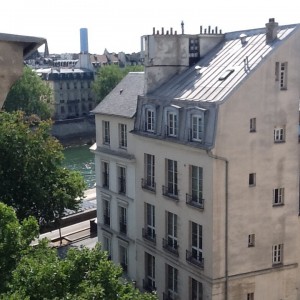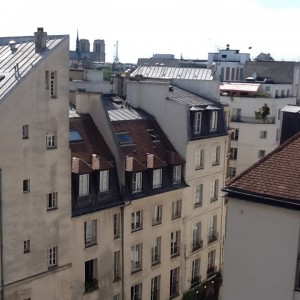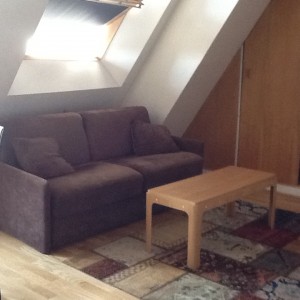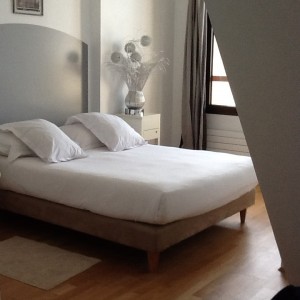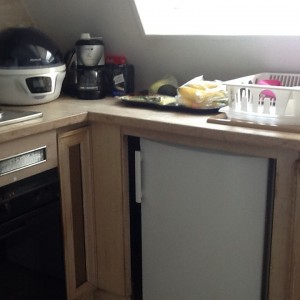 Bernie can take night shots out the window, Charles Gattis, and he's SO excited.  If you want to see ALL the good pictures, go to World Wide Accommodations web site and key in 22 Quai Celestin.  http://www.worldwide-accom.com/france/paris/le-marais/celestins
I'll leave you with a funny.  We spent a good ten minutes trying to figure out how to exit the front door, not of our apartment but of the entire building. And it was so simple that it was complicated.  We were both SO hungry becasue it was 3pm before we headed out for lunch, and then we thought surely we were going to be stranded inside the building.  We had a good laugh and now know the secret of making a quick exit. Those are the new challenges which will all fall by the wayside in a day or two.  The fun of Paris will prevail and we're so glad to have you share in our adventure.
A bientot,
Linda & Bernie