Bonjour on a rainy, cool day!
What do you do on a cold, rainy day in Paris?  You stay pretty close to home!  We're brave but not so today as the chilly rain put a kabosh on any big plans. Not to despair, however, as we have some great photos of several unique shops that are sure to please from right here in the Marais.
As I'm prone to say, in Paris, your two feet are your car.  All of your errands, shopping and outings must be done by walking. That's why Parisians are seldom overweight. It's not like jumping into your warm car parked in your warm garage and walking maybe 50 feet to reach the inside of a warm store. It's a totally different orientation. Umbrellas bump and bounce around as people try to make it through tight spaces and intruding tour groups while muddy potholes in the sidewalk jump up and splotch your nice slacks no matter how hard you try.  I have "rainy day shoes" which generally get thrown away when I depart.
First of all, we connected with our lovely neighbor, Chantale, about joining us for dinner this evening. We haven't seen much of her and found out that she has been sick for a while, but better now. She was pleased to join us so we will be off for a neighborhood dinner this evening.
Our first important shopping requirement was to purchase some additional crunchy JIF peanut butter for me!  I brought one jar from home which has now been consumed and there is only one store that I know of which carries this. It's a block from our apartment. The shop is appropriately named Thanksgiving.  Notice in the pics all the namebrands from the USA like Cheetos, Poptarts, Reeses Puffs, Campbell Soup, etc. It's a fun little shop but pricey. The peanut butter was about $10.00. Yikes!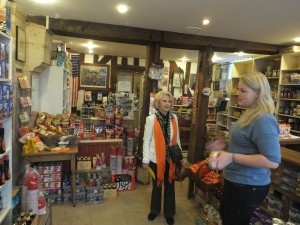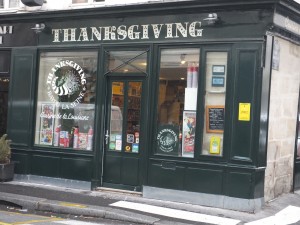 Next, we were off to one of the great remaining Mom-and-Pop shops in the Marais, a Jewish deli called Izrael. This is a fabulous shop where you can spend hours just looking.  It's always busy and they close for two hours over lunch — life the way it should be. We purchased pickled garlic and capers which we will mix together for a yummy hors d'oeuvre when company arrives. The exterior is under major restoration but Bernie got some great shots of the array of colorful foodstuffs on the interior. Enjoy!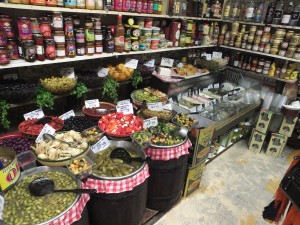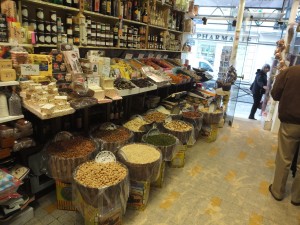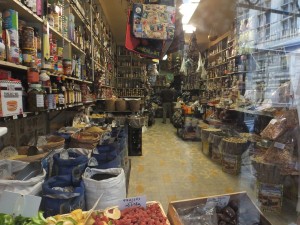 We shared yesterday that we had lunch reservations at L'Etre Ange, a tiny little place that we had never noticed before.  You eat and shop all at once.  Yes, we remembered to get some pictures of our food and the cup of hot chocolate for me which was served with a two-handled cup, a little pitcher of very hot milk and a dark chocolate stick which was swirled in the milk to create some yummy chocalat chaud. This is a must little shop with wonderful merchandise. We ran into a friend of Richard Nahem's who was also there because of his blog Eye Prefer Paris.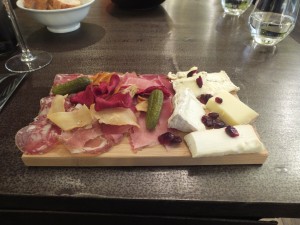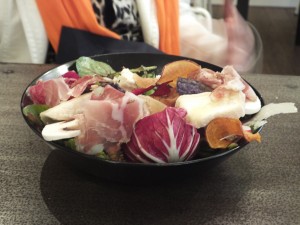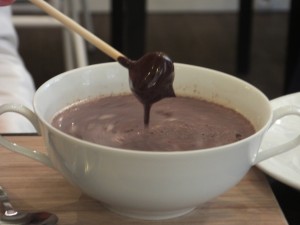 Our featured photo shows a classic delivery van in Paris, a Citroen, vintage 1945 or 46 according to Bernie.
We try to watch a little CNN or BBC but we get overwhelmed with the ebola coverage or the ISIS coverage and one can only take so much of that.  Today I have a special SKYPE phonecall to the USA regarding my new caregiving book and Bernie will run to the internet cafe to pick up the invitations to his birthday reception.  We may be in Paris, but sounds like life as usual, doesn't it?
A bientot,
L&B