Bonjour,
Today is arrival day for Sharon and Johnny Tyson, dear friends from Arizona who used to live in Huntsville. They will be here for two glorious weeks and surely hope they bring summer clothes. The weather is wonderful in that sunny days are much easier to navigate than rainy ones, but the lack of rain is getting critical. Vegetation is drooping and the city is dirty. Alas, it's still Paris and still creates good memories regardless.
Two interesting facts surfaced from yesterday's blog. Bernie's cousin Laurie pointed out to me that God street (rue Dieu) is named for a famous French general Charles-Prosper Dieu who served under Napoleon III. She keeps me straight about all things French. Merci, Laurie.
And Jim Bilbro commented in regard to my mention that there were no churches around the area where we strolled the canal. He owed this to the fact that it had been an industrial area presumably taking advantage of the waterway. Thanks, Jim.
I'm working really hard to stop whining about where our apartment is and just acclimate, adjust and cultivate new routines for daily outings. It's definitely hard to teach an old dog new tricks and as I told Bernie, I'll go down kicking and screaming! But it's time, n'est ce pas?. Yesterday was a good example. We went to three different grocery stores trying to find all that we needed plus a fresh fruit stand on rue Bretagne. Boy, the prices are much higher here than along rue St. Antoine. We've settled on a Carrfour for our shopping on rue Amelot. It's a huge grocery store like a Monoprix.
After a bite of lunch in the apartment, we went to Les Champs to visit with a friend who is a waiter at Café George Cinq. We've known Benjamin for years, and it's always fun to reconnect. The Champs was packed to the gills and we didn't stay very long. Very hot, up to 87 degrees.
At the suggestion of one of you, we have tried Cafe Charlot (quite good) and last night ate at Le Progres, both on rue Bretagne.
---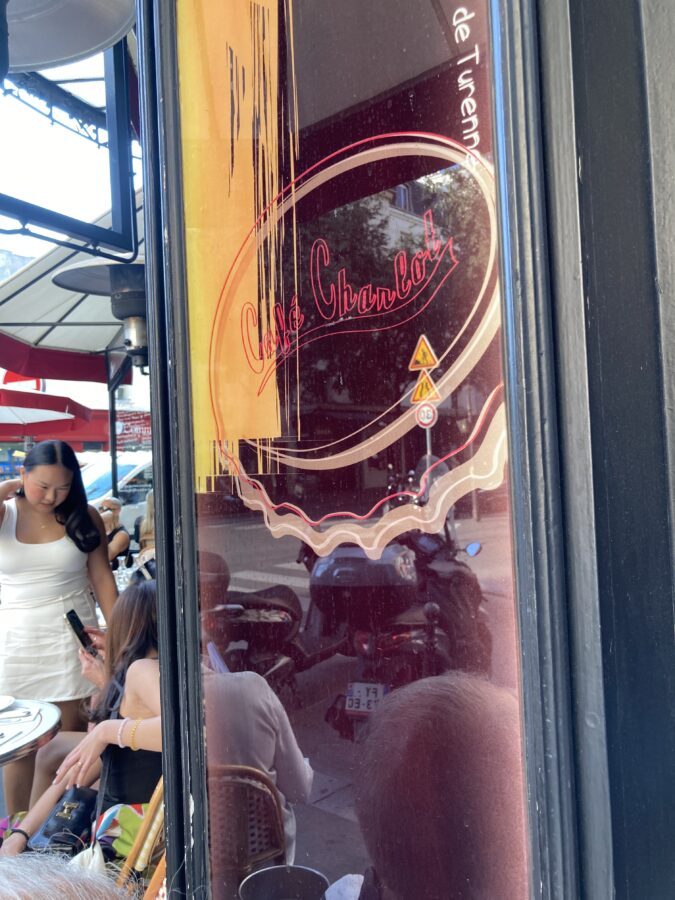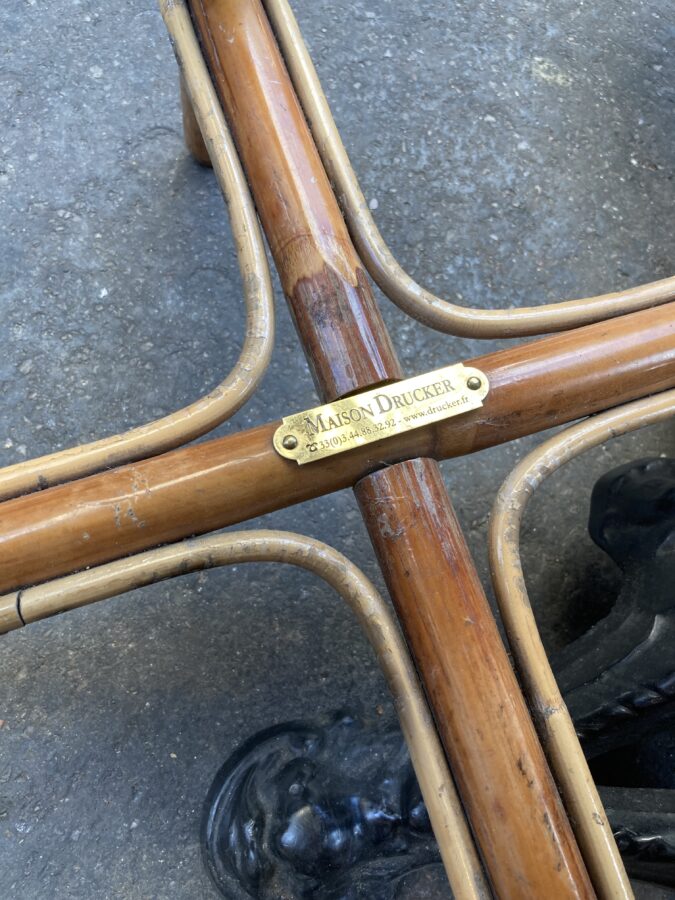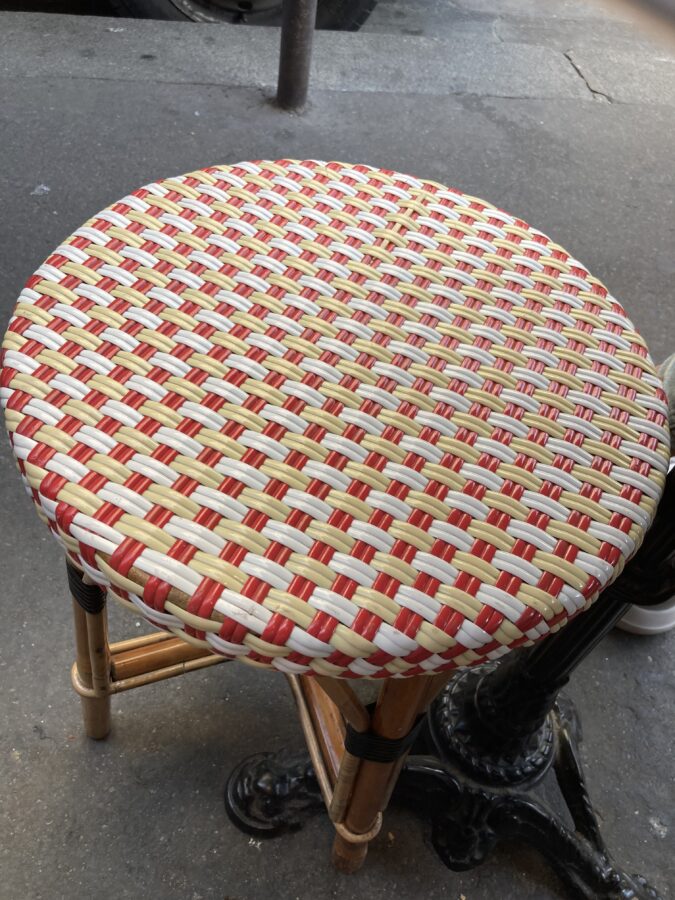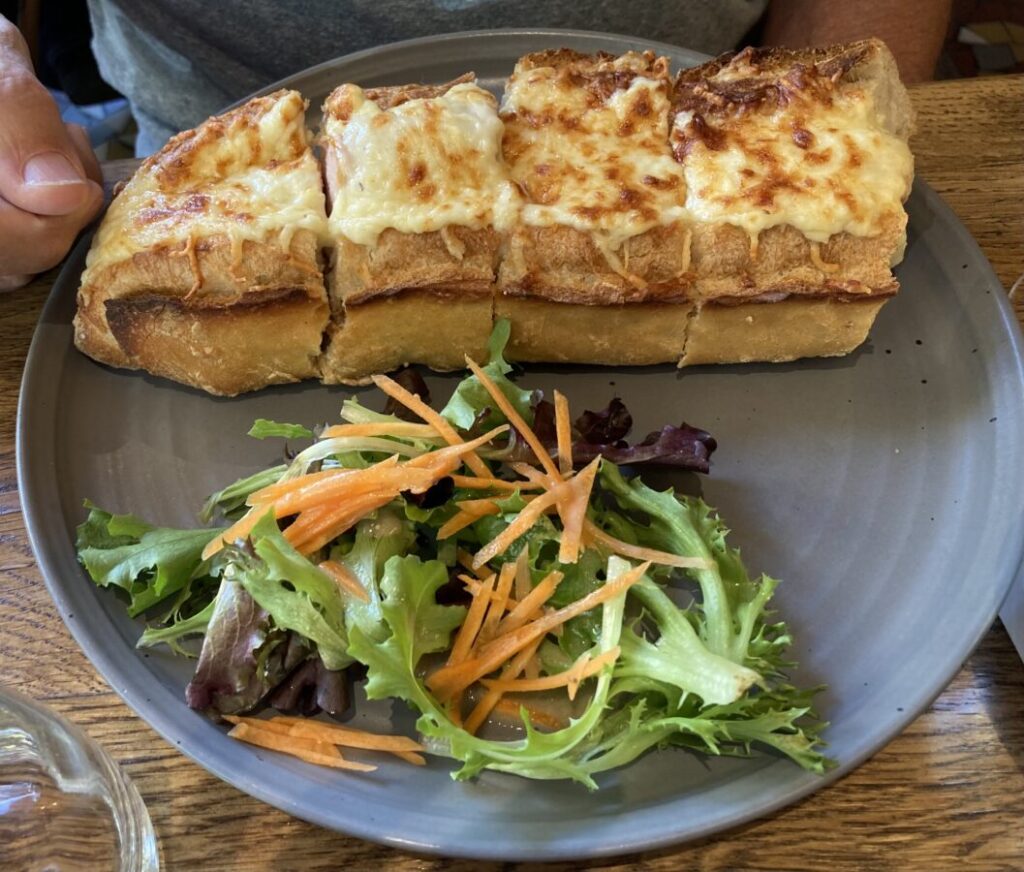 We also captured one little doggie at the café and a set of lovers, reminiscent of last year's theme. They put on quite a show for almost an hour!
After a long, hot day, it's nice to enter our courtyard and be greeted with this lovely scene.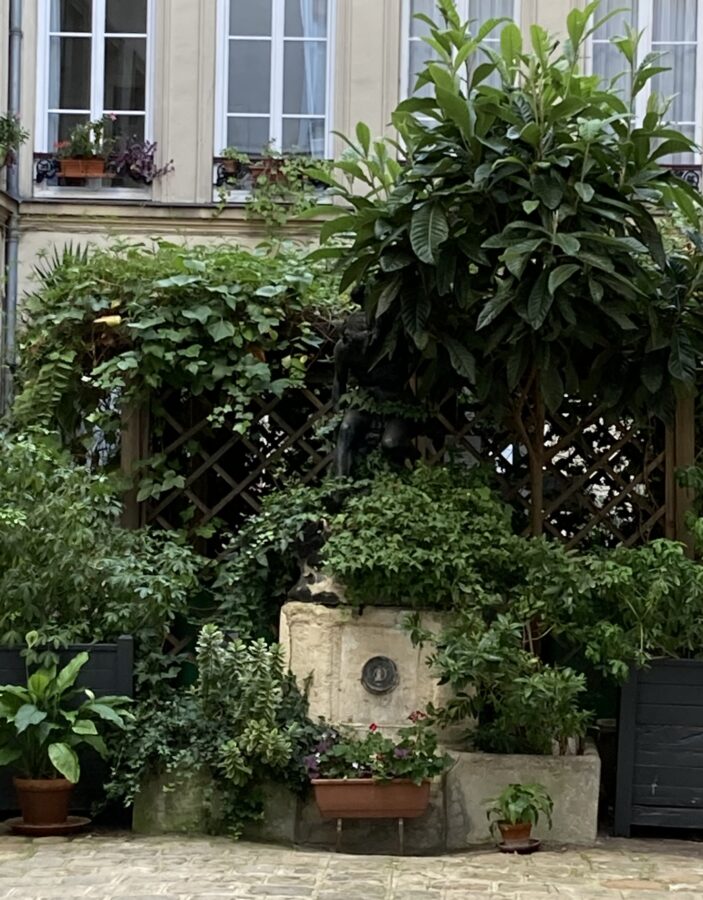 ---
Enjoy your Sunday and hang on for a fast and furious few weeks.
À bientôt
L & B